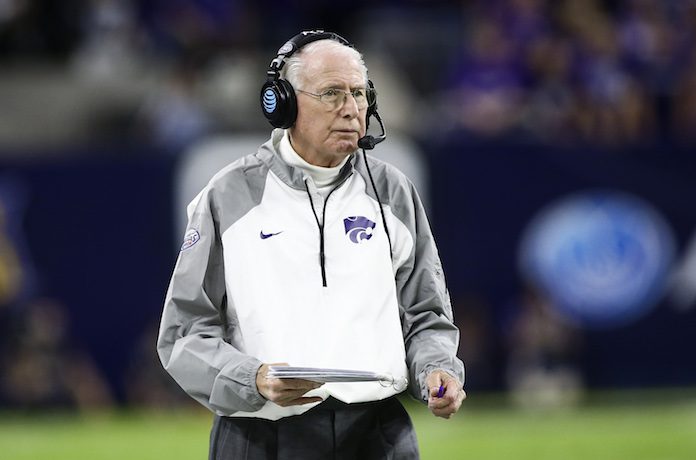 As the football season is slowly winding down, Christmas is just right around the corner. I am sure everyone in your family is constantly asking you what you want for Christmas. So, you start jotting down ideas or things that you would like but this isn't that type of list. This list for the hardcore college football fans who know their team better than they know some people in their own family. Yeah, this is that list.
What does every hardcore fan want for their team? Recruits baby!
They want that five-star guy who can elevate their program or the three-star gem who becomes an All-American. Every program will have guys leave due to graduation or transfers which leave holes on the depth chart. This is a list of four positional needs in order of importance. So, Kansas State fans, this is what your team needs heading into 2018. Now before I begin, I am not breaking down film of these guys. Until they sign on the dotted line, there is no need to assume they are automatically going to sign with their current team that they are committed to. We will do a full class breakdown of each team on the final signing day in February.
1. Defensive tackle
Current situation: Will Geary is gone, along with his backup Ray Price. Geary led the team with 4.5 sacks, along with 9 tackles for loss as the main run stuffer and pass rusher up the middle. Price was not nearly as big of a factor, but brought some experience to the table. Trey Dishon is back next season and will look to fill the role left by Geary.
Currently committed (247Sports)
3 Star DT Jaylen Pickle (Cimarron, KS) (6'5'', 260) (#92 DT)
Current Targets with Interest
4 Star DT Michael Thompson (Saint Louis, MO) (6'4'', 290) (#2 DT)
2 Star DT Ryan Taylor (Loganville, GA) (6'1'', 280) (#152 DT)
DT Kevin Scott (Yuma, AZ) (6'5'', 315) (N/A)
3 Star DT Shabazz Dotson (Cedar Hill, TX) (6'3'', 270) (#45 DT)
3 Star DT Charles Cole (El Dorado, KS) (6'3'', 280) (#20 JUCO DT)
My take: K-State needs to finish strong at this position, and frankly, I'm not sure how that's going to happen. Thompson is reportedly cooling on the Wildcats and holds offers from USC, Alabama and LSU as well. Meantime, Taylor is already committed to Arkansas State, while Scott and Cole are cooling on KSU. Dotson would be a nice grab and looks to be showing more interest in the Wildcats, but I'm not convinced he's an immediate impact player anyway.
2. Linebacker
Current situation: Part of this team's heart and soul, Trent Tanking, is gone to graduation, along with fellow starter Jayd Kirby. Tanking finished the season sixth in the Big 12 in tackles per game, while Kirby was in the top 10, and also had four sacks on the season.
Currently committed (247Sports)
None
Targets with interest
3 Star ILB Jacoby Simpson (Houston, TX) (6'1'', 225) (#32 ILB)
3 Star OLB Ryan Malbrough (Carencro, LA) (6', 200) (#124 OLB)
3 Star ILB Will Honas (El Dorado, KS) (6'2'', 225) (#1 JUCO ILB)
3 Star ILB Mykel Gates (Carthage, TX) (6', 216) (#53 ILB)
3 Star ILB Juan Henry Jr. (Cibolo, TX) (6'1'', 228) (#79 ILB)
2 Star ILB Carson Kropp (Owasso, OK) (6'2'', 220) (#96 ILB)
2 Star ILB Jacob Doddridge (Southlake, TX) (6'3'', 225) (#112 ILB)
Vernon Dasher (Coffeyville, KS) (6'3'', 215) (N/A)
My take: Well, the boys in Manhattan have a lots of closing to do for either the early signing period next week or for February. Either way, the sales pitches need to be strong, because Snyder needs some linebackers. Honas is the prize of this group, and the No. 1 JUCO LB recently named Arizona, Illinois, Kansas State, and Utah as his four finalists. We'll see if the Cats can grab him. If not, there are a lot of "projects" on this list.
3. Defensive end
Current situation: Reggie Walker is a stud and leads this unit into 2018. But on the other end, Tanner Wood graduates, along with his back up Davis Clark. Wood was as active as its gets on the D-Line with 31 tackles, 5 tackles for loss, 2 sacks and 4 passes defended. Clark played sparingly, but racked up 8 tackles on the season.
Currently committed (247Sports)
3 Star WDE Spencer Trussell (Arlington, TX) (6'3'', 215) (#65 WDE)
3 Star SDE Cartez Crooks-Jones (Grandview, MO) (6'5'', 230) (#68 SDE)
Targets with interest
4 Star WDE Tate Wildeman (Parker, CO) (6'6'', 245) (#18 WDE)
3 Star SDE Zach Petersen (Eldridge, IA) (6'5'', 225) (#67 SDE)
SDE Dalton Kuhn (Smith Center, KS) (6'2'', 225) (N/A)
4 Star WDE Elijah Wade (Las Vegas, NV) (6'5'', 240) (#17 WDE)
3 Star SDE Daniel Carson (Independence, MO) (6'5'', 260) (#22 SDE)
3 Star WDE Jason Mercier (Delray Beach, FL) (6'5'', 235) (#82 WDE)
SDE Derick Newton (Douglas, GA) (6'1'', 268) (N/A)
My take: Trussell and Crooks-Jones are nice additions, and from there, it's a guessing game with the targets interested. Wildeman is considered a hard commit to Nebraska, so it seems unlikely he's going anywhere. Petersen is warming up for KSU. And Kuhn is a classic small-school kid that K-State could pick up under the radar. Side note: Highly suggested reading on Kuhn's school in Smith Center, Kansas: Our Boys: A Perfect Season on the Plains.
4. Cornerback
Current situation: Yes, D.J. Reed is coming back, along with Duke Shelley, but this was a unit that struggled mightily last season with one of the worst pass defenses in the Big 12. So, the more bodies, the better.
Currently committed (247Sports)
3 Star CB Ekow Boye-Doe (Lawrence, KS) (6'1'', 170) (#107 CB)
3 Star CB E.J. Thomas (Atlanta, GA) (6'1'', 170) (#115 CB)
3 Star CB Darreyl Patterson (Miami, OK) (6'1'', 185) (#17 JUCO CB)
Targets with interest
3 Star CB Justin Birdsong (Stone Mountain, GA) (5'11'', 175) (#105 CB)
2 Star CB Isaac Trice (St. Louis, MO) (5'9'', 165) (#215 CB)
4 Star CB Anthony Cook (Houston, TX) (6', 170) (#5 CB)
My take: Kansas State is in a good place at the cornerback position. Cook is a pipe dream at this point, as it looks like he's down to LSU, Ohio State or Texas. Birdsong is reportedly warming up to Manhattan, which would bring some nice added depth to the ground for Snyder & Co. He runs a 4.46 40-yard dash and has a 40'' vertical. That's damn good athlete. K-State will have to beat out other Big 12 schools like Iowa State and Kansas for his services as well.