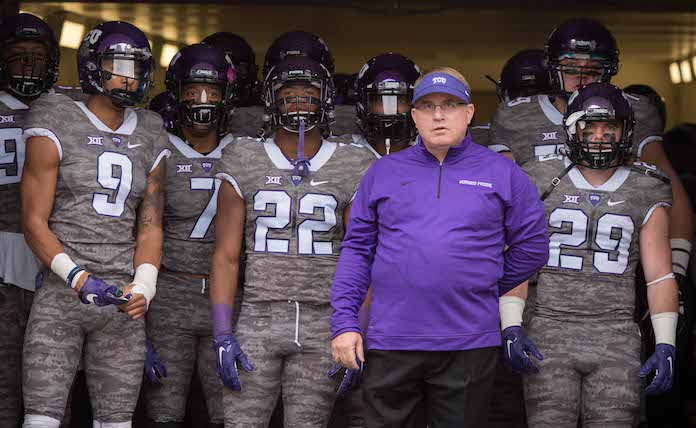 As the football season is slowly winding down, Christmas is just right around the corner. I am sure everyone in your family is constantly asking you what you want for Christmas. So, you start jotting down ideas or things that you would like but this isn't that type of list. This list for the hardcore college football fans who know their team better than they know some people in their own family. Yeah, this is that list.
What does every hardcore fan want for their team? Recruits baby!
They want that five-star guy who can elevate their program or the three-star gem who becomes an All-American. Every program will have guys leave due to graduation or transfers which leave holes on the depth chart. This is a list of four positional needs in order of importance. So, TCU fans, this is what your team needs heading into 2018. Now before I begin, I am not breaking down film of these guys. Until they sign on the dotted line, there is no need to assume they are automatically going to sign with their current team that they are committed to. We will do a full class breakdown of each team on the final signing day in February.
1. Wide receiver
Current situation: The Horned Frogs are losing a ton of production in this group including John Diarse, Desmon White, Ty Slanina, Taj Williams and Emanuel Porter. There is very good talent and production returning in KaVontae Turpin, Jaelan Austin and Jalen Reagor, but depth at the position is always necessary in the Big 12 conference.
Currently committed (247Sports)
4 Star Tevailance Hunt (Texarkana, TX) (6'2'', 185) (#48 WR)
3 Star Bryson Jackson (Humble, TX) (6', 182) (#72 WR)
3 Star Taye Barber (Cypress, TX) (5'9'', 185) (#43 ATH)
3 Star John Stephens (Logansport, LA) (6'4'', 195) (#61 ATH)
3 Star Chase Van Wagoner (Lucas, TX) (6'1'', 180) (#130 WR)
Current Targets with Interest
4 Star Terrace Marshall (Boisser City, LA) (6'3'',192) (#1 WR)
4 Star Jaylen Waddle (Bellaire, TX) (5'10'', 175) (#7 WR)
4 Star JaMarr Chase (Metairie, LA) (6'1'', 195) (#15 WR)
4 Star Lawrence Keys III (New Orleans, LA) (5'10'', 160) (#45 WR)
My take: Holy crap. Talk about replenishing and then some! We are really starting to see TCU recruit at a Power 5 level these past couple of years. This haul at wide receiver is very impressive from Gary Patterson & Co, with several possible immediate impact players. For those targets, Marshall doesn't have TCU at the top of his list, but Waddle, Chase and Keys III are all "warming" on TCU. Even adding just one of those three would be a hell of a grab.
2. Offensive guard
Current situation: Right guard Matt Pryor and his back up Garrett Altman are gone, meaning there is a big hole to fill on the right side. The left side is pretty well set with rising junior Cordel Iwuagwu returning as a starter, but his back up, Trey Elliott will be a senior next fall.
Currently committed (247Sports)
3 Star Ian Burnette (Wimberley, TX) (6'4'', 305) (#38 OG)
3 Star Esteban Avila (Grand Prairie, TX) (6'4'', 308) (#42 OG)
Targets with interest
4 Star Chris Murray (Santa Ana, CA) (6'3'', 300) (#12 OG)
My take: More than serviceable for the Horned Frogs at a position that allows them to move guys from tackle to guard during spring or summer ball if needed. But, per the TCU roster, this past year's team didn't have any freshman guards and just two sophomores. Once again, that can change, but adding a third guard wouldn't be the worst thing. But I can see saving that spot for another position on the field.
3. Safety
Current situation: Nick Orr is the only key piece leaving this unit, but considering TCU has a depth chart that lists only two linebackers and three safties (strong, weak, free), the Horned Frogs can never have enough at this position. But this unit will still be strong in 2018 led by Ridwan Issahaku and Niko Small.
Currently committed (247Sports)
4 Star Antanza Vongor (Grand Prarie, TX) (6'1'', 200) (#16 S)
3 Star Hidari Ceasar (Monroe, LA) (5'11'', 175) (#104 S)
Targets with interest
4 Star Kevlin Joseph (Baton Rouge, LA) (6'2'', 190) (#4 S)
4 Star Leon O'Neal Jr. (Cypress, TX) (6'1'', 190) (#9 S)
4 Star Trey Dean (Hampton, GA) (6'2'', 180) (#22 S)
3 Star Derek Turner (Saint Francisville, LA) (5'11'', 190) (#86 S)
My take: Vongor and Ceasar are the only two commits and every one of those targets with interest are "cooling" on the Horned Frogs. Once again, it's not necessarily a "must-fill" position, but in the Big 12, Gary Patterson wants to keep this unit with the depth it had this past season. Another consideration, TCU did have four safety commits in the 2017 class in Garrett Wallow, Kerry Johnson, Michael Onyemaobi and La'kendrick Van Zandt. Wallow and Van Zandt were the only ones to see any time on the two deep this season.
4. Linebacker
Current situation: Travin Howard and his back up Sammy Douglas are both gone to graduation at one of the two linebacker spots. Howard led the team with 98 tackles this season. That still leaves a talented group coming back with Ty Summers, Arico Evans and Montrel Wilson. But of the eight linebackers listed this season on the depth chart (four for each spot), there were three seniors and four juniors. So bulking up this position group now will pay off in 2019, when it's most needed.
Currently committed (247Sports)
3 Star Ben Wilson (Sumner, WA) (6'2'', 220) (#26 ILB)
Targets with interest
3 Star Jacoby Simpson (Houston, TX) (6'1'', 225) (#32 ILB)
3 Star Tyler Jackson (DeSoto, TX) (6'1'', 220) (#84 ILB)
3 Star Preston Ellison (Odessa, TX) (6'3'', 205) (#142 OLB)
My take: A bit concerning here with only one commit. Plus, the three listed as targets are mildly interested at best. Also note, last year's class only had one linebacker in Blake Patterson. Montrel Wilson is the only sophomore LB on the roster and Lucas Reynolds is the only other underclassman listed. It's a bit of a concern for the Horned Frogs, who could find themselves thin at this position come 2019.