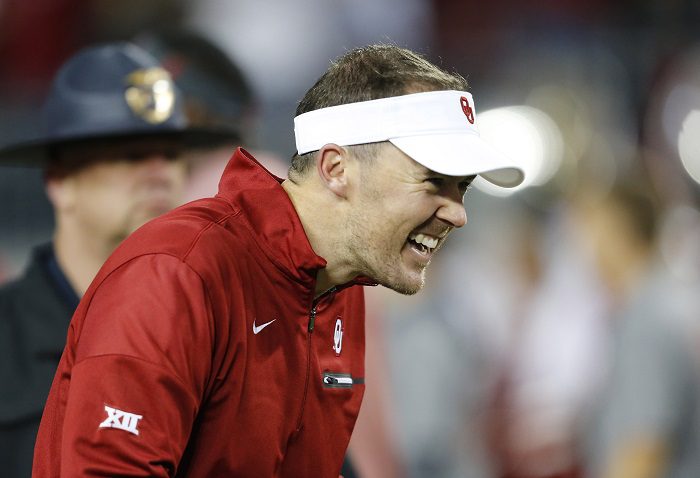 As the football season is slowly winding down, Christmas is just right around the corner. I am sure everyone in your family is constantly asking you what you want for Christmas. So, you start jotting down ideas or things that you would like but this isn't that type of list. This list for the hardcore college football fans who know their team better than they know some people in their own family. Yeah, this is that list.
What does every hardcore fan want for their team? Recruits baby!
They want that five-star guy who can elevate their program or the three-star gem who becomes an All-American. Every program will have guys leave due to graduation or transfers which leave holes on the depth chart. This is a list of four positional needs in order of importance. So, Sooners fans, this is what your team needs heading into 2018. Now before I begin, I am not breaking down film of these guys. Until they sign on the dotted line, there is no need to assume they are automatically going to sign with their current team that they are committed to. We will do a full class breakdown of each team on the final signing day in February.
1. Offensive line
Current situation: Oklahoma has one of, if not the best, offensive line in the country. They're still in good shape for next season, but some key pieces will be missing. Orlando Brown is likely going to skip his senior season and head to the NFL Draft, while starting center Eric Wren is a senior, as is his back up Jonathan Alvarez.
Currently committed (247Sports)
4 Star OT Brey Walker (Oklahoma City, OK) (6'7", 320) (#4 OT)
4 Star OT Darrell Simpson (Justin, TX) (6'7", 336) (#14 OT)
4 Star OT Tramonda Moore (Independence, KS) (6'6", 330) (#2 JUCO OT)
Targets with interest
5 Star OT Nicholas Petit-Frere (Tampa, FL) (6'6", 272) (#3 OT)
4 Star OG Penei Sewell (Saint George, UT) (6'5", 349) (#3 OG)
4 Star OG Tank Jenkins (Montgomery, AL) (6'3", 325) (#14 OG)
My take: Would you expect anything less from this program? OU is an absolute machine right now and may very well be recruiting even better under Lincoln Riley than towards the end of the Stoops' tenure. Moore is a guy who will step in, as a JUCO, and look to play right away, which is something Oklahoma needs to keep the offensive line close to as stout as it is this season. There are still four offensive linemen that Oklahoma recruited last season, all at least 4-star players, who didn't see any playing time this year, that will also be hungry come next fall. It seems like OU will be more than just fine on the line.
2. Wide receiver
Current take: The Sooners don't lose much here, with only Jeffery Meade, Jeff Badet and Jordan Smallwood (all role players) leaving from the two deep. But OU doesn't have that 6'5" stud WR that they've been looking for and could use next season to help Kyler Murray in his transition to replace Baker Mayfield. Marquise Brown and CeeDee Lamb (and maybe Mark Andrews?) will lead the way next season, but let's see if Lincoln Riley can bring in some more weapons.
Currently committed (247Sports)
4 Star ATH Jaqualyn Crawford (Rockdale, TX) (5'10", 165) (#9 ATH)
4 Star ATH Kundarrius Taylor (Memphis, TN) (6'3", 200) (#21 ATH)
4 Star ATH Jaylon Robinson (Fort Worth, TX) (5'10", 170) (#30 ATH)
3 Star WR Treveon Johnson (Brenham, TX) (6'1", 180) (#117 WR)
Targets with interest
5 Star WR Terrace Marshall (Boisser City, LA) (6'3", 190) (#1 WR)
4 Star WR Jalen Hall (Long Beach, CA) (6'4", 190) (#13 WR)
4 Star TE Leonard Taylor (Springfield, OH) (6'6", 245) (#14 TE)
My take: It's always hard to tell where the players listed as "athletes" end up. Wide receiver? Cornerback? Who knows. Sometimes it's a guessing game. But all the athletes listed above played wide out in high school and they're an impressive bunch. But Taylor is the biggest of the group at 6'3". Of the targets with interest, the top wide receiver, Marshall, looks like he's down to LSU and Texas A&M (yea, because those places really know how to produce wide receivers, right?!). I threw in the tight end, Leonard, since OU uses its tight end as more of a slot receiver anyway, and less of a blocker, and Taylor is warming up on the Sooners, plus he has great size.
3. Safety
Current situation: The Sooners lose both starters at safety in Steve Parker and Will Johnson. Their back ups are sophomores Chanse Sylvie and freshman Robert Barnes. The two had a combined 25 tackles on the season and Barnes had an interception, so there is some experience there, but still not much.
Currently committed (247Sports) 
3 Star Patrick Fields (Tulsa, OK) (6′, 190) (#49 S)
3 Star Jordan Austin (Lancaster, TX) (6'1", 185) (#51 S)
3 Star Delarrin Turner-Yell (Hempstead, TX) (5'10", 170) (#93 S)
Targets with interest
4 Star Julius Irvin (Anaheim, CA) (6'2", 180) (#13 S)
4 Star Leon Neal Jr. (Cypress, TX) (6'1", 190) (#9 S)
3 Star Joseph Foucha (New Orleans, CA) (5'11", 195) (#37 S)
My take: There is potential here, but it's not a home run position group. Also consider, while Barnes was one of the stars of last year's class, and is already producing, he was the only true safety that committed to OU in 2017. The secondary has been a cause for concern, and while cornerback looks like a strong point moving forward, safety could be a little more concerning.
4. Quarterback
Current situation: I know, it looks like Kyler Murray will be fine next season. But when you've been spoiled with Baker Mayfield for so long, it's important to remember this is still the most important position on the field and OU is losing one of the best to ever do it at the college level. And also remember, finding a new one is easier said than done (just ask Texas). Murray will likely be the starter next season. But remember, last year's QB commit, Chris Robison, transferred to FAU after some issues on campus led to his dismissal. Redshirt freshman Tanner Schafer is listed behind Murray on the depth chart.
Currently committed (247Sports)
4 Star DUAL Tanner Mordecai (Midway, TX) (6'3", 215) (#15 DUAL)
Targets with interest
None
My take: Well done by OU, stealing Mordecai out of Baylor's backyard. He's a solid grab and I would never question Lincoln Riley when it comes to what he thinks he needs or wants at quarterback. By the way, being a dual-threat QB and 6'3" is a nice perk for the Sooners. Mordecai will join a solid position group in Norman and will not be asked to hit the field right away.