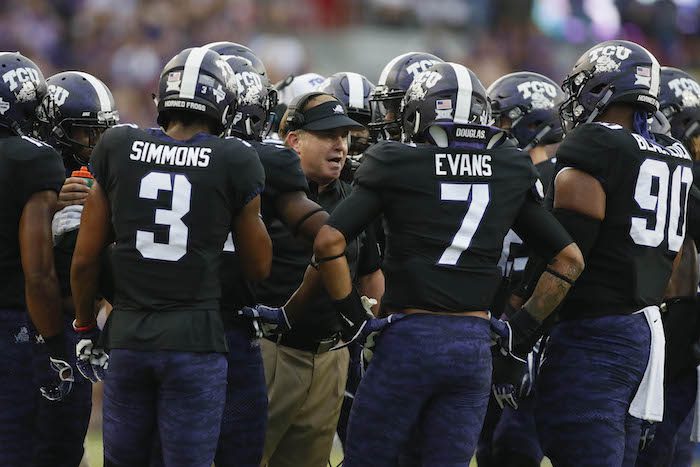 Here is everything you need to know about the Alamo Bowl between the TCU Horned Frogs and the Stanford Cardinal in our preview and prediction.
Broadcast info
Date: 8:00 p.m. Central Time, Thursday, Dec. 28, 2017, Alamodome, San Antonio, Texas
TV: ESPN (Rece Davis, Joey Galloway, David Pollack)
Radio: WBAP 820 AM, KTCU 88.7 FM (Brian Estridge, John Denton, Landry Burdine)
Fun facts: TCU will become the only school in the nation this season to face two of the three Heisman Trophy finalists. The Horned Frogs had two contests against winner Baker Mayfield and will see runner-up Bryce Love in the Valero Alamo Bowl. Also, TCU's Gary Patterson is 2-0 as a head coach versus Stanford and 5-0 against Pac-12 opponents.
Key players
TCU Horned Frogs
Kenny Hill, quarterback
This is the final game of Hill's college career. While he probably didn't live up to the hype that surrounded him coming out of high school and early in his Texas A&M career, he still had a solid college career that he can be proud of. Hill's senior season finished with a 67.2% completion rate, with 2,838 passing yards and 21 touchdowns to six interceptions. Hill generally avoided the big mistake and has to again on Thursday night.
Ben Banogu, defensive end
The TCU front seven is arguably the greatest strength of this team and Banogu is its best pass rusher. Stanford has a very good offensive line and wants to have running back Bryce Love carry them to victory. Banogu will have to lead the way and even if he doesn't have a big statistical game, his presence can force Stanford to focus on him and possibly open opportunities for Mat Boesen and others on the front seven for the Horned Frogs.
Stanford Cardinal 
Bryce Love, running back 
A Heisman finalist who led the Pac-12 by a wide margin with 1,973 rushing yards, more than another other player in the conference by over 500 yards. What a season for Love, who by playing in the Pac-12, never got the recognition he probably deserved. He averaged a ridiculous 8.3 yards per carry. Love had at least 100 yards rushing in every game this season.
Harrison Phillips, defensive tackle
The TCU offensive line is going to have its hands full with Phillips, who finished 12th in the Pac-12 with 97 tackles, 9th with seven sacks, and second in the conference with 16 tackles for loss. The senior is a house, at 6'4", 295 pounds and will look to cause plenty of chaos in the Horned Frogs' backfield.
Key storylines
Who stops the run?
Both these teams want to run the ball and whoever does a better job forcing the opposing quarterback to try and beat them will win. Stanford is led by the aforementioned Love, while TCU will use a combination of Kyle Hicks, Sewo Olonilua and Kenedy Snell. TCU was fourth in the Big 12 averaging 176 rushing yards per game. Stanford was third in the Pac-12 with 205 rushing yards per game.
On the flip side, TCU had the best rushing defense in the Big 12, giving up just under 100 rushing yards per game, while Stanford was mediocre against the run, allowing 171 rushing yards per game, which was 7th in the Pac-12 conference.
TCU pass rush 
Stanford's offensive line has been one of its staples for years and that's no different this season. Stanford allowed just 16 sacks in 13 games, tied for the fewest in the Pac-12 conference. That's given sophomore QB K.J. Costello plenty of time to operate, but he's still been shaky at times with 11 touchdown passes to 10 interceptions. He has not been asked to do too much this season to win games for his team. But now the offensive line has to slow down a TCU pass rush that had 41 sacks in 13 games, which was the most in the Big 12 by a wide margin (11). Stopping the likes of Banogu, Boesen, Ross Blacklock, Travin Howard and others won't be easy.
Prediction
TCU 27, Stanford 20 
No one takes these games more seriously than Gary Patterson, who has a huge amount of pride and respect for the Big 12 conference. He knows the importance of these games in the eyes of national pundits and how the bowl season can determine the offseason discussion for each conference. Patterson is one of the best coaches in the country and has done just fine (5-0) in previous meetings against Pac-12 teams.
These two teams are very similar, but it's TCU that has the more senior-laden team (over 20) and they are looking to end their careers on a high note. TCU will overload on stopping the run and force Costello to beat them through the air, which I don't think he will be able to do. TCU ranked first in the Big 12 in pass defense efficiency. While I think Stanford will deploy the same strategy against TCU, the Horned Frogs have the better and more experienced quarterback, who is going to face a Cardinal secondary that ranked 8th in the Pac-12 in pass defense efficiency. These two teams are very similar, but it's TCU who is the better version.