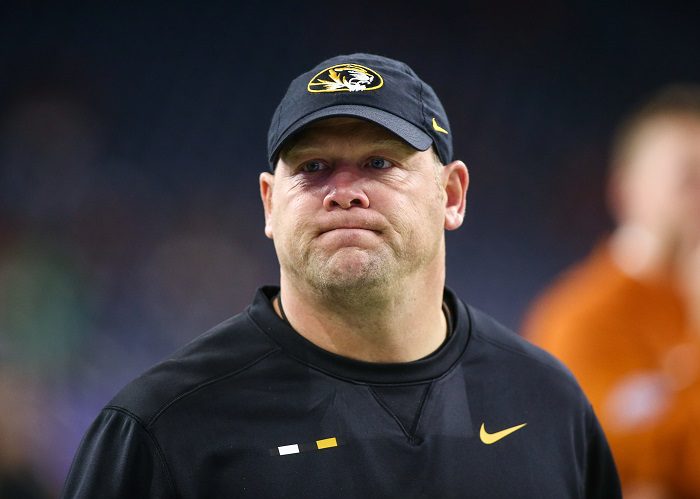 After his Missouri Tigers lost to the Texas Longhorns 33-16 in the Texas Bowl, head coach Barry Odom had some high praise for the Texas Longhorns and the entire Big 12 conference, specifically rejecting the idea the Big 12 doesn't play any defense.

Heartland College Sports reporter Cameron Brock asked Odom in the postgame press conference, "A lot of national pundits say the Big 12 doesn't really play all that much defense, that it's an offensive conference, how does this Texas team stack up against the defenses in your conference [SEC]?" 
Odom responded:
"No offense, I think the national pundits are wrong. You look at, you know, and I don't know, I haven't walked in the Big 12 conference, I haven't walked in those shoes in a few years. But I know they're some really good defenses coaches. The 12 games that I watched on Texas getting into this game, I saw a pretty good defensive league, start to finish. So, I've got a great deal of respect for the league."
The Longhorns were playing without some of their best defensive players including Holton Hill, DeShon Elliott and Malik Jefferson, but they still held the Tigers to just 16 points, their lowest output since scoring 14 against Auburn back in late September.
The Tigers ended the season with six-straight wins, while averaging over 50 points per game during that stretch, which included four SEC opponents (Florida, Tennessee, Vanderbilt, Arkansas).
Drew Lock finished his night with just one touchdown pass, his fewest since throwing none against Purdue in mid-September. His 52.9% completion percentage was his lowest since early October against Kentucky.

All in all, considering the Longhorns were using many of their back ups, this win is even that much more impressive for the Longhorns, who end the season 7-6, their first time above .500 to end the year since Mack Brown's final season in 2013.
Here is the audio of Missouri coach Barry Odom's exchange with Brock.