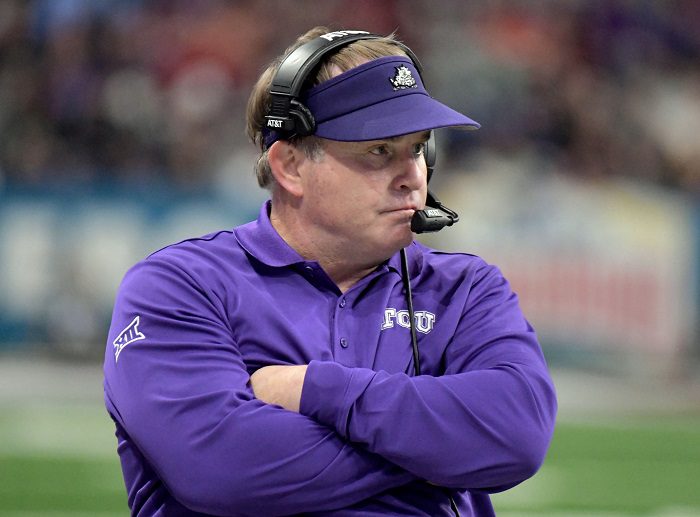 After a rough 0-2 start to the bowl season, the Big 12 conference has now won four-straight games, with at least two left (Iowa State and Oklahoma). The most recent was TCU's impressive 39-37 comeback win over Stanford in the Alamo Bowl.
HCS reporter Derek Duke was in San Antonio covering the game and had to ask Gary Patterson what the 4-2 bowl record says about this conference. Patterson has been one of the staunchest supporters of the conference, at least one of the most vocal. Here was his exchange with Duke. You can also see it in our periscope video now below. Derek's question comes in at about the 10-minute mark.

Duke asked Patterson, "Coach, with a win tonight the Big 12 has now won four straight in bowl games over Power 5 opponents, what does that say about the Big 12 conference?"
Patterson responded as follows:
"Well, ya know, the two teams, at least the one, was shorthanded [assuming West Virginia sans Grier/Crawford]. Last year, we won our bowl games. Like I said after the Oklahoma game, 'you try to defend these offenses'. You've got two of the best quarterbacks in the country. You've got a couple of the best running backs in the country. Everybody has one of those guys. Everybody looks at it because everybody runs so many plays and then they say, 'well you don't play any defense.' So, you know, everybody has it."
Patterson went on to say, "I'm going to be very interested to see how Oklahoma does. I've defended a lot of people. I defended Georgia at the end of last year, and now I know they're a better football team and they're better up front. And I've also defended Oklahoma a couple of times. And so, they were not the same football team, offensively or defensively at the end of the year that they were at the beginning of the year. So, I'm going to be real interested to see how all that turns out."
Once again, Duke's Q&A with Patterson can be seen below at around the 10-minute mark.
TCU press conference https://t.co/N6gqEglnsU

— Heartland College Sports (@Heartland_CS) December 29, 2017