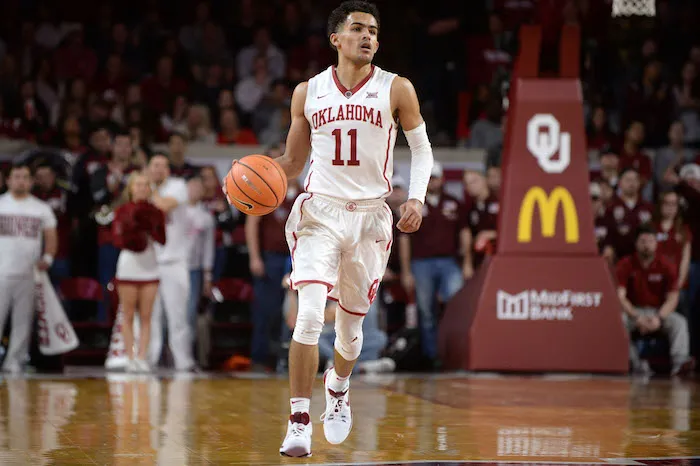 The Trae Young hype train just hit a higher gear.
SportsCenter hosts Michael Smith and Jemele Hill interviewed Young, a freshman, on Thursday, a day after he led Oklahoma to a 20-point win over Oklahoma State and became the first player in Sooners history to score at least 20 points in 12 straight games, surpassing two Sooners legends who had each done it in 11 straight games — Wayman Tisdale and Stacey King.
ESPN opened the interview with a montage of Young's play this season set against highlights of Golden State Warriors guard Stephen Curry. That's because Curry talked about Young's game Wednesday night after his Warriors defeated the Dallas Mavericks.
"He's unbelievable," Curry said. "Just the confidence that he plays with. I call it "the flare.' He also seems to be composed and knows what he's trying to do every time he has the ball in his hands. He shoots that deep three. He has some creativity to his game. He's just so fluid to watch."
Curry, a former NBA MVP and two-time NBA champion, also said Young's game had "magnetism." While Curry is not on the list of overpaid players in the NBA, several with his skillset ended up on that list.
College basketball fans would hardly argue. Right now, Young leads the nation in scoring (29.4 per game) and assists (10.6 per game), something no player has done for a full season in NCAA Division I history. He's also led the Sooners (12-1, 2-0 in Big 12) to a No. 7 national ranking as they enter Saturday's huge game with West Virginia.
Young said Curry's words "meant a lot."
"I watched a lot of his film growing up and I'm a big fan of his," Young said. "It's kind of surreal. Maybe in a few years I'll be playing against him. It meant a lot and it was pretty cool."
Curry's and Young's paths have crossed before, Young revealed. As a Sooners ball boy while growing up in Norman, Oklahoma, Young was on the floor at the Noble Center the night Davidson came to town to face the Sooners, as Curry and the Wildcats squared off with an OU team led by Blake Griffin.
"I remember the two of them going at it and loving his game and loving the way he played," Young said.
Growing up, Curry was one of the players Young used as a model for his game, and he watched tape of players like Steve Nash and Kyrie Irving with his father, Rayford, who played basketball at Texas Tech.
Young's play has had a tremendous impact on the Sooners. He's already recorded six games in which he scored 25 points and dished out 10 assists (including each of his last five). At the start of the season, the Sooners were unranked. While Young has scored plenty, his playmaking ability has stood out, as well. Christian James (13.0 ppg) and Young's fellow freshman, Brady Manek (11.8 ppg) have both benefited from Young's passing ability. Plus, Kameron McGusty (9.9 ppg) is coming on after some early-season struggles.
But Young and the Sooners get their biggest test to this point of the season Saturday in Morganton, WV. It's anticipated that Young will be defended by the Mountaineers' Jevon Carter, considered by some to be the best on-ball defender in the Big 12, and one of the best on-ball defenders in the country. Carter leads the nation in steals per game (3.71).