Baylor Bears
Former Baylor quarterback Zach Smith transfers to Tulsa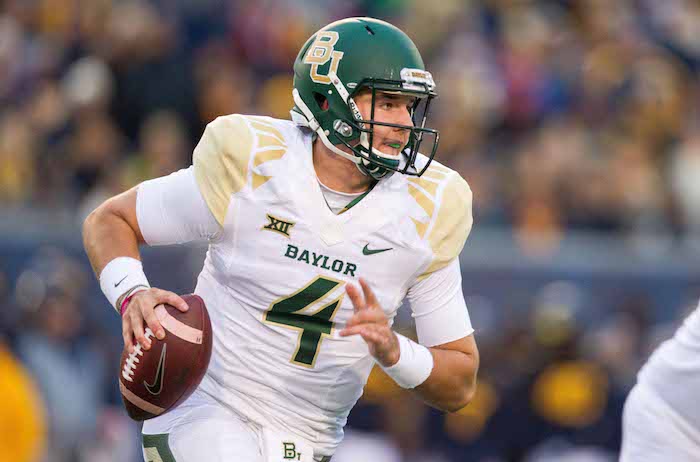 After seemingly losing his starting job to true freshman Charlie Brewer, former Baylor quarterback Zach Smith announced he will be transferring to Tulsa.
I️ have decided to further my academic and athletic career at The University of Tulsa #ReignCane 🌪🏈 pic.twitter.com/SfzSON1XD0

— Zach Smith (@thezach_smith) January 6, 2018
Smith announced a few weeks ago his intentions to leave Waco and finds a home with a familiar face in Phillip Montgomery, who used to be the offensive coordinator for the Bears. Smith was not recruited by Montgomery, who's been at Tulsa since 2015 and Smith was part of the Class of 2016, but the offense is one that Smith should be very familiar with from his time learning Art Briles' system.
Montgomery and Briles are tied at the hip, as they worked together at Stephenville High School, Houston and then Baylor.
Smith was thrown into the fire as a true freshman in 2016 and handled a very difficult situation well. He ended the season completing 59.2% of his passes for 1,526 yards and 13 touchdowns to seven interceptions. This season, he lost the starting job to Anu Solomon before the season, then took the job over, but had his ups and downs. Smith finished the season with 1,471 passing yards and eight touchdowns to eight interceptions. His best game came in a 49-41 loss to Oklahoma, when he completed 33 of 50 passes for 463 yards and four touchdowns to zero interceptions. 
Smith came out of Grandview, Texas in the Class of 2016 as a highly-touted four-star prospect, who chose the Bears over offers from Texas and SMU, amongst others.
Tulsa's offense lost senior QB Dane Evans after the 2016 season and this past fall they played both sophomore Chad President and freshman Luke Skipper. So Smith isn't a slam dunk to be the starter next fall, but neither President or Skipper were overly impressive under center, so Smith will have as good a chance as any to win the job.