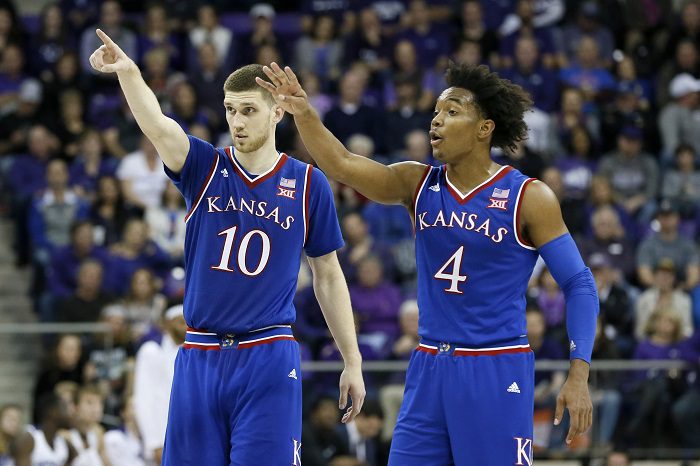 FORT WORTH, Texas — Bill Self knows what you know. This isn't your normal Kansas team.
And, yet, Kansas improved to 80-11 after a loss in the Self era, including a 30-3 record since the start of the 2013-14 season, with an 88-84 win over TCU Saturday night.
The Jayhawks' win makes up a bit for the home loss to Texas Tech earlier this week. League play is about holding serve at home and stealing on the road, Self said Saturday night. He has his own math for that.
"To me, you need to hold serve at home, and when you don't you have to go steal one and we stole one tonight," Self said as KU improved to 12-3 overall and 2-1 in the Big 12. "We're plus-1 (two road wins minus one home loss). Oklahoma is plus-1. West Virginia is plus-2. That's how I look at it."
The Jayhawks stole this one in a way that has become familiar this year. Devonte Graham led the way (28 points), Sviatoslav Mykhailiuk poured some in himself (20) and the Jayhawks squeezed what they could from the rest of the roster.
Self said Lagerald Vick had a "bad week" (he had just 8 points Saturday). Malik Newman came off the bench to score just one point, but at least it was a free throw to ice the game. While center Udoka Azubuike had a "good offensive game," according to Self, he had only one rebound. The 7-footer played 13 minutes due to foul trouble but still only managed one rebound. But he scored 14 points because TCU really didn't have a player that could match up with him. Plus, Self talked about his team as one that "isn't physically tough." I got the sense the Kansas beat writers had heard this before.
Thank goodness for Mitch Lightfoot, who carved out nine points, seven rebounds and six blocks, including a huge one late on a 3-point attempt by TCU's Jaylen Fisher as the Horned Frogs were trying to tie the game in the final minute.
This is not a deep Jayhawks team, and I've made this point before. Players like Graham, Mykhailiuk and Vick are playing too many minutes. The players are keenly aware of it, too.
"Svi (Mykhailiuk) told me he could play better when he plays 27 (minutes)," Self said. "He knows it. Tonight, he played 38 because we can't take him out."
Same goes for Graham, who through three league games has sat for exactly three minutes. Kids want to play, but it eventually takes a toll.
The two teams that have separated themselves from the pack in Self's estimation after three games — Texas Tech and West Virginia — both have deep benches. Self knows about the Red Raiders' depth all too well. The Red Raiders beat Kansas at home last Tuesday. The Jayhawks get their first taste of "Press Virginia" on the road on Jan. 15. By then the Mountaineers' second-leading scorer from a year ago, Esa Ahmad, will be back.
Self's depth has been in a holding pattern this season. Freshman forward Billy Preston, at 6-foot-10, would make great depth behind Azubuike. But the five-star recruit's use of a car during the fall semester is under scrutiny by both Kansas and the NCAA. So, he's not playing. Remember how I mentioned that Azubuike only had one rebound against TCU? Well, the Horned Frogs outrebounded the Jayhawks by 14 overall and 11 on the offensive glass, something that seemed to mystify TCU head coach Jamie Dixon, in terms of that not leading them to a win. Well, Preston could restore some balance in that area.
The same could be said for Silvio De Sousa. At 6-foot-9, the IMG Academy graduate transferred to Kansas in late December and was eligible to practice immediately. But he can't play yet. NCAA red tape, it would appear.
Self said earlier this week the situations should be resolved in the next two weeks. It's the waiting that's the hardest part.
"We're confused to be honest," Self said. "We go into it thinking we can play these guys and they get all these reps in practice and we don't use them. That's frustrating but that's the way it is. Hopefully we'll have feedback soon. If we knew what we were dealing with, it would be better."
If Preston and De Sousa are eligible, then Kansas' rebounding and interior defense changes immensely. If they don't, well, then this may be what Jayhawks fans get this season — a fun team that can shoot the three but will struggle with interior defense and rebounding.
And that could threaten the Drive for 14 (straight regular-season Big 12 titles). Not that anyone is rooting against that. Um…
"Maybe other teams' fans feel that way (about this not being the year KU wins the Big 12), but I feel like every year that they doubt us," Graham said.
You doubt Kansas at your own peril. But some depth would sure help.