Baylor Bears
Report: Baylor coach Matt Rhule interviewed with Indianapolis Colts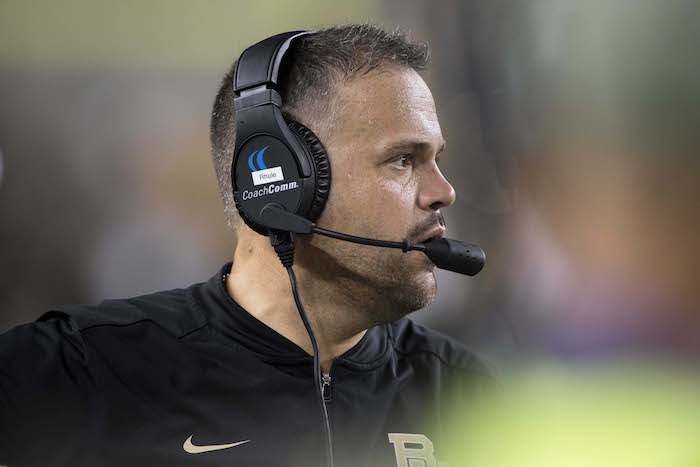 In what easily becomes the most shocking news of the early Big 12 offseason, a new report from ESPN says that Baylor head coach Matt Rhule interviewed for the head coaching vacancy with the Indianapolis Colts.
SOURCES: Baylor coach Matt Rhule interviewed for the Indianapolis Colts head coaching vacancy earlier this week. Rhule, who completed his first season with the Bears in November, spent the 2012 season as the New York Giants offensive line coach. He is… https://t.co/5w6H7o0aqJ

— Adam Rittenberg (@ESPNRittenberg) January 10, 2018

Rhule has ties to the NFL as he spent the 2012 season with the New York Giants as the team's offensive line coach. As a college head coach he's 29-34, which includes going 28-23 in four seasons at Temple and then a 1-11 campaign this year with the Bears.
Despite the rough year on the field, he's drawn rave reviews since stepping on campus in Waco, by having an open conversation about the previous regime and their shortcomings, while being very optimistic and using his faith to help get his message across. He also oversaw a team that played mostly underclassmen due to injuries and a roster shortage, with this group improving each week.

The struggles on the field this fall did not hurt Baylor on the recruiting trail, as Rhule currently has a Top 25 class coming in this year. These recruiting rankings are better than much of what Art Briles did during his tenure with the Bears.
I'm not sure what to make of it, but it's hard for anyone to turn down an NFL interview or opportunity, especially when your quarterback could be Andrew Luck. That being said, I selfishly hope he stays with the Bears, as I'm a firm believer he's going to do great things at Baylor.