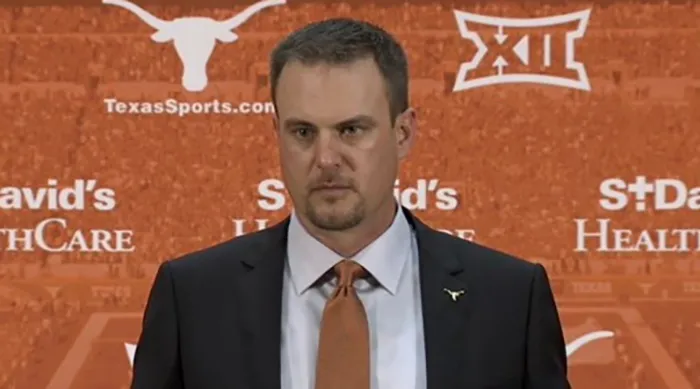 Tom Herman may have just capped off a mediocre 7-6 season, but he's still killing it on the recruiting trail. According to ESPN's rankings, Herman is the first coach to ever land three of the top four safeties in the same recruiting class, which he's done with B.J. Foster, DeMarvion Overshown and Caden Sterns.
Herman went on The Longhorn Network to discuss his stud secondary, saying, "all three of these guys will hit you. You can't play great defense without being physical and all three of these guys are physical, they're reckless and we love that about them." 

On each one Herman said…
B.J. Foster
"The really neat thing about all of these guys is they're different… it's really neat to be able to see these guys and their skillsets whether it be in coverage, near the line of scrimmage, stopping the run, sideline-to-sideline as a deep post safety or playing man-to-man coverage, the possibilities are endless."
DeMarvion Overshown
"He'll hit ya… When we first turned on his tape as a sophomore it was a man amongst boys up there in Arp, Texas."
Caden Sterns
"Just really well developed, from Cibilo Steele, what an unbelievable program that is in high school. He has been extremely well developed, he's a mature kid, he's an early enrollee… he's a guy that's mature enough both physically and mentally to do [contribute immediately].
There's no doubt the Longhorns are loaded in their 2018 class, which is ranked 3rd in the country by both 247Sports and ESPN.
Herman also discussed the culture that his new class fits and said, "To steal a phrase from Chris Petersen, I think it is, he talks about "OKG", our kinda guy. We walked away from some really talented players that we felt weren't a culture fit for us, and that's OK. You don't ever want to be in a position in your program where you're taking the culture risks just because the reward, it's the best you can get. You want to be able to sign the best players that are also the best people from the best families in the state and the country and we feel like we've done that."