Baylor Bears
Baylor AD Mack Rhoades on Matt Rhule rumors: 'It's really a compliment'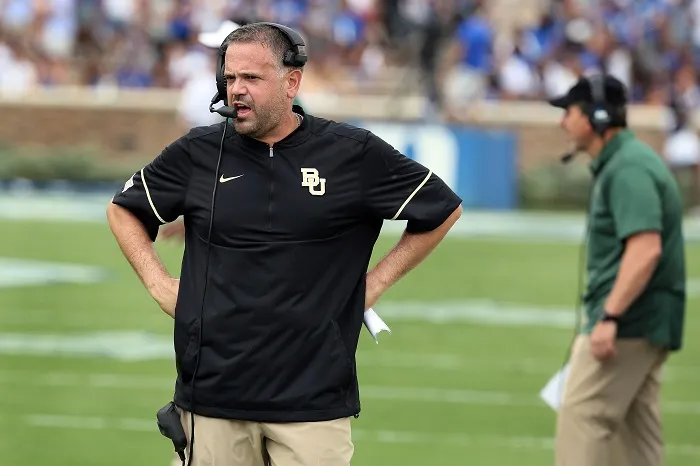 Baylor nation went sent into a tizzy on Wednesday night when it was reported by ESPN that Matt Rhule had interviewed with the Indianapolis Colts. Well, athletic director Mack Rhoades joined ESPN Central Texas/1660ESPN on Thursday and tried to clear up, and defuse, some of the rumors and chaos.
Rhoades told the crew at You Make The Call with David Smoak, Paul Catalina and Butch Henry, "I can certainly tell everyone right now that Matt Rhule is our head football coach, is going to be our head football coach and is excited about being our head football coach."
That was as close as Rhoades got to saying that this process with the Colts is entirely over. But he went on to point out that Baylor fans should not look at this as some betrayal, and that it comes with the territory when you have coaches that are highly regarded at the pro and college level.

"It's really a compliment that we have coaches here, where other people are going to reach out to us and be interested in their services. When you have coaches that are very talented and you talk about and speak about somebody like Matt Rhule, who is very well thought of in the football world, in college in the NFL, people are going to be interested."
But Rhoades did have one request of his head coach, adding, "All i ask is that coach Rhule, and all of our coaches, that they handle it the right way and that's my expectations and as we move forward. I think those things have happened and will continue to happen."
Rhoades also wanted to confirm to Baylor Nation that Rhule has not gone sour on Baylor one bit, saying, "He has great love for the university, he believes in what we're doing and how we're building it, I believe it in. For us, it's moving forward."
All in all, Rhoades handled a difficult situation very well, as did the guys at ESPN1660, who asked the tough questions, despite their ties to the situation. To hear the interview on ESPN1660, go ahead and listen below.
Mack Rhoades on YMTC for 01-11-18 – You Make the Call – Omny.fm https://t.co/RG5MMe6z7T

— David Smoak (@DavidSmoak) January 11, 2018