Uncategorized
Florida Politician to Bob Bowlsby: Add UCF, USF to Big 12 conference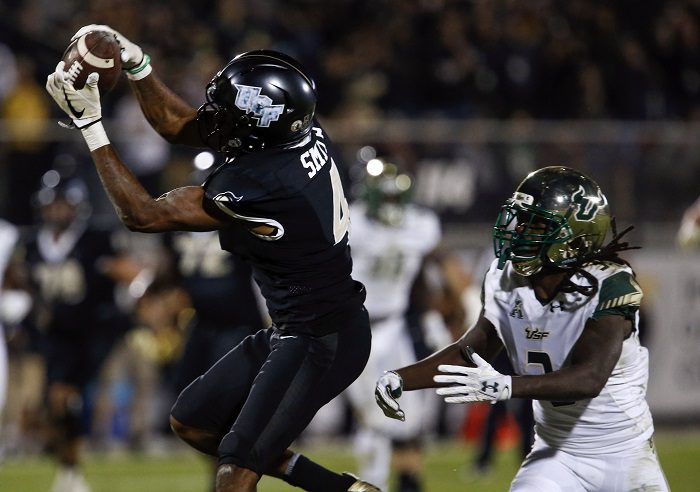 Let's make it clear, the Big 12 is not expanding in the near future. But that doesn't mean it can't be talked about. And the discussion is getting picked up by the Sunshine State. A politician in Florida has reached out to Big 12 commissioner Bob Bowlsby asking the Big 12 to add UCF and USF.

Republican Rep. Bobby Olszewski, who won a special election in Orange County in October, sent a letter to Big 12 commissioner Bob Bowlsby on Wednesday, and broached the topic. You can read the entire letter here. 
Olszewski represents parts of Central Florida and used to work in USF's athletic department. He writes, "I am reaching out to ask that you please keep both the University of Central Florida (UCF) and the University of South Florida (USF) at the top of mind when your member institutions consider expansion in the Big 12 conference." 
He goes on to say, "More than ever during college football season, we saw how important television ratings are to bowl games, the conferences, and the College Football Playoff. With UCF and USF representing the greater Central Florida and Tampa Bay media markets, our annual "War on I-4″ was one of the top television rated games this season en route to a 13 and 10 win season respectively for the UCF Knights and USF Bulls as well as both with Top 25 final rankings."
He then makes his pitch, which includes the region's ties to Disney and ESPN, adding, "As the Florida State Representative for the district that includes Walt Disney World, Universal Studios, and Sea World, there are no geographic areas in the world more vital to the overall success of the parent company of the College Football Playoff's media partner ESPN." 

He's says he's done a few jobs in college football, including a stint with bowl organizers Florida Citrus Sports and as the public relations director for the Butkus Award, which goes to the country's top linebacker.
As for what to make of all this????
NOT much.
Politicians have tried to get involved with college sports, sometimes successfully, for years. But this comes from a state rep, who just won a special election in October and is probably just looking for some early kudos from his voters.
His argument around ESPN/Disney/Central Florida doesn't make any sense. ESPN is looking to make boatloads of money for the College Football Playoff. Ask ESPN/Disney if they'd rather have UCF/USF or Ohio State/USC in the College Football Playoff. I don't think they give a rip that they share a geographical location with UCF/USF, because those two schools won't make them money.
Either way, as the infamous young Heat fan told LeBron James and company in the 2012 NBA Playoffs after a loss to the Celtics, "Good job! Good effort!"