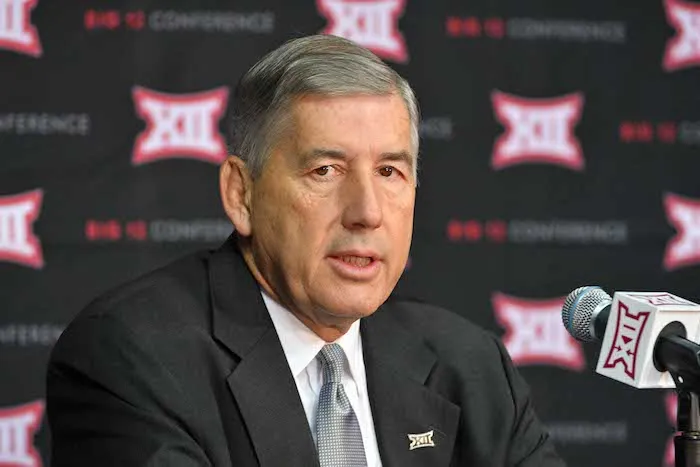 Following Saturday's court storming at United Supermarkets Arena in Lubbock, the Big 12 has made its decision on what could have been an ugly situation.
After Texas Tech held off West Virginia for the 72-71 win, the Red Raiders fans stormed the court in Lubbock. You can see two videos here on what happens next. WVU's Wesley Harris clearly attempts to throw a punch at a Texas Tech fan storming the court, while you also get to see Sagaba Konate getting into it with some fans as well before he gets pulled away.

The Big 12 announced a $25,000 fine to Texas Tech and reprimanded Wesley Harris.
Big 12 commissioner Bob Bowlsby siad in a statement:
"We have a duty to provide a safe game environment. The Texas Tech Department of Athletics has a written event management policy which was unsuccessful in ensuring the safety and security of the visiting team game participants. Although the Big 12 Conference does not currently have a policy prohibiting spectators from entering playing areas for post-game celebrations, it is of utmost importance that home game management provide adequate security measures for our student-athletes, coaches, game officials and spectators."
For context, Marquette was fined $5,000 by the Big East last season when it beat Villanova, and in 2016, the SEC fined Auburn and Vanderbilt $100,000 following court storming for wins over Kentucky.

As for Harris, Bowlsby added, "We must ensure that a safe environment is provided for players, coaches, game officials and fans. Although the post-game environment did not live up to our expectations, Mr. Harris intentionally striking a fan is contrary to the conference's sportsmanship standards."
West Virginia's Athletic Director Shane Lyons released his own statement, saying he was pleased with how the conference responded.
"I want to thank the Big 12 Conference and Texas Tech for the positive and open dialogue all three parties engaged in during the last two days. As I said before, this situation involved court security, player safety and postgame emotions and all three had to be taken into account. We will revisit with our student-athletes to again reinforce our expectations regarding sportsmanship issues across all sports. The Big 12 has issued its reprimand. We accept it, and I consider the matter closed."