TCU Horned Frogs
Gary Patterson gives great advice to UCF, still wants expanded Playoff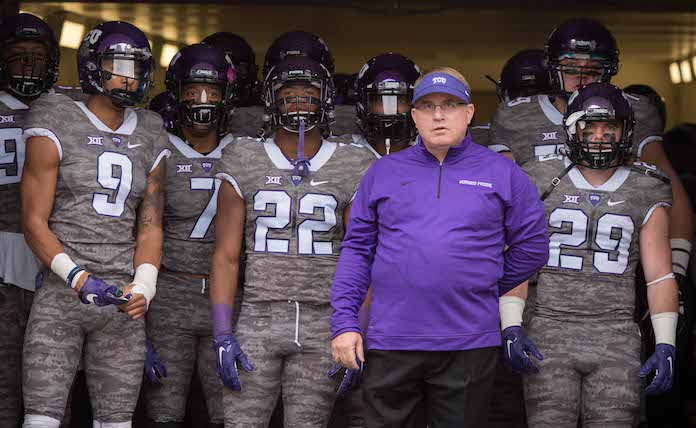 TCU head coach Gary Patterson has quickly become the go-to voice and sound byte in the Big 12 conference. He's been around the block, he's smart, wise, entertaining and funny all wrapped in one. And as his national profile continues to rise, more people are, rightfully so, willing to listen.
Patterson was recently a guest on 103.3 ESPN Radio in Dallas and spoke about expanding the College Football Playoff, saying, "I think we need to go to a six- or eight-team playoff. You're adding one ballgame — just because you give everybody the opportunity who's really good. Anybody at anytime has the chance of beating somebody."
I've been a proponent of keeping it at four because my fear is that six or eight will diminish the regular season, specifically non-conference play. If you take all five Power 5 champions, then what's the point of good non-conference games? The first month of the season would become irrelevant and there would be zero benefit to Oklahoma or TCU scheduling an Ohio State.

Now when it came to the UCF Knights, who have been parading around Central Florida and Disney World acting like National Champions (which I think is ridiculous, but our own Cameron Brock defended), Patterson had some advice, saying, "You got to be careful about winning the battle and not the war — If you want people to take you into their conference, they've got to like you and think you're in for the right reasons. The best way to talk is to just do it again. That's what we've done at TCU. When people have kept us out of things, well then we just came back the next season and showed people again that we can do it. Even on the national landscape — how do we get to where people give us the benefit of the doubt? Just keep doing it. If we keep doing it, our time is going to come also."
Ding ding ding. Exactly.
UCF is two seasons removed from going 0-12. Since UCF started playing football in 1979, they've won 10+ games six times. Relax there, fellas. Just like Patterson said, if you want to be taken seriously, keep doing it.
Now not every Group of 5 program has the luxury that TCU has had by keeping Patterson around for two decades. UCF lost head coach Scott Frost to his alma mater, Nebraska, and now welcomes in Josh Heupel. Can he keep the momentum? I don't know. But if UCF goes 6-6 next season, they lose some credibility.
So let's see what the Knights put together in 2018 before we start talking about them as a legitimate college football program worthy of National Title discussions.