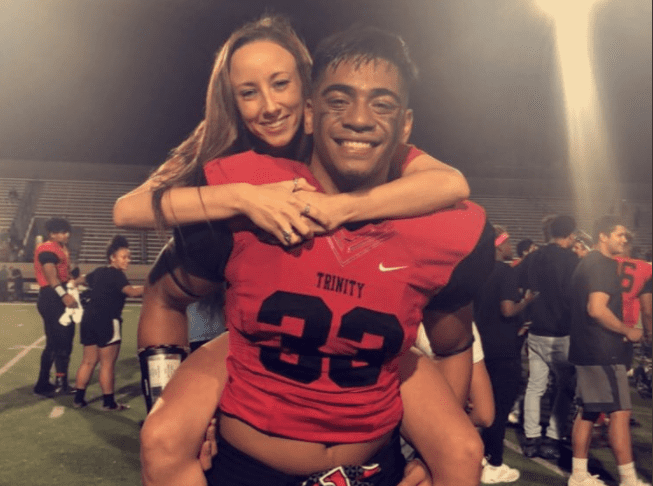 On Sunday, I got the chance to speak with Izaih Filikitonga (6'2,237 lbs, #67 OLB) out of Euless, TX (Trinity HS). According to 247Sports, Filikitonga is rated as a 3-star prospect and holds a total of 10 offers (4 from Big 12 schools) and even has an offer from Ohio State. So here is my chat with Izaih about his recruitment and it appears that there are 3 Big 12 schools that will battle it out for his signature. Who are they? Find out right here in this interview.
HCS: Do you have a list of top schools in your recruitment?
Filikitonga: "TCU, Oklahoma State and Oklahoma."
HCS: In that order?
Filikitonga: "Yes, those are the top 3 in that order."

HCS: As far as visits go, have you visited all 3 schools?
Filikitonga: "No, I am going to visit TCU on January 26th."
HCS: So, you haven't visited to Oklahoma State or Oklahoma?
Filikitonga: "No."
HCS: What sticks out about TCU to make them your top school?
Filikitonga: "Just the fact that it's close to home and why leave the state of Texas when Texas Heat made me the athlete I am today."
HCS: What is the biggest factor in your recruitment?
Filikitonga: "Honestly, it's just the program itself and to hear that the TCU defense led in sacks this past year. I feel like I can become a part of that factor and succeed all the way."
HCS: Since it is pretty much a lock that you will be playing at a Big 12 school, what are your thoughts about the conference?
Filikitonga: "It is a well-designed conference with a lot of talent. The Big 12 is a very offensive conference. So, since I play defense it works in my favor because high powered-offenses mean better competition."
HCS: When will you be announcing your commitment?
Filikitonga: "I will be committing on TV January 20th and signing on NSD."