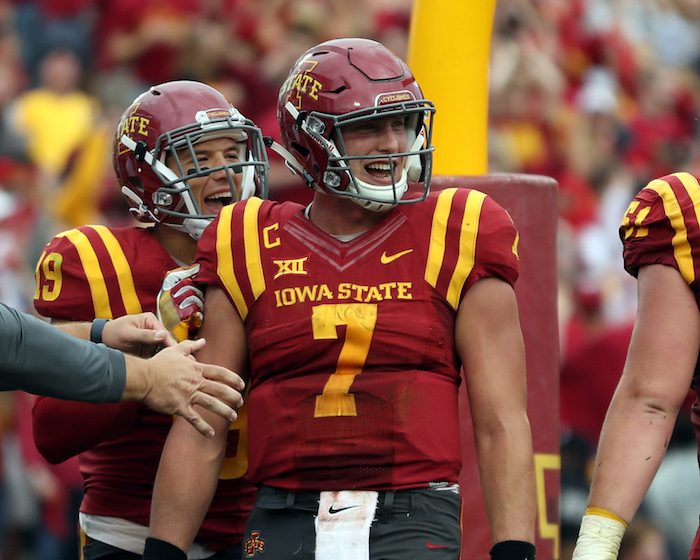 With the winner of the Lombardi Award set to be announced on Saturday in Houston, there are two Big 12 finalists of the seven. Oklahoma Sooners QB Baker Mayfield and Iowa State linebacker Joel Lanning both made the list, along with five others including Penn State RB Saquon Barkey, Alabama defensive back Minkah Fitzpatrick, Louisville QB Lamar Jackson, Stanford RB Bryce Love and UCF linebacker Shaquem Griffin.
They're all very solid choices, but there is one clear winner of this award and it should be Iowa State's Joel Lanning.

On the Rotary Lombardi Award website, the description is as follows: "Since 1970, the Rotary Club of Houston has presented this prestigious award to a talented college football player who not only demonstrates outstanding athletic performance and skill, but exemplifies the type of discipline, courage and wisdom that define Coach Lombardi's exceptional brand of leadership."
In a day and age of "me first", Lanning bucked the trend saying, "team first", last offseason. Lanning had lost his starting quarterback job to Jacob Park and head coach Matt Campbell approached Lanning about switching to linebacker. Most players would have packed their bags and transferred to play quarterback, determined to feed their ego and continue at the most important position on offense. But Lanning didn't pout and instead saw an opportunity to create an impact and a legacy in his final season with the Cyclones.
Lanning is an Ankeny, Iowa native and wanted to leave his mark on this program, rather than bounce somewhere else in the country just to play a certain position. It's this kind of wisdom, humility and foresight that is not seen enough in collegiate athletics.
After last year's spring game, head coach Matt Campbell said the following about Lanning's transition, "Joel's a guy that got better every day… The guy's a great athlete. I would've never put Joel in a position to fail. He's a guy that has elite athletic ability, especially for big skill players. And he just kept getting better every day. It was great to see him have some success today. But, I've got to be honest with you, go look at the tape from 14 practices ago, you could see him have that kind of success. But a lot of work to do though, that's a hard transition to make. And I'm not silly, I know what kind of work ethic it's going to take to get where he needs to go so he can play at that rate consistently. But I wouldn't doubt Joel Lanning."

Well, if you did doubt Lanning, the joke's on you. Lanning finished the season with 114 tackles, the second most in the Big 12 conference. His 8.8 tackles per game ranked fourth in the conference. Lanning finished with six sacks which was second on the team and tied for sixth in the Big 12. Then there were the 11 tackles for loss, which was tied for third on the team and 11th in the conference. His 20 tackles against Texas in September were the most for any Big 12 player this season.
The selflessness of the two-time team captain and All-American resulted in the Cyclones finishing 8-5 this season, winning two games against top 5 opponents and winning a bowl game for the first time since 2005. Lanning's abilities on the field, in the locker room as a teammate and leader, plus his quarterback skills running the Wildcat, going 5-of-5 on third down and 4-of-4 on fourth down conversion rushes, were all an enormous reason for the big jump in Year 2 under Matt Campbell.
Lanning tallied a ridiculous 934 snaps during the season, including 765 on defense, 124 on special teams and 45 on offense.
I'm not going to go through the other six candidates and knock them for why they shouldn't win. That's not fair as they're all great players and good citizens. But they haven't demonstrated the overall athletic performance and skill, along with the discipline, courage and wisdom that the Lombardi Award claims defines their winner.
Joel Lanning is currently in South Florida working to improve his speed and other measurables in the next three months before the NFL draft. Of course, the chip on his shoulder continues to grow as he did not receive an invite to the NFL Combine. But that's fine, it's not the first time, and won't be the last time, Lanning hasn't gotten the respect he deserves.
Let's just hope those slights don't continue Saturday night in Houston.
This decision is a no-brainer: Joel Lanning needs to be the Lombardi Award winner.