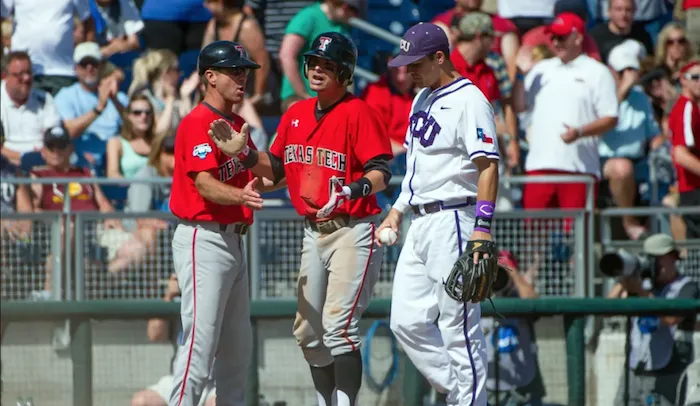 ESPN announced its 2018 college baseball television schedule, and the network was proud to announce they'd broadcast a record number of college baseball games, as more than 800 are set to be televised on ESPN, ESPN2, ESPNU, SEC Network, Longhorn Network and the ESPN app.
The Big 12's national television appearances begin with TCU's games at Oklahoma State on March 30 and March 31.
Also, here's a weekend to mark on your calendars OU fans: Oklahoma hosts Texas on ESPNU on April 14 and April 15th. What else is April 15th? OU's spring football game. Woo!
Other highly anticipated series include TCU vs. Texas Tech, two top 5 teams, the last weekend in April and the following week its Texas Tech vs. Texas.
Below are all the games starting with conference play. Nearly every Texas Longhorns game prior to Friday, March 16th, is on the Longhorn Network as well.
2018 Big 12 baseball ESPN schedule
| | | | |
| --- | --- | --- | --- |
| Date | Time (ET) | Game | Network |
| Fri, March 16 | 7:30 p.m. | Texas at Kansas | LHN |
| Sat, March 17 | 3:30 p.m. | Texas at Kansas | LHN |
| Sun, March 18 | 2 p.m. | Texas at Kansas | LHN |
| Fri, March 23 | 8 p.m. | OSU at Texas | LHN |
| Sat, March 24 | 3:30 p.m. | OSU at Texas | LHN |
| Sun, March 25 | 2:30 p.m. | OSU at Texas | LHN |
| Fri, March 30 | 9 p.m. | TCU at Oklahoma State | ESPNU |
| Sat, March 31 | 7 p.m. | TCU at Oklahoma State | ESPNU |
| Mon, April 2 | 7:30 p.m. | McNeese State at Texas | LHN |
| Fri, April 6 | 7:30 p.m. | Baylor at Texas | LHN |
| Sat, April 7 | 5 p.m. | Baylor at Texas | LHN |
| | 8 p.m. | Oklahoma at TCU | ESPNU |
| Sun, April 8 | 2:30 p.m. | Baylor at Texas | LHN |
| Tue, April 10 | 7 p.m. | Texas at Texas A&M | SEC Network |
| Sat, April 14 | 9 p.m. | Texas at Oklahoma | ESPNU |
| Sun, April 15 | 2 p.m. | Texas at Oklahoma | ESPN2 |
| Tue, April 17 | 8 p.m. | UTRGV at Texas | LHN |
| Fri, April 20 | 8 p.m. | University of New Orleans at Texas | LHN |
| Sat, April 21 | 4:30 p.m. | University of New Orleans at Texas | LHN |
| Sun, April 22 | 2:30 p.m. | University of New Orleans at Texas | LHN |
| | 7:30 p.m. | Houston at Texas | LHN |
| Wed, April 25 | TBD | Texas Tech at Arkansas | SEC Network |
| Sat, April 28 | 8 p.m. | Texas Tech at TCU | ESPNU |
| Sun, April 29 | 2 p.m. | Texas Tech at TCU | ESPNU |
| Tue, May 1 | 7:30 p.m. | Texas State at Texas | LHN |
| Sat, May 5 | 2 p.m. | Texas at Texas Tech | ESPNU |
| Tue, May 15 | 7:30 p.m. | Texas State at Texas | LHN |
| Fri, May 18 | 7:30 p.m. | TCU at Texas | LHN |
| Sat, May 19 | 3:30 p.m. | TCU at Texas | LHN |