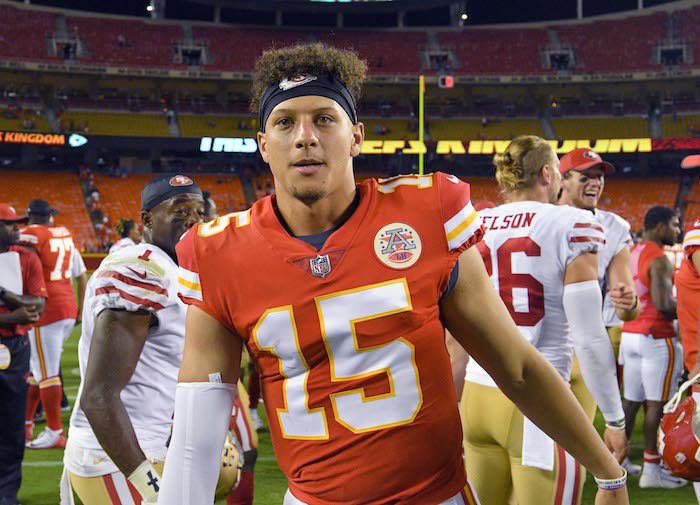 With the shocking news that the Chiefs had traded quarterback Alex Smith to the Redskins, it signals that Kansas City is ready to move ahead with former Texas Tech quarterback Patrick Mahomes as its starter.
Kansas City took Patrick Mahomes with the 10th pick in the 2017 draft, the latest sign that the franchise was planning for the post-Alex Smith era. The hype had been building for Mahomes since before the season. Even though Smith had the best season of his career, there were plenty of rumors that folks around the franchise felt Mahomes was the quarterback of the future.
Mahomes played in the final game of the regular season against the Broncos, winning 27-24 on the road, and finishing 22 of 35 for 284 yards with an interception. Mahomes was able to show off his arm strength and poise during that game.
Most importantly, while Smith proved great in the regular season, he proved again to be unable to get it done in the playoffs, when it matters most. The Chiefs lost to the Titans in embarrassing fashion, blowing a double-digit lead and losing 22-21. The Chiefs failed to get past the divisional round of the playoffs, despite making the postseason for the fourth time in five years. Kansas City hasn't been to the AFC Championship game since 1993.
So, it's now your turn, Patrick Mahomes. Go and make the Red Raiders, and the Big 12, proud!
If Kliff Kingsbury can hang onto his job, having a successful NFL quarterback that you coached and mentored is one of the recruiting chips that Kingsbury will be able to have in his back pocket for a long time. And something tells me he will be able to tout his work with Mahomes more than he can tout his work with Johnny Manziel.