TCU Horned Frogs
Former TCU WR Kolby Listenbee suing Gary Patterson, TCU and Big 12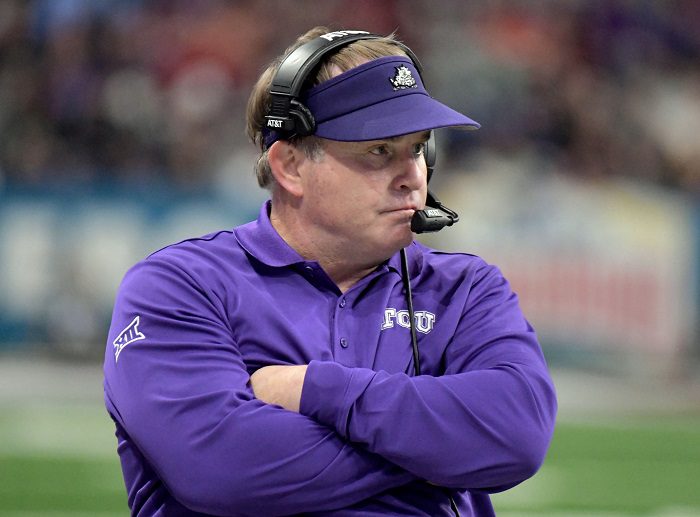 Former TCU wide receiver Kolby Listenee has filed a lawsuit against TCU, head football coach Gary Patterson and the Big 12 conference, as first reported by the Fort Worth Star-Telegram.

Listenbee is seeking more than $1 million in damages. The report says that the former wide receiver alleges a "pattern of abuse and harassment" and refers to the staff's treatment of a groin injury suffered during his senior season against SMU in 2015. He missed the next two games against Texas Tech and Texas, and didn't play much against Kansas State.
Listenbee claims that Gary Patterson and offensive coordinator Doug Meacham pressured him to play through the injury. TCU had College Football Playoff hopes that season. If you recall, it was the year after they got hosed for the inaugural College Football Playoff, but they returned a lot of key players, including QB Trevone Boykin. The Horned Frogs were ranked 2nd in the country to start the season, but injuries derailed the season.
After an 8-0 start, TCU lost two of the next three games against Oklahoma State and Oklahoma, ending the season with a trip to the AlamoBowl.
According to the lawsuit, "After the game and for the next two weeks, defendants Patterson, Meacham, and [wide receiver coach Rusty] Burns continually harassed, humiliated, pressured, and threatened Kolby to return to play. On numerous occasions, the aforementioned Defendants made fun of Kolby's injury by telling him, in front of the entire TCU football team, that Kolby was 'faking it' and that he was 'soft.'"
Also in the lawsuit was former TCU athletic director Chris Del Conte, who is now the AD at Texas.

In a statement, TCU defended its medical team and coaches against the allegations.
"As a practice, Texas Christian University does not comment on the specifics of pending litigation. However, TCU takes tremendous pride in its long-standing tradition of excellence in providing a positive experience for its student-athletes, especially in the areas of care, prevention and rehabilitation of athletic injuries."
According to DieHards, TCU has countersued, saying the responsibility cannot be assigned to TCU.
Listenbee was sixth round draft pick by the Buffalo Bills in 2016, but he was released before playing in a game.