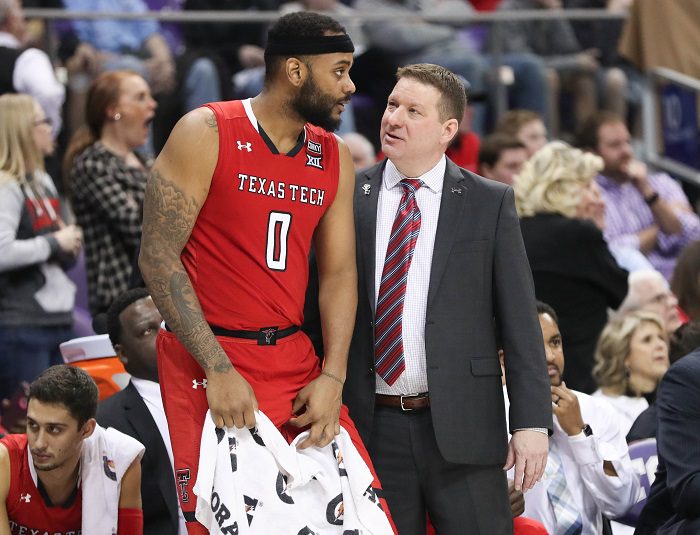 Give Chris Beard's bio a read sometime and you'll figure out quickly that he was built to lead Texas Tech.
He grew up in Irving, Texas, but he's spent a good portion of his coaching career out on the Caprock Escarpment and the Llano Estacado out in West Texas. Yes, he did a long stint at Texas Tech as Bobby Knight's assistant coach and Pat Knight's top lieutenant. But around that stint you'll find the career of a coach that knows those long, straight West Texas and south plains roads all too well.

A year as an assistant coach at Abilene Christian in Abilene, Texas. A year in Fort Scott, Kansas, as the local community college's head coach (where he met former Arizona coach Lute Olsen and learned that aggressive defense doesn't mean you HAVE to foul). Then a year as McMurry's head coach in Abilene, Texas (what, he couldn't do a year at Hardin-Simmons and get the Abilene trifecta?). Then a move southwest to Angelo State in San Angelo, Texas for two years. He won everywhere he went. And then Arkansas-Little Rock offered him their head-coaching job and, well, let me tell you — Little Rock looks nothing like Lubbock.
After the 2015-16 season there should have been no question where Texas Tech needed to look for a head coach. Tubby Smith had just bailed to take over at Memphis after leading the Red Raiders to the NCAA Tournament for the first time since 2007. Meanwhile, Beard led the Trojans to a 30-win season, a Sun Belt Conference title and an upset of No. 5-seeded Purdue in the NCAA Tournament.
If Texas Tech athletic director Kirby Hocutt didn't snap Beard up then, someone else was going to. In doing so Hocutt may have made one of the savviest moves of his tenure in Lubbock. He found a coach that has the capability to turn the Red Raiders into a perennial success. More importantly, he found a coach that may just want to stay there for the long haul.
Beard believes in his program and his system. Now that the Red Raiders are tied for the Big 12 lead (Saturday's win, coupled with a Kansas loss to Oklahoma State took care of that), he's not talking like a coach dealing with a big head about the Red Raiders' success to this point.

"You just have to understand who I am and where I come from," Beard said. "I'm just trying to have a good practice tomorrow, try to put ourselves in position to win the next game. I'm not dodging (the question). I understand it (the question). But to me I've always said, 'The conference race doesn't start until February.' So we're 1-0 and we'll see what happens this month."
Where he comes from is a place where the wind blows hard and attention for college basketball comes infrequently. Beard is out to change that, and all you have to do is look at his fingerprints on this Tech program as a head coach (2016-present) and as an assistant coach (2001-11). He's either coached or recruited 14 of Tech's 19 All-Big 12 players. The recent success this program has had features plenty of Beard's influence, even if he wasn't in charge.
Saturday's win over TCU was typical Tech basketball under Beard. Unlike some Big 12 teams, they're not out to relentlessly push the tempo nor do they need to (but they will if you let them). The Red Raiders are, in my opinion, the best half court defensive team in the Big 12. That's not because the Red Raiders were No. 1 in scoring defense in Big 12 contests entering the game, either. It's the way they play.
Texas Tech is almost exclusively a man-to-man defensive team that plays hard on-ball defense and consistent off-ball defense. Their off-ball defenders play consistent help-side rules and help on-ball defenders through pick-and-roll action. They're the first Big 12 team I've seen this season that consistently solved the riddle that is TCU forward Vladimir Brodziansky's pick-and-roll action near the basket. Kansas and Oklahoma couldn't do it. But that slip action Brodziansky typically gets off the pick near the low block wasn't there very often on Saturday. Tech's help-and-recover defense was up to the challenge.
As for the offense, well, hey — Tech was awesome on Saturday, shooting 54 percent from the floor and 45 percent from the 3-point line (their halftime percentages were even higher, thanks in part to an 18-0 run in the first half). But they don't always shoot that well. The Red Raiders entered the game shooting 43.1 percent in Big 12 games, just seventh in the league. Plus, they're the lowest scoring team in the Big 12 since league play began (70.1 points per game). Senior guard Keenan Evans has been their rock all season (18.6 points per game this season, second in the Big 12), but he can't do it all. The Red Raiders have managed to survive the foot injury to Zach Smith with the emergence of a couple of intriguing freshmen — Jarrett Culver (who led Tech with 20 points on Saturday) and Zhaire Smith. Both averaged better than 10 points per game going into the TCU game. Culver has a sweet shot from outside and Smith has athleticism that screams "big plays above the rim."
Don't look at the stat sheet when you evaluate Beard's team, either. They don't look dynamic, but they play nine to 10 players a night and many play valuable roles. Tommy Hamilton IV and Norense Odiase are the muscle inside. While they're not as skilled as, say, West Virginia's Sagaba Konate or as highly-touted as Texas' Mo Bamba, they play their roles perfectly in Beard's game plan. They can run sets where the pair anchor the pick and roll, but Tech's offense flowed so well on Saturday that Beard stayed primarily in motion sets and let the offense just come to his players. Niem Stevenson and Brandone Francois have proved valuable scorers from outside at times this season.

"I told the guys at halftime, 'Hey, everybody in this room has made a play. Everyone in this room is playing well,'" Beard said. "Let's see if we can duplicate and we'll see if we can win a road game. Niem had a solid floor game, four assists, no turnovers and just under double digits. We're a team — and it's no surprise — (where) everyone has to contribute and play for us to have a chance to win in this league."
The pieces Beard has put together makes Tech, perhaps, the Big 12's most complete team. TCU doesn't play consistently good defense, so they must score well every night. When that breaks down — as it did Saturday — then games like Saturday's 12-point loss happen (and TCU was down 24 at halftime, so the final score, 83-71, proved respectable). Kansas is not particularly skilled inside this year, so when the guards aren't shooting well things like Tech's win at Allen Fieldhouse in January happen. This isn't to say that Tech doesn't have flaws, their biggest probably being an overreliance on Evans' offense. But because the sum of their parts work together so well they're able to ride out the rough patches when they come, such as their long stretch of poor shooting in the second half in their overtime win over Texas Wednesday night.
Or when Evans fails to take a shot for the first 14 minutes of the first half against TCU on Saturday and the Red Raiders built a 32-16 lead anyway. Evans finished with 17 points.
The team Beard has put together is a blend that should get into the NCAA Tournament and, perhaps, could take the Red Raiders a few games into the tournament. He says he's not surprised this team is as successful as it has become, just one victory short of 20 wins this season. But, long-term, Beard is out to build something in Lubbock, something more than the Knights or Smith could. He's trying to make Tech basketball must-see basketball, in a way that fits right in on the plains.
"If I didn't think that (we could be winners) I wouldn't be the coach for these guys," Beard said. "I like to think we're humble people, and I know a lot of you know that's who we are. But at the same time, we're confident. We don't think we're better than anyone else in college basketball, but at the same time we don't think anyone is better than us. We practice hard every day, we're unselfish, we recruit good players.
"I expected to be here. It's humility, not arrogance. I expect us to be in games, I expect us to win. Texas Tech University is a great place and it deserves a successful program and that's what we're trying to do."
Unsatisfied with the Red Raiders' crowd against Oklahoma State recently (we documented the rows of empty seats in the arena's upper deck here) Beard put the word out that, if you're cash-poor and you want to come to a home game, let him know and he'd hook you up. Shortly after that Beard revealed his own toughness. He's coaching through a torn ACL. OK, so it's not like playing through one. But, hey, in the eternal debate of "My coach is tougher than your coach," Tech has a strong case now.
The case for Tech's claim as a rising power in an ultra-competitive Big 12 Conference gets better by the game, too.