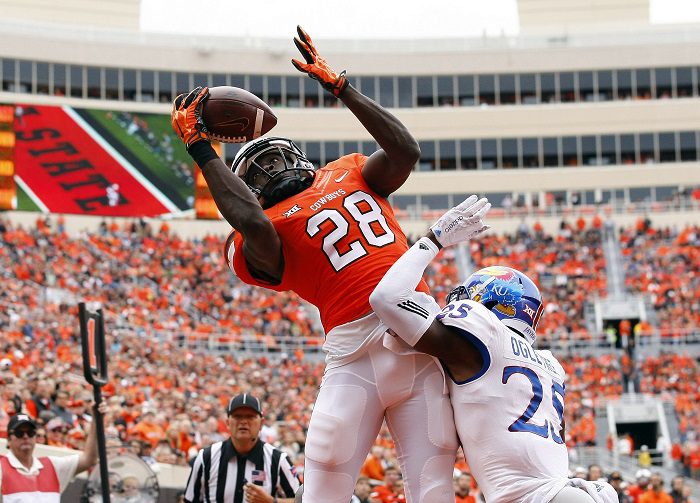 Caught up in all the Super Bowl hysteria over the weekend was the NFL Combine invite for Oklahoma State wide receiver Chris Lacy. Now unless you're an Oklahoma State fan, or just a die hard Big 12 fan, you may not even know who Lacy is. But his invite alone shows that Mike Gundy's program is now the best place in the country for wide receivers who want to compete at the next level.
OSMG would like to congratulate our client @Gifted_CLacy on receiving a 2018 @NFL Scouting Combine Invite! Thanks @deesignz_ for the awesome background! pic.twitter.com/zBy0Bk1gAe

— OSMG_LLC (@OSMG_LLC) February 5, 2018
The 6-foot-3 receiver from DeSota, Texas, finished his career in Stillwater with 920 yards receiving and 5 receiving touchdowns. This past season he only had 20 catches for 263 yards. He was sixth on the team in receptions and receiving yards and had zero touchdown catches this season. Where else can a guy who is healthy for an entire season and make 20 catches receive an NFL Combine invite? Stillwater, Oklahoma. That's where.

Think about this though: If we're being fair, Oklahoma State hasn't had a wide receiver taken in the NFL Draft since 2012, which was Justin Blackmon, who's now out of the NFL. Prior to that it was Dez Bryant in the 2010 NFL Draft. And before that, was Rashaun Woods in 2004! You can't call Oklahoma State Wide Receiver U based on the history, but you can based on the present and what the future holds.
James Washington, Marcell Ateman and Chris Lacy will all end up being drafted, with both Washington and Ateman possibly first round picks.
The Cowboys' three NFL combine invites at the wide receiver position are the most of any team in the country. Alabama, Clemson, Pittsburgh, SMU, Texas Tech and USC each had two.
As a conference, the Big 12 led the way with eight invites at the the wide receiver position. This shouldn't be shocking, but it still makes me shake my head when I see 4 or 5-star wide receivers pick LSU, which hasn't had a decent quarterback in what seems like well over 10 years, rather than a Big 12 school. Maybe one day they'll learn!
The Big 12 is the place to be for wide receivers, because even if you don't turn out to be the first or second option on your team, you will receive playing time, have opportunities, and ultimately have some film for NFL scouts to review and consider. That's often more than half the battle. And that statement is never more true than with Mike Gundy's program.

When you look at what Oklahoma State has returning next season in rising senior Jalen McClesky, plus sophomore Dillon Stoner, junior (and LSU transfer, smart man) Tyrone Johnson and sophomore Tylan Wallace, there's no reason to believe that the Cowboys will have much of a drop off at the position. Plus, don't forget the incoming talent in 4-star 6'5" receiver C.J. Moore from Union H.S. in Tulsa, Oklahoma and 6'4" 3-star Jonathan Shepard from Kilgore, TX. Also, there's former 4-star WR LC Greenwood (6'3", 210), who didn't see any snaps, but was a part of the Class of 2017.
What other program can lose three wide receivers to the NFL Draft and say it's unlikely to see a drop of production or talent? Oklahoma State.
This isn't meant to excuse any of the troubles Mike Gundy's program has faced in recent seasons. Whether it's the defense, an inability to win the big game, especially against Oklahoma, or otherwise, there are certainly areas to improve.
But at the wide receiver position, Stillwater, Oklahoma has become a hub and that's not changing anytime soon.