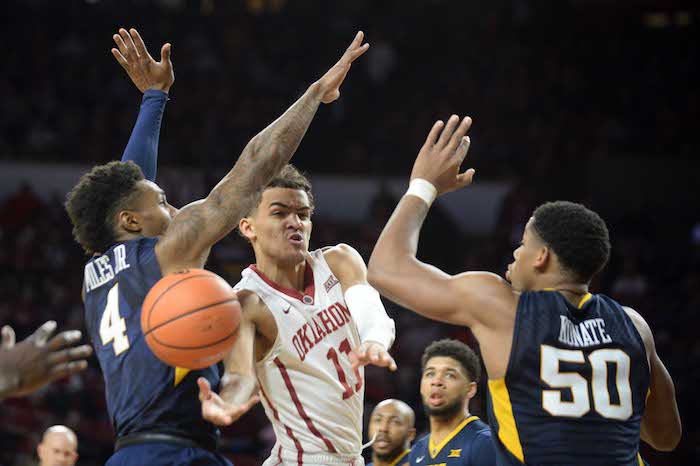 With the Super Bowl in the rearview mirror, now is the chance for college basketball to shine. There's no football to overshadow the sport, while the NBA isn't of interest to the casual fan until the weather begins warming up in early spring. The first day of our post-football year began with a Big Monday showdown in Norman, Oklahoma between the Sooners and the West Virginia Mountaineers. Both teams were ranked in the Top 20 and the game featured one of the front runners for the Naismith College Player of the Year Award: OU guard Trae Young. It's become clear that ESPN is hitching its wagon to Young to try and entice the casual sports fan, who could just as likely watch a Breaking Bad rerun on Netflix.
But has the Trae Young hype train lost control? It has.

It's a unique season in college basketball as the likes of Duke and Kentucky don't have that can't-miss one-and-done player that you have to watch every single night. Marvin Bagley and Kevin Knox are good players, but in a guard-driven sport, they don't drive the ratings. That doesn't mean both Duke and UK won't have several first round NBA Draft picks. They might and probably will. But remember, the NBA Draft is often based on a player's ceiling, not their previous production.
This season's player of the year award is being led by Young and Villanova point guard Jalen Brunson. But it's Young who is the far more marketable player. The true freshman, hometown kid who spurned bigger programs (Duke, Kansas), the 30-foot three-pointers, the quick release that is being compared to Steph Curry (who has even commented on Young). It's a perfect storm of hype.
Compare this to Brunson, who yes, is the son of a former NBA player and current NBA assistant coach, but he's a junior and a wily veteran who isn't nearly as flashy and just runs Jay Wright's system to perfection for the No. 1 ranked Wildcats. There isn't nearly the sex appeal to Brunson that there is to Young. Adding to this is that Brunson plays all his games on the FOX properties, which owns the Big East rights. Therefore, ESPN has gone all in on Trae Young and that was more evident than ever Monday evening against the Mountaineers.
First off, there was the "Trae Young stat tracker."
Yes, if you tuned into Big Monday, there was a permanent graphic above the score that showed Young's stats, for the entire night.
@espn what's up with the trae young stat tracker all game pic.twitter.com/JiRAaFpgGV

— Corey Girard (@corey_girard64) February 6, 2018
That's ridiculous. I can understand having a graphic like that up once a player reaches, say, 40 points with 10 minutes left in the game. But having it up throughout the game feels like a cheap ploy from ESPN, which latches onto guys for its own, theoretical, promotional, and monetary, gain (see: Ball, Lavar). I understand the need to promote stars, but this is out of control (and it didn't just begin on Monday night).

Want another example of the Trae Young obsession? He received only 24 fewer mentions than all five West Virginia starters.
Right, because mentioning one player close to the same number of times as an ENTIRE team with star players of their own really helps grow the game. Also where was the criticism of Young when he dribbled straight out of bounds with a minute left pic.twitter.com/wO4kAtA7z9

— Artie Bucco (@Lord_Neill) February 6, 2018
Once again, Young is a helluva player, and none of this is his fault. He's just playing his game like he always has. But can we slow this train down a bit? He's not LeBron James, he's not yet Steph Curry. He had more turnovers than assists on Monday night and did not utilize his teammates to the best of their abilities against a very good defensive team in West Virginia.
Frankly, I could see this OU team knocked out in the second round of the NCAA Tournament by a tough and gritty No. 7 seed. I'm just not comfortable heading into a one-and-done situation like the NCAA Tournament, rather than a five or seven game series, relying so heavily on a guy to hit step back, contested 30-foot bombs to win.
But hell, when we get there, and if Young and the Sooners don't advance, ESPN will have wipes its hands clean, because by then it'll be CBS/Turner's problem!