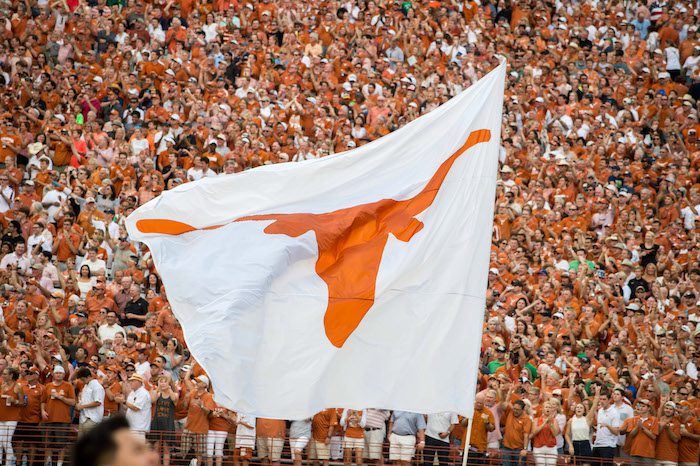 It's National Signing Day 2018. Granted this day just doesn't have the juice that it has in previous years because of the Early Signing Period when the bulk of many of the top classes were locked up. But it's exciting nonetheless. And with Tom Herman and his staff killing it on the recruiting trail, with at least 12 of the top 20 recruits from Texas heading to Austin (according to 247Sports), there's plenty of optimism on the 40 Acres.
Well the intrigue and excitement got bumped up a notch when Texas' top recruit, safety Caden Sterns, took a swipe at Texas A&M and the SEC on Wednesday morning.
SEC.. SEC

— C.Sterns (@lil_STERNS2) February 7, 2018

He then retweeted himself and unleashed this missile.
A&M rep the SEC conference more than their own school, that's how you know they're weak. https://t.co/x0hyT4yK8j

— C.Sterns (@lil_STERNS2) February 7, 2018
CADEN STERNS FOR MAYOR OF AUSTIN!
He is 100% spot on. In fact, ALL of the SEC represents the SEC more than their own school, outside of Alabama (with Georgia coming in hot). The rest of the teams in the conference live off the SEC brand and the fact that Alabama wins a National Championship every other year. It's nice to see even high school recruits are finally catching on to this BS that has been propping up the SEC for close to a decade.
But seriously, when can we get Texas vs. Texas A&M back on the football field? If this doesn't get you excited for the potential return of the game, I don't know what will. I realize there are economic, environmental and social issues to deal with for Texas politicians, but nothing should be a bigger priority right now in the Lone Star State than finally figuring out how to get these two teams to play each other again!