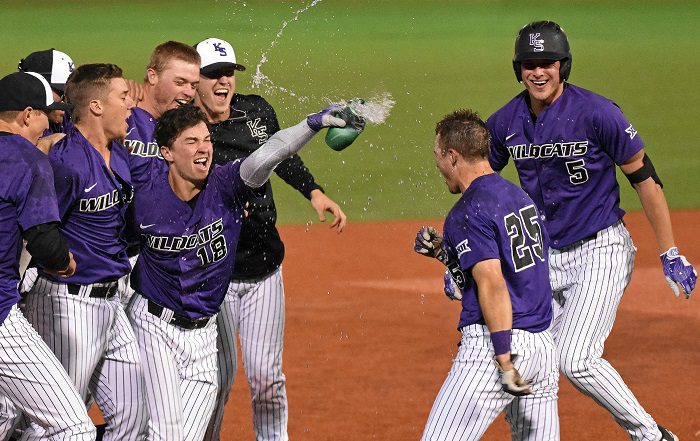 With the college baseball season right around the corner, we start previewing every team in the Big 12. Here's a closer look at the Kansas State Wildcats.
2017 Record: 29-26 (8-16 in Big 12 play), missed Big 12 Tournament
Head Coach: Brad Hill, 14th season at Kansas State (445-360-3, .553 winnin percentage)
Last NCAA Regional appearance: 2013, also only Super Regional appearance
Big 12 Coaches Prediction: 9th place (9 points)
In The Box
After earning its first winning season since its 2013 Corvallis Super Regional appearance, Kansas State fans are hoping the rebuild is nearing its end. Coach Hill's top hitters are young, experienced players who hope to surprise a few folks this season. Sophomore Will Brennan (.361 avg, .455 obp, .412 slg) finished seventh in overall hitting, and was the top freshman. He also garnered Freshman All-America honors.
Brennan wasn't the only Wildcat to be named a Freshman All-American. Cameron Thompson brings patience to the plate. He finished in a four-way tie for second in the Big 12 Conference for walks. These two were also the only players on the entire team to finish the season with averages over .300. Another player to keep an eye on is senior outfielder Hanz Harker. He's not a for-average hitter (.246 in 2017), but he can supply some power (4 HR, 1 triple, 6 doubles). He drove in 17 RBIs and scored 25 runs.
But the youth has been contagious as Coach Hill told Heartland College Sports he's enjoyed the, "Great work ethic and youthful energy, which has been pleasant to be around every day at practice."
On the Rubber
Parker Rigler has a no-hitter under his belt. However, it came during non-conference play against Eastern Illinois. Kansas State's pitching staff was the worst in the conference in 2017 with a 6.44 ERA in conference play. Opponents hit .300 against the Wildcats staff. Only two pitchers cracked the top 10 in any individual category. Justin Heskett, who is returning this season, just cracked the top 10 in innings pitched. Tyler Eckberg had three saves to tie for fifth with two other pitchers. The Wildcats held Big 12 foes under five runs eight times. They were 5-3 in those in those games. On the other hand, when a team scored double digit runs against Kansas State, the Wildcats finished 0-5. Pitching is the key factor this season if Kansas State wants to compete.
Overall, Coach Hill wants to see this team pick each other up when needed, saying the key is, "better balance." Hill added, "we pitched well to start Big 12 and couldn't score any runs to win some games to keep us out of huge hose and later in the year we were pretty efficient offensively and didn't pitch as well."
Non-conference Slate
The start features some solid programs. These guys will head to Myrtle Beach for the 18th Annual Brittain Resorts Baseball at the Beach tournament. South Alabama and Indiana scored victories at NCAA Regionals in 2017. The host, Coastal Carolina, won the 2016 National Championship. This should be a solid early season test for Kansas State. Mercer won the Southern Conference Regular Season Championship. It's kind of a miracle they didn't get invited to a regional last year. La Salle, however, is an awful program. This team consistently finishes at the bottom of the Atlantic 10 Conference. Some mid-week affairs with Creighton, Wichita State and Nebraska might provide additional losses. Those are three solid programs, and pitching can have a major impact in those midweek games. That's a disadvantage for Kansas State. At the end of the season, they'll play at San Francisco. This could be a great opportunity to cushion a potential NCAA bubble with some road wins against a solid West Coast Conference.