Baylor Bears
Big 12 Recruiting: Comparing 2012-2017 classes to on-field success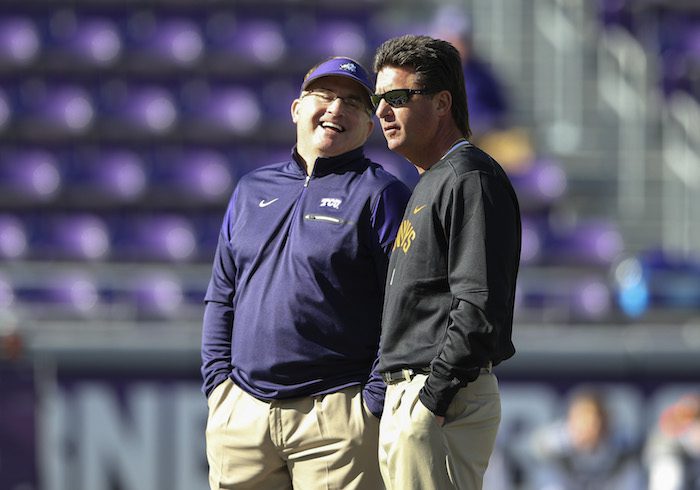 Every Monday over the last few weeks leading up to NSD (Or late signing day), I (@Derekduke25) tweeted out the updated Big 12 class rankings for that week. I must say that each week was a brand-new adventure seeing the comments and bickering amongst fan bases either with other fans who root for the same team or throwing shade at a rival school. But the most popular question or comment I got was "Why isn't my team recruiting at a higher level? We need higher ranked players to win more games."
Look, I get it. Every fan base in America wants better players than what they already have. We live in a world where people feel the need to upgrade, upgrade, upgrade. It reminds of these fancy I-phones that come out. While your phone may be working just fine, you feel the need to get the latest and greatest phone to keep up with society. But not every person in the world can afford a new phone every time a new one comes out. Just like how certain schools can't recruit at the same level as let's say an Alabama, Clemson or Ohio State. Do you need to recruit at a top 10 level to win your conference? It helps, but it's not necessary. Did Baylor recruit at a top 10 or 15 level to win the Big 12 back in 2014? What about K-State back in 2012 or Oklahoma State in 2011?
You can look at the past few national champions and say, you need a top-10 caliber class year in and year out to win the title. But the bottom line is, you must do what works best for you. If your school lacks in the recruiting department, they better be excellent at developing incoming players to compete for a conference title or even a national title. If your school can figure out a way to do both, then chances are your school is a current powerhouse or at the very least competing for conference championships.
Average class rankings since 2012 (247) & Conference records since 2012
I went back to the class of 2012 all the way through 2017 here. Why 2012? Because that was the first year where the Big 12 played a round robin schedule, so everyone had to play everyone at least once and it threw out easy or tough non-conference schedules. I also stopped at the 2017 class since we just wrapped up the 2017 season awhile back. These are the average class rankings of each Big 12 school from 2012-2017. Also, I can't forget the main point of this article so right under the recruiting list, I put the conference records for each school during the same stretch (2012-2017). Whether you jump for joy or shed a tear, it won't change where your school sits. Look at some of the numbers here and tell me, did your school's success or lack of success translate onto the playing field? I'll let you be the final judge of that but maybe I can help sway your decision.
Average Class Rankings 2012-2017 (247)
Texas: 13                
Oklahoma: 14
Baylor: 32.3
TCU: 32.5
Oklahoma State: 35.3
WVU: 39.1
Texas Tech: 39.8
Iowa State: 60
Kansas State: 62.1
Kansas: 65.6
Conference Records 2012-2017
Oklahoma: 45-9
Oklahoma State: 36-18
Kansas State: 34-20
TCU: 32-22
Baylor: 30-24
Texas 29-25
West Virginia: 27-27
Texas Tech: 20-34
Iowa State: 14-40
Kansas: 3-51
Final Thoughts
Texas: Probably the most shocking if we are talking about under achieving. They are on average, the best recruiting team in the Big 12 during this 6-year span and yet have a conference record of 29-25 which ranks 6th in the Big 12. From the late Mack Brown era, the Charlie Strong era and now the Tom Herman era, the last 6 seasons have been forgettable to say the least. Not to be too harsh but damn what a waste of talent over the years. Let's see if Tom Herman can turn the ship around.
Oklahoma: The Sooners are right where they need to be in terms of on the field success. Did the Baker Mayfield era have a big impact on this record? Sure, but he did have some talent around him. During this 6-year stretch Oklahoma captured the last 3 Big 12 titles and are still very high in the power chair of the Big 12. Head Coach Lincoln Riley looks to continue that dominance during his time in Norman.
Baylor: This one is tricky since Art Briles is gone due to the methods of how Baylor was handling their business off the field during most of this time. However, they did experience some success on the recruiting trail like never before and it appears that Matt Rhule is having some good fortunes as well recruiting. Overall, I would say that Baylor was right on par when it came to translating recruiting success to on the field success.
TCU: TCU is one of the surprises on this list. Think about it, TCU came from the Mountain West Conference and the 2012 season was their first year in the Big 12. Talk about a culture shock! But Gary Patterson didn't even flinch considering TCU has the 4th best conference record in the past 6 years. In fact, TCU has probably been one of the most consistently good teams in the conference since 2012. Don't forget that the Horned Frogs continue to get better on the recruiting front, so it is hard to imagine them going anywhere if Gary Patterson is on the sidelines.
Oklahoma State: Much like TCU, Oklahoma State has greatly out done themselves on the field compared to where they rank recruiting wise. On average, the Cowboys are a middle of the road team when it comes to recruiting but have the second-best record in conference play since 2012. This is a program that continues to outdo themselves and by now you must expect nothing but success from Mike Gundy whether he has a mullet or not.

West Virginia: Speaking of middle of the road teams, this is exactly where the Mountaineers have been for the last 6 years both recruiting and in terms of wins. They have an even 27-27 record since 2012 and it has been tough at times adjusting to the location of their school in this conference. Will they ever break through and sign a top 20 class? It's not likely, but if they get the guys that fit and develop them, then they can certainly see some good years.
Texas Tech: This one has been sort of a head scratcher for me. Tech has had trouble at times recruiting at a top 40 level some years. Luckily, we here at HCS explained exactly why that is currently happening (Insert Story Here). As long as Kliff's seat is warm, then the recruiting trail will be cold for the Red Raiders. During the first few years of Kliff's tenure Tech was doing ok but he desperately needs to put some wins together to get this program in the right direction and not stuck in the mud.
Iowa State: Iowa State has always been a tough place to recruit and win. The biggest problem at Iowa State has been the development of players over the years. I can sit here and point out a lot of bad here but what you need to focus on is the future of this program and where it is headed. Matt Campbell is a hell of a coach and leader of men. He proved that this past season. In fact, in 2 seasons Matt Campbell has won 7 conference games. In the prior 4 seasons before his arrival, the Cyclones won a total of 7 conference games.
Kansas State: If there was an award here for over achieving, it belongs to Kansas State. The Wildcats averaged the 9th best class in the conference yet are 3rd in terms of conference wins. That's pretty-damn impressive in my book. I know from my mentions on twitter from Kansas State fans, they want higher classes but if it ain't broke, don't fix it. I know that the approach that Bill Snyder uses is a little outdated on the recruiting trail, but it is hard to argue considering his success on the field greatly outweighs what his program does off it.
Kansas: I am not going to sugar coat anything here, Kansas has been abysmal on and off the field. Dead last in recruiting rankings and dead last in conference wins. The Jayhawks have a total of 3 conference wins over the last 6 years. I know what Charlie Weis did to this program was terrible and David Beaty is currently trying to fix that. Unless we see improvement on the field, this program is going to be a tough sell for any coach who walks through that door.