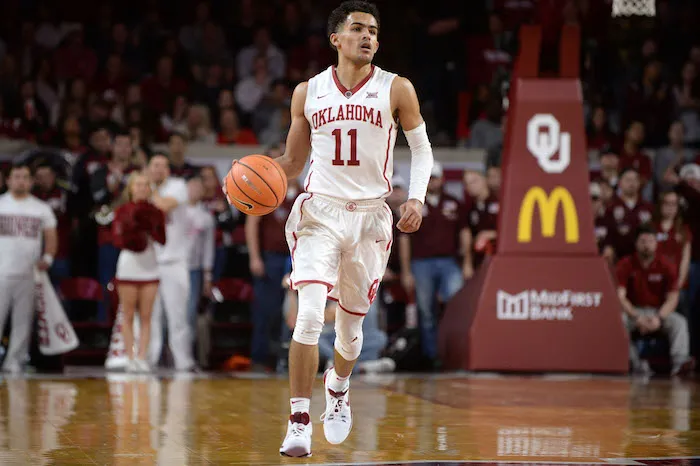 The Oklahoma Sooners' season is officially in free fall. After losing 88-80 on Saturday at Iowa State, OU has now lost three in a row and six of eight games. It's no longer just a rough week or two, it's nearly one month of subpar basketball dating back to a Tuesday, January 16th, loss at Kansas State.
The key word in that last sentence is "at". Why? Because the Sooners are having especially tough times away from Norman. Oklahoma has lost each of its last six road games and is averaging over 13 fewer points per game in road/neutral site games this season than it is at home. The Sooners' last win on the road came in the Big 12 opener on December 30th over TCU 90-89.
Trae Young struggled again on Saturday. He scored 22 points, but shot 7 of 21 from the field and was 1 of 8 from three-point range. Over this six-game road losing streak, Young has made just 27.4% of three pointers and is only shooting 35.2% from the floor. For the season, Young has hit just 36.4% from the floor, with 30.6% from three-point range in road games. At home, the star freshman is hitting 48.6% of his shots and 45.2% from three. The contrast is stark.
The other problem is that as good as Young is, as he goes, the Sooners go. Young is still in the running for the Player of the Year award, but unlike one of his competitors for the award, Villanova's Jalen Brunson, the Wildcats are not nearly as reliant as Brunson providing a big game to win. In wins, Young is averaging 31 points, versus the 27 he's averaging in losses. But even more important, Young is shooting 48% from the floor in wins, compared to 38% in losses. And from deep, he's hitting 43% of three pointers, versus 30% in losses.

Young and the Sooners' struggles on the road are a scary sign for this team, which, like any team, will have to win multiple neutral site games to reach the Final Four.
Of course, as we've seen in the past, one hot hand can carry a team to a Final Four, especially if that hot hand is someone of Young's caliber. But unless the NCAA powers that be decide to let OU play its NCAA Tournament games at the Lloyd Noble Center, then with each passing game that kind of run feels less and less likely.
The Sooners have three road games left before the season ends. It's imperative they improve their play in these games, because this issue has now gotten to the point where the players are hearing about it and it can get into their heads. Problem is, the next two road games are as tough as it gets right now: Texas Tech and Kansas this coming Tuesday and the following Monday. Their road schedule wraps up the following week in Waco against the Bears.
If the Sooners want to have that special March run this year, with one of the most explosive players in the country (who is probably off to the NBA after this season), there must be an improvement in play outside of Norman, Oklahoma. If not, it could be an early exit for OU on the biggest stage in college basketball.