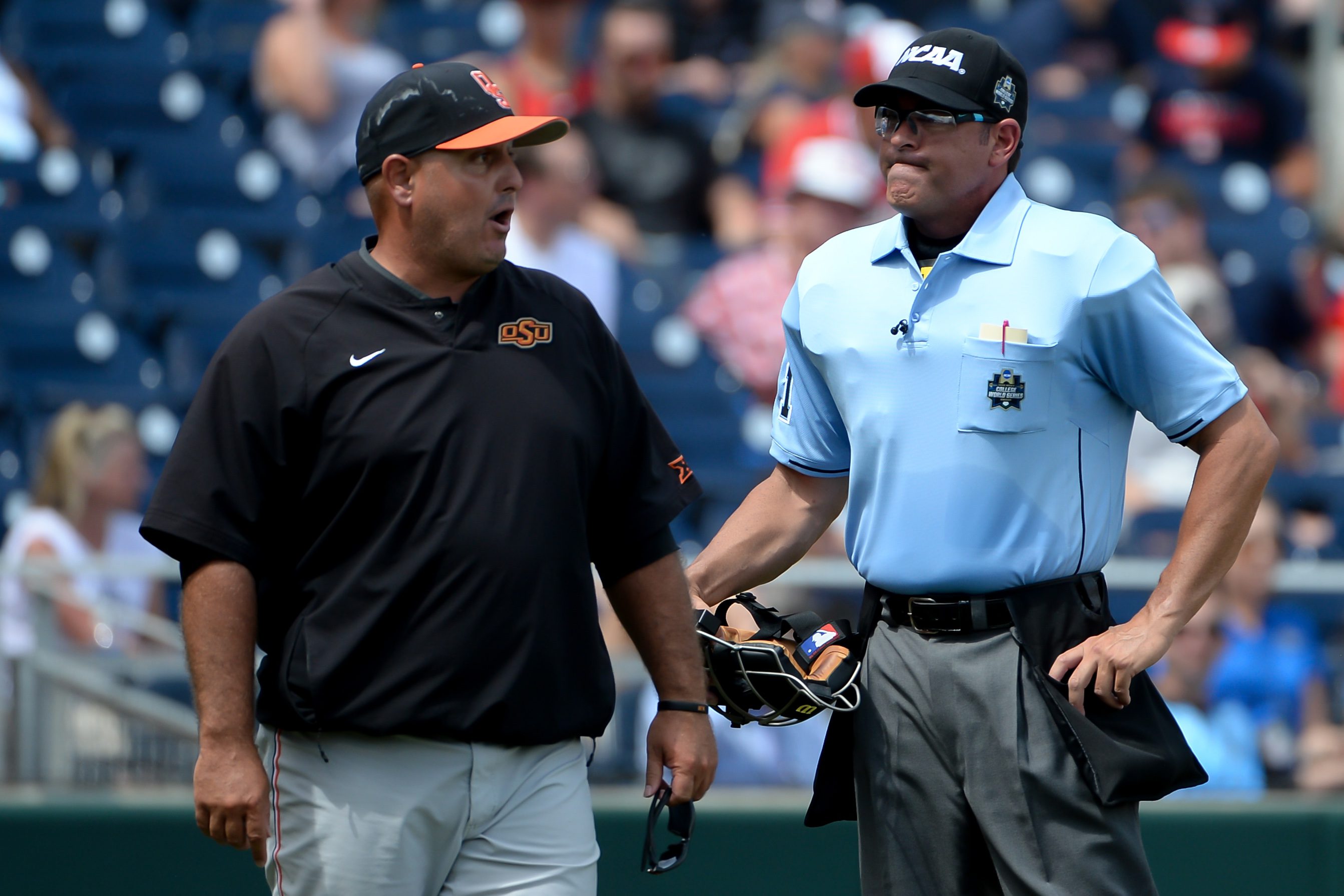 With the college baseball season right around the corner, we start previewing every team in the Big 12. Here's a closer look at the Oklahoma State Cowboys.
2017 Record: 30-27 (8-13 in Big 12 play), lost in NCAA Regionals
Head Coach: Josh Holliday (6th season, 200-106, .653 winning percentage)
Last NCAA Regional appearance: 2017 (L to Missouri State and Oral Roberts)
Big 12 Coaches Prediction: 6th place (26 points)
In The Box
By the standards that Oklahoma State baseball fans had grown accustomed to , the 2017 season was a let down. One of those reasons was a line up that ranked 7th in the Big 12 in batting average (.266). But none of that was the fault of outfielder Garrett McCain, who led the Big 12 in hits, was second in stolen bases, third in triples, third in total bases, third in slugging percentage and first in on base percentage (.491). McCain went on to be drafted by the Tigers in the 10th round and batted .259 in the New York-Penn League. To make matters worse, the team's second best hitter, Garrett Benge (.304, 10 HR, 53 RBI) was selected by the Red Sox in the 13th round.
So the pressure to lead the offense falls on junior catcher Colin Simpson, who was an All-Big 12 Honorable Mention last season, playing 29 games at catcher and 17 at DH. OSU turned it on late with a Big 12 Tournament Title in large part thanks to Simpson hitting .368 with two doubles, two home runs and 5 RBI in four games. Joining Simpson is light hitting second baseman Ryan Cash, who had a team-best 12-game winning streak and a .413 OBP, but isn't going to provide much power (0 HR in 2017). Also, Jon Littell can provide some power (4 HR), along with leadership as a senior. Then there's the youngster, Cade Cabbinness, a Bixby, OK native, was named to the Big 12 All-Freshman team picked up his game in conference play, batting .281 (third on the team). Other newcomers to keep an eye on include catcher Jake Taylor, OF Matt Miles and Cody Milligan.
On the Rubber
The Pokes were not overwhelming on the mound last season either. Oklahoma State ranked 8th in the Big 12 conference in team pitching with a 4.54 ERA. The strength of the unit returning is in the bullpen, where Carson Teel is back after finishing with five wins and three saves last season, along with 77 strikeouts (10.72 K/9). He was a 37th round pick of the Red Sox, but is back for more in Austin. Tyler Buffett was the leader on the staff with a team high 17 starts, but finishing with a 5.23 ERA and a .306 BAA. Still Buffett was a 6th round pick by the Rockies, and fellow starter Blake Battenfield is playing in the White Sox organization. The lone weekend starter returning is Joe Lienhard, who started 10 games and was 3rd on the team in strikeouts and had a 4.66 ERA.
The Cowboys should expect and see increased production and expectations from sophomore Jonathan Heasley (22 app, 5 GS), redshirt freshman Parker Scott, who had his 2017 season cut short by injury, but was named the Dallas Morning News Pitcher of the Year in 2016, true freshman Mitchell Stone (2017 Rawlings/PG First-Team All-American), true freshman Brett Standlee (2017 Rawlings/PG Honorable Mention All-American), and sophomore Brady Basso. It's all hands on deck for this unit.
Non-conference Slate
The Cowboys open up with Texas State on the road, who the Pokes took two of three from last season in Stillwater. After that it's a mid-week game against an always quality Oral Roberts team, followed by a three game series against Marist, who plays in the MAAC and is far from a notable baseball program, but did win the MAAC and reach an NCAA Regional last season. A road trip to Arizona State will be interesting, as the Sun Devils look to bounce back from a disappointing 23-32 season and feature a line up with preseason First-Team All-Pac 12 selection in OF Gage Canning and preseason Pac-12 Freshman of the Year in infielder Drew Swift. A mid-week match up against Dallas Baptist will be fun and a pair of games against Missouri State, who reached a Super Regional last season, should have intrigue to it as well.