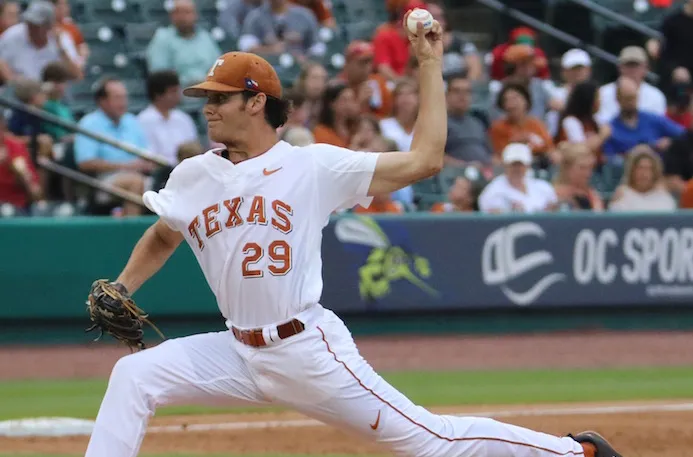 With the college baseball season right around the corner, we start previewing every team in the Big 12. Here's a closer look at the Texas Longhorns.
2017 Record: 39-24 (11-12 in Big 12 play), Runner-up in Long Beach Regional
Head Coach: David Pierce, 2nd season (39-24)
Last NCAA Regional appearance: 2017
Big 12 Coaches Prediction: 3rd (42 points)
In The Box
Texas was the worst team in overall batting in the Big 12 Conference last season. Just two players cracked the top 10 conference leaders in any category. Both, Travis Jones and Kacy Clemens are now gone. Someone is going to have to step up and take charge if Texas wants to compete. The good news is, David Pierce has had a full season to fix this problem. Texas always has talent, and now Pierce has had the opportunity to mold these players.

Sophomore outfielder Austin Todd (.276 avg., .359 slg., 359 obp.) is the top returning player to the lineup. He scored 24 runs and produced seven doubles. Michael McCann (.268 avg., .321 slg., .346 obp.) put up decent numbers in 43 appearances, including 32 starts. Of course, many fans will be looking to Kody Clemens to pick up the slack his brother Kacy left behind. The younger Clemens belted five home runs last season and scored 21 runs. He produced 41 hits compared to 32 strikeouts though. Don't expect too much from him. He's strictly a power hitter.
On the Rubber
The best pitching staff in the Big 12 Conference one season ago fell victim to being on the same team as the worst offense. There was no competition. Texas allowed 16 fewer runs than any other team. They were the only team hold opponents under 100 runs in at least 23 Big 12 games. In fact, they were so stellar, they held it down to exactly 85. The strikeout-to-walk ratio was exceptional at 162:88.
The bad news for Texas: two pitchers (Morgan Cooper, Kyle Johnston) from that rotation have moved on. The good news: Nolan Kingham (10-4, 2.84 ERA) returns as the ace. Kingham is a masterful pitcher who doesn't walk a lot of batters. Compared to his 67 strikeouts, he only surrendered 24 walks in 92 innings of work. He'll be joined in the rotation this season by right-handers Chase Shugart (3.43 ERA in 29 appearances) and Blair Henley (4.23 ERA in 17 appearances including 10 starts).
Junior Beau Ridgeway returns as the closer. He notched five saves in 15 appearances. The pitching won't be as stellar this year as it was in 2017, but this is still an excellent staff. With a little help from the offense, Texas could be the third horse in what seems like a conference race between TCU and Texas Tech.
Non-conference Slate
Texas almost always seems to provide one of the strongest schedules in the Big 12 Conference. The Longhorns will welcome a storied Louisiana-Lafayette team opening weekend. Believe it or not, Tony Robichaux has coached the Ragin' Cajuns since the 90s. UL Lafayette won 35 games during a rebuilding 2017 season. This came one year after they hosted a regional. The following weekend, Texas travels to Alex Box Stadium to face the LSU Tigers. They'll take somewhat of a breather with a four-game series against Northwestern to begin March. The following weekend, an always top-notch Stanford team pays a visit to the Forty Acres. It's a high-caliber pre-conference schedule for Texas. During their open week, they decided to schedule New Orleans, which should be a breeze for this squad. Don't sleep on the midweek games though. They will take a trip to Aggieland to face Texas A&M April 10. Other top midweek games include hosting Houston and Sam Houston State.