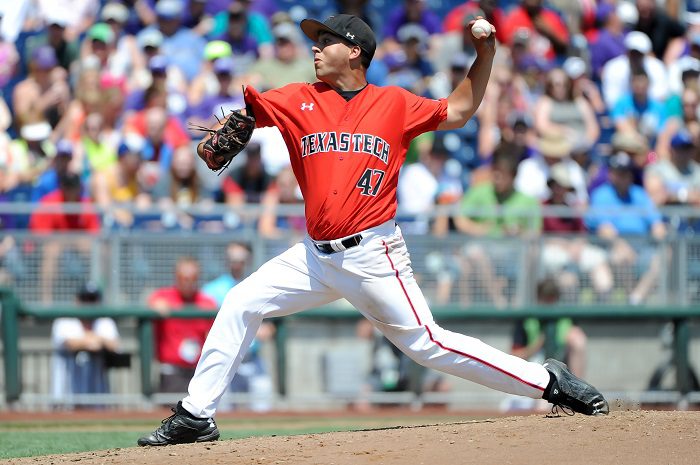 With the college baseball season right around the corner, we start previewing every team in the Big 12. Here's a closer look at the Texas Tech Red Raiders.
2017 Record: 45-17 (16-8 in Big 12 play), Regular Season Big 12 Co-Champions, Runner-up in Lubbock Regional
Head Coach: Tim Tadlock, 6th season (194-112)
Last NCAA Regional appearance: 2017
Big 12 Coaches Prediction: 1st (61 points, 5 first place votes)
In The Box
Texas Tech was known to be a solid program under Tim Tadlock in 2017. Not many people expected them to topple TCU though, and the offense was a major reason why. The Red Raiders had the best offense in the Big 12 last season, and it wasn't even close. Their .309 batting average was 20 points higher than any other team, including the unanimously top-ranked TCU Horned Frogs. This team was the league leader in every category but doubles, walks and sacrifice hits. In most categories, it wasn't even close. All other offenses were fighting to be second best.
Of course, when you are a national contender with lots of talent, you must figure out how to replace it. Seniors Hunter Hargrove and Ryan Long graduated. Both of those men hit over .320, blasted 5 home runs and double digit doubles. Freshman catcher Michael Berglund transferred. Juniors Tanner Gardner and Orlando Garcia were drafted and signed. The main missing piece of this puzzle is Garcia's 13 home runs.
While that talent will certainly be missed, Tadlock has this program in reloading mode. Tech returns Cody Farhat (.343 avg., .569 slg., .438 obp), Grant Little (.335/.476/.405) and Josh Jung (.305/.453/.395). As a freshman, Jung was the league leader in runs scored and fifth in on-base percentage. Grant Little tied with three others players for the league lead with nine doubles, but played at least five fewer conference games than those other three players. Yes, Little was a freshman too. Tech also returns slugger John McMillon, who belted eight home runs in 24 games last season. He started just 18 of those. Texas Tech doesn't need production from its starters. If someone has an off day, Tadlock brings up a pinch-hitter and you know that player is looking and capable of taking the spot of the man in front of them.
On the Rubber
It all starts with returning National Pitcher of the Year Steven Gingery. (10-1, 1.58 ERA, 91.1 innings pitched). Gingery racked up more strikeouts (107) than hits (60), earned runs (16), and walks (29) combined (105). If that doesn't impress you, you should be examined by a psychiatrist immediately. Tech also returns Ryan Shetter (4-1, 3.71 ERA) and Davis Martin (4-2, 3.07 ERA). One player who showed tremendous potential early on as a freshman is Dylan Dusek (8-0, 1.94 ERA, was named Coral Gables Regional Most Outstanding Player). He's since dropped off significantly. Now, he's a senior. If he can battle back and get close to that freshman season form, Tech will have the rotation depth to win the College World Series.
Non-conference Slate
As per usual, Tech will start the season playing a four-game series against a northern team in Maine. The following weekend Tech visits UTSA, a team picked eighth in Conference USA. South Alabama will visit Rip Griffin Park to start March. The Jaguars were unanimously picked to finish ahead of 2016 National Champions Coastal Carolina in the Sun Belt Conference's East Division. Storied program Louisiana-Lafayette is also in this conference, but in the West Division. The Red Raiders will go through a killer test March 9-14 when they travel to SEC school Kentucky, and follow it up with a midweek trip to Louisville. Kentucky was ousted by Louisville in the Super Regionals last season. The Cardinals have advanced to Omaha four times since 2007. Tadlock's squad will host Northeastern during the team's Big 12 bye week. Key midweek games include two games at Arkansas, a home game against San Diego, plus a home-and-home series against Dallas Baptist. There are tougher schedules out there, but this one stacks up solidly.