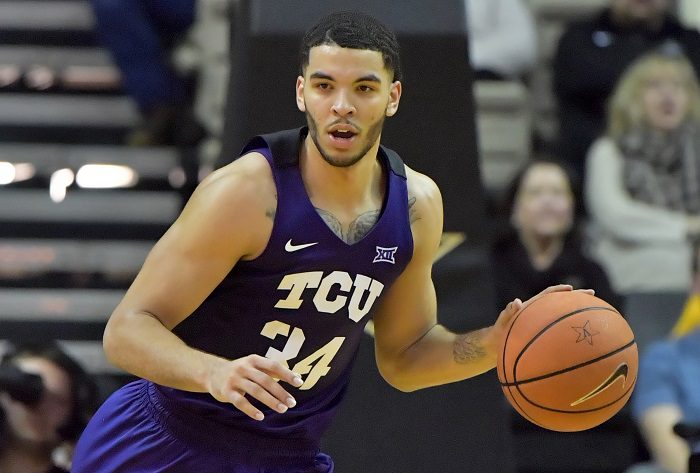 When this season ends Oklahoma guard Trae Young and Texas center Mo Bamba will likely head for the NBA. It's hard to blame them. They're both considered Top 10 prospects and why risk the chance of injury in college basketball when you can start your NBA career and make some solid coin?
Same goes for Kansas guard Devonte' Graham, a senior whose ability at point guard will be a good fit for many NBA teams. Scouts love West Virginia guard Jevon Carter's toughness and defense and he'll likely hear his named called on draft night in June. Kansas guard Lagerald Vick, should he choose to come out, could squeak into the second round. Same goes for Jeffrey Carroll of Oklahoma State. In fact, those are the six Big 12 players in the ESPN overall Top 100 for the NBA Draft this June.
One name I don't see on the list, and one name I had to hunt for on ESPN's web site is TCU guard/forward Kenrich Williams. I finally found him as ESPN's No. 24-ranked senior.
That's a death sentence in today's NBA, where drafting and player development are geared toward younger players and international players. But every night I cover a TCU game and I pick up a box score and I look next to Williams' name I always see good things. Every. Single. Night.

Consider Saturday's game with Oklahoma State, a 90-70 win over the Cowboys. Williams was his usual quiet self on the court, but by the time this one was over Williams had 16 points, 6 rebounds, 3 assists, 2 steals and 1 block. It's not unusual for Williams to touch every major stat line every game. His numbers don't hammer you over the head. But he's consistent, night in and night out and that has been key as the Horned Frogs have ridden a roller coaster in Big 12 action.
Yet, nationally, Williams gets little love. Sure, the Horned Frogs' under-.500 record in Big 12 play doesn't help. But Williams doesn't launch 3-pointers from another zip code like Young, and he doesn't block shots two feet above the basket like Bamba. He doesn't play for a college basketball blue blood like Graham and he doesn't play for a team with a cool name like Carter does with "Press Virginia."
In fact, TCU head coach Jamie Dixon is ready to accept some blame on that front.
"He's as good a player as there is in this league, and I feel like there are times we need to get him more shots, but we're so balanced on offense," Dixon said.
But Williams is one of only four players in the Big 12 with 10 or more double-doubles this year, along with Bamba, Young and Baylor's Jo Lual-Acuil Jr. I don't get why he doesn't get more attention. I can tell you that there are NBA scouts here every night TCU plays. The Dallas Mavericks always have a scout here. On Saturday night the Milwaukee Bucks were in town, too. Several teams have gotten an eyeful of Williams all season. Perhaps at least one team has picked up on what I've seen.
So, here's what I see — a player that can do everything you need in the NBA. TCU lists him as a guard but he's 6-foot-7 so he's a guard in name only. What he really looks like is a small forward with guard skills. He's an adept ball handler, runs the floor well, handles traffic in the paint and can shoot well from the arc. Despite his listed position Williams is one of the Horned Frogs' best rebounders. He's especially crafty at back-side rebounding and can make up ground once he's lost it against quicker players, as he did on a blocked shot late in the game.
Lately NBA scouts are getting a wider look at Williams' versatility due to a season-ending injury to point guard Jaylen Fisher and depth issues caused by illness and injury to players like Shawn Olden and Ahmed Hamby.
"Tonight, he was 3-for-3 from the 3-point line and he passed out of the post well," Dixon said. "We've had him guarding point guards and we've had him playing point guard when Alex (Robinson) isn't in there. He's really playing four different positions right now."

So, what do you do with a guy like Williams in the NBA? Well, as the era of "positionless basketball" continues to engulf the league, a player like Williams fits right in. Dixon just told you all you need to know about Williams' versatility. He can play four positions and play them well. He's a leader by example. He doesn't strut or showboat. He just plays his guts out every night.
Honestly when I think about an NBA corollary for Williams I go all the way back to Charles Barkley and his days at Auburn and his early career in Philadelphia. Now, Williams isn't as talented as Barkley and I'm not saying Williams is the next Barkley. But their games have similarities. Both could run the floor, shoot the rock, pass and rebound and a high level. Both are similarly sized (Barkley is 6-foot-6). Barkley was probably a better low-post player, but in this era of the 3-pointer Williams has a better long-range jumper.
So, you will probably see Young and Bamba and Carter and Graham come off the board on draft night. But if Williams doesn't, keep track of him and see which NBA team is willing to offer him a Summer League invite and a Training Camp invite.
They may end up getting one of the under-publicized gems of this deep and talented Big 12 Conference.