Baylor Bears
The Wrap Up: Big 12 basketball Game 14 recap and analysis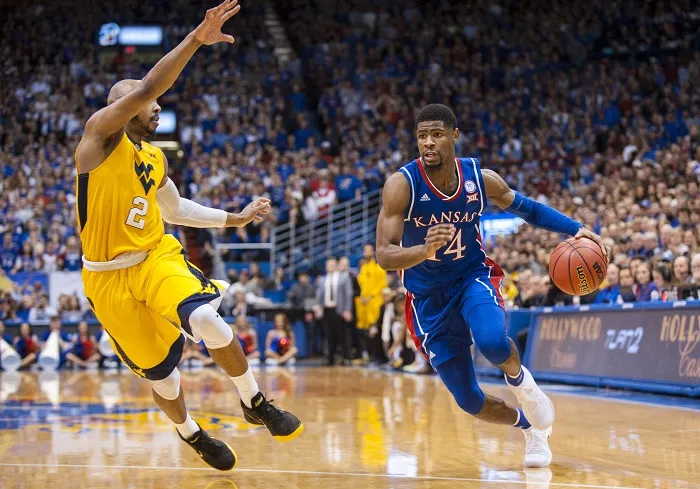 With eighteen games on the Big 12 men's basketball slate we'll break down each set of games upon completion. Today it's a review of the 14th set of games in the Big 12 Conference, played on Feb. 17 (rankings in parenthesis in standings are AP).
| | | |
| --- | --- | --- |
| BIG 12 STANDINGS | Conf. | All |
| Texas Tech (7) | 10-4 | 22-5 |
| Kansas (13) | 10-4 | 21-6 |
| Kansas State | 8-6 | 19-8 |
| West Virginia (20) | 8-6 | 19-8 |
| Baylor | 7-7 | 17-10 |
| Oklahoma (23) | 6-8 | 16-10 |
| Texas | 6-8 | 16-11 |
| TCU | 6-8 | 18-9 |
| Oklahoma State | 5-9 | 15-12 |
| Iowa State | 4-10 | 13-13 |
RESULTS

Saturday, Feb. 17
Texas 77, Oklahoma 66
Kansas State 78, Iowa State 66
Kansas 77, West Virginia 69
Baylor 59, Texas Tech 57
TCU 90, Oklahoma State 70
NEXT GAMES (all times CST unless noted)

Monday, Feb. 19
Oklahoma at Kansas, 8 p.m., ESPN
Tuesday, Feb. 20
West Virginia at Baylor, 6 p.m., ESPN2
Wednesday, Feb. 21
Texas Tech at Oklahoma, 6 p.m., ESPNU
TCU at Iowa State, 7 p.m., Cyclones.tv
Texas at Kansas State, 8 p.m., ESPNU
Superlatives
20-point games: 26 — Trae Young (Oklahoma); 22 — Dean Wade (Kansas State), Daxter Miles Jr. (West Virginia); 21 — Udoka Azubuike (Kansas), Kendall Smith (Oklahoma State), Dylan Osetkowski (Texas); 20 — Barry Brown Jr. (KSU).
10-rebound games: 18 — Mo Bamba (Texas).
5-assist games: 9 — Dean Wade (KSU), Alex Robinson (TCU); 7 — Devonte' Graham (KU), Trae Young (OU), Jevon Carter (WV); 5 — Donovan Jackson (Iowa State), Nick Weiler-Babb (ISU), Kamau Stokes (KSU), Matt Coleman (Texas).
4-block games: 4 — Mo Bamba (Texas).|
4-steal games: None
Double-doubles: Mo Bamba (Texas), 10 points, 18 rebounds.
The Starting Five
Dylan Osetkowski, Texas: Mo Bamba cleaned the glass, but Osetkowski's 21 points and 6 rebounds helped the Longhorns to a key road win over OU.
Dean Wade, Kansas State: His 22 points, 9 assists and 8 rebounds may have been the best line of any Big 12 player over the weekend. Two steals, too.
Malik Newman, Kansas: He only had 11 points, but his 3-pointer to tie the game at 66-all send the Jayhawks on to victory.
Kenrich Williams, TCU: The senior does what he always does — score (16 points), rebound (6), dish (3 assists and defend (2 steals and 1 block).
Terry Maston Jr., Baylor: For the first time this year I'm designating a bench player as a part of the Starting Five because without his 24 points Baylor had no chance to beat Texas Tech.
THE Sixth Man
Ahmed Hamby, TCU: Hamby was a bundle of energy off the bench — 12 points, 8 rebounds and a block.
ESPN taking College GameDay to another Big 12 venue
So ESPN is on Big 12 Gameday overload. After stops at West Virginia, Texas and Kansas, the crew will be in Lubbock next weekend, per Chris Level.
ESPN is bringing their @CollegeGameDay show to Lubbock next weekend for the matchup between the Red Raiders and Jayhawks. Will be a wild atmosphere at the @UnitedSpArena. Details to come on how/when to attend.

— Chris Level (@ChrisLevel) February 17, 2018
The Games
Texas 77, Oklahoma 66: Texas missed an opportunity to beat Baylor in Austin earlier this week. They weren't going to make the same mistake against Oklahoma on the road, and in doing so they scored a season sweep of the Sooners and their first win over OU in Norman since 2012.
This one was easy to figure out if you didn't watch like I did. The Longhorns, which are one of the most hot-and-cold shooting teams in the Big 12, were hot on Saturday, shooting 54.5 percent from the floor, led by Dylan Osetkowski's 21 points. Texas needed a scoring jolt from the junior, who had not cracked 20 points since scoring 20 against TCU on Jan. 10. Scoring isn't his only value, of course. But Texas needs Osetkowski playing at a high level alongside Mo Bamba, Matt Coleman and Kerwin Roach II if they expect to make the NCAA Tournament. All three were in double figures against OU, with Bamba only scoring 10 points but grabbing a career-high 18 rebounds as Texas outrebounded OU 43-31.
Defensively Texas followed a similar playbook to the first meeting. The Longhorns made sure their guards played extended defense outside the 3-point line on Trae Young. And, much like the past several games, Young started slowly. At one point he was 1-of-20 from the 3-point line in his last two-plus games. His first half was tepid from a scoring standpoint, but he did set up his teammates. In the second half Young stepped up the scoring, ending with 26 points. But, again, he's done this for the past three-plus weeks because Big 12 defenses are throwing different defenses at him and they are becoming increasingly successful at slowing him down.
But, unlike OU's loss earlier this week, Young didn't have a lot of help. The Sooners shot 30.8 percent from the floor and 26.7 percent from the 3-point line. Christian James was the only other Sooner in double figures with 11 points. If Young starts like this every game, it's imperative that the other starters step up the scoring until Young inevitably starts scoring in the second half. Or, perhaps OU should have Young go back on the offensive early, as he was early in the Big 12 season when teams were still trying to figure him out? This was OU's sixth straight loss and it may be time for head coach Lon Kruger to just say, "screw it, let Young rip it" and see what happens.
Texas took control of the game in the middle of the second half with a 15-4 run in a six-minute period that ended with 7:48 left in the game. Despite Young's efforts to fill up the basket, the Longhorns managed to maintain the lead.
OU is a tournament team, though their seeding is about to take a real dent. Texas, on the other hand, gets a real boost from this win, because they're teetering on landing on the bubble. If you believe that any Big 12 team will get in with an 8-10 league record, then Texas has two losses to play with in its last four games. The Longhorns' margin for error just increased.
And, you know Oklahoma couldn't resist trotting out their new Heisman Trophy winner, Baker Mayfield, for the big game. The Sooners didn't disappoint, and neither did Mayfield. In fact, head to the site to check out the full Q&A Mayfield did with ESPN announcers Dick Vitale and Bob Wischusen.
Baker Mayfield showing off his #Heisman at #TEXvsOU today and doing some time with the #ESPN crew during the game @Heartland_CS #Big12MBB pic.twitter.com/NSBd3C95RK

— Matthew Postins (@PostinsPostcard) February 17, 2018

Kansas State 78, Iowa State 66: The past couple of weeks Kansas State has occupied a spot of either "Last Four In" or "First Four Out" in Bracketology. Can we put the idea to rest that Kansas State is a bubble team?
Tied at 33 at the break, the Wildcats outscored the Cyclones 45-33 in the second half to take their 19th win of the season. Additionally, combined with OU's loss to Texas and West Virginia's loss to Kansas, the win moved Bruce Weber's team into a third-place tie in the Big 12 standings. Kansas State is a win away from clinching no worse than a .500 league season and the Wildcats should finish better than that. Yes, the committee is going to take a look at the Wildcats' record against the three teams ahead of them in the Big 12 Standings — a combined 0-6 vs. Kansas, Texas Tech and West Virginia — and dock them a bit. But I still think the Wildcats should move up a seed line this week.
K-State soundly beat Iowa State led by Dean Wade's scintillating line of 22 points, 8 rebounds and 9 assists. It was one of his finest games of the season and he sparked the second-half run for the Wildcats right out to the gate. Barry Brown Jr. added 20 points and their defense kept ISU off-balance all night. Xavier Sneed tossed in 17 points.
Cameron Lard led ISU with 15 points, but ISU's offensive struggles in the second half were compounded by K-State's hot streak to start the half. Iowa State now has a singular distinction in the Big 12 — the only .500 team overall. It took until Feb. 17 for someone to drop to .500 for the season once Big 12 play began. Incredible. The Cyclones have home games with TCU and Oklahoma State, and road games with West Virginia and Oklahoma. Realistically the Cyclones need to win two of those going into the Big 12 Tournament to increase their chances of an NIT berth.
Oh, and Kansas State had their own legend at their basketball game.
The #KState GOAT, Bill Snyder, shares a smooch with his wife Sharon on the Kiss Cam at the #ISUvsKSU game today #EMAW #Kstate #Big12MBB pic.twitter.com/Cc1YST0oHZ

— Heartland College Sports (@Heartland_CS) February 17, 2018

I love how Bill not only left Sharon hanging at one point, but Sharon had to invite him to plant one on her cheek.
Kansas 77, West Virginia 69: If you're a West Virginia fan, you're pretty ticked off about this one. And I'm not just talking about the final score (and we'll get to that). You're probably upset about the officiating and head coach Bob Huggins' ejection. Well, our Pete Mundo broke down the data on the free-throw disparity in the Mountaineers' last eight games and you can read that below.
Bob Huggins crushed the officials yesterday. We looked at the discrepency in officiating for the past month https://t.co/iNjsa5TtgS

— Heartland College Sports (@Heartland_CS) February 18, 2018

I'll be honest — I'm not one to make a huge deal out of free throw disparity because every game is its own organism and as much as we'd like to talk about officiating consistency we all know every official is human. And not all fouls are created equal. But the free throw disparity in this game was 35 for Kansas and 2 for West Virginia. When I saw that last night, I thought it was made up. So, I checked the box score. Nope. Not made up. And I can honestly agree with West Virginia head coach Bob Huggins that I've never seen a disparity quite like that before.
To add further context to what Pete wrote, I took a look at the play-by-play because I was curious to see something. With West Virginia called for 26 fouls and Kansas for just 14, I was curious how many free throws Kansas got after it reached the bonus.
In the first half Kansas reached the bonus with 10:36 left and the Jayhawks shot 4-of-7 after that. In the second half Kansas reached the bonus with 7:04 left and the Jayhawks shot 16-of-19 after that. So, the Jayhawks shot 20-of-26 from the free throw line after reaching the bonus.
It's not hard to draw a line from that to the game's final result. It played a real factor when you consider Kansas went on a 19-3 run to end the game and nine of those points came at the free throw line.
Officials have to strike a balance between calling fouls and letting teams play because, let's face it — you can call a foul every play in basketball. And sometimes it's about what isn't called. Let's go back to early in the second half, just inside the first minute. There was a missed shot on the Kansas end. Kansas center Udoka Azubuike was fighting with three Mountaineers under the basket for Devonte' Graham's miss. Now, no one really had position — as in, no one blocked out — so it was basically a jump ball. To me, and to these officials on Saturday, that's a "Play On." Now, Azubuike came up with the ball and sent the outlet to the wing. He ended up losing his balance and hugging Harris, but then ends up shoving Harris away. How is that not a foul? No one had position, but Azubuike clearly used his size and strength to get away from Harris. He extended his arms, which is a no-no for an offensive player when you're fighting for position. If you're using your body, that's one thing. If you extend the arms, that usually draws a call. That missed call was important because a few seconds later Azubuike drew a foul trying to put in the put-back on the missed 3-pointer. Now, that was a foul. But what about the foul that was missed?
We can quibble all we want about it. But the fact is the Mountaineers were set up to win this game, in spite of the disparity. West Virginia shot better than 50 percent from the 3-point line and 44 percent from the floor. The Mountaineers were up 50-40 with 14:17 remaining after a Daxter Miles Jr. 3-pointer and 61-51 with 7:24 left after a Lamont West 3-pointer (he had 11 off the bench). By the way, I think we can say that Miles is out of his slump, and that's good news for the Mountaineers the rest of the way. They need him to play at a high level. Jevon Carter also had 15 points, 7 assists and 6 rebounds.
But from there Kansas outscored them 37-19 from the 14:17 mark and 26-8 from the 7:24 mark. And, yes, those free throws certainly played a role. Azubuike ended up with 21 points, While Graham had 15 and Lagerald Vick — another Big 12 star coming out of a midseason slump — had 13. But it was Malik Newman, with 11 points, who finally tied the game at 66-all with a 3-pointer with 2:14 left. From there it was pretty much all Kansas.
As for Huggins' ejection? The no-call that ultimately got him kicked out of the game saw Azubuike leave the floor to contest a shot, but he kept his arms straight up in the air. He did draw contact, but it was more with his body than with his arms. I won't quibble with the position of Azubuike's arms, but I will with the position of his body. Azubuike may have been going straight up, but he wasn't square to the Mountaineer with the ball. I might have blown my whistle there. But, as we've seen late in games like this, referees tend to swallow their whistles late and let them play. Huggins worked hard for that ejection. His team was down six. I think he was out to send a message to his team for down the line.
But West Virginia's shot selection and execution down the stretch in a one-possession game should be highlighted, too. The Mountaineers jacked up too many threes and tried to make the extra pass too often, which led to two turnovers. I would have liked to have seen either more driving to the basket or sending the ball inside to Sagaba Konate during that stretch. Missing those shots and committing those turnovers forced West Virginia's hand and led Kansas to the free throw line.
Baylor 59, Texas Tech 57: Jayhawk Nation said it best.
Thank you Baylor #RockChalk

— RockChalk (@KU_RockChalk) February 18, 2018

Kansas, of course, is trying to win or share its 14th straight Big 12 title. Texas Tech is standing in Kansas' way. The Red Raiders were up one game on Kansas — and owned the tiebreaker thanks to their win in Lawrence in January — going into the Baylor game. Well, the Red Raiders picked a bad time to play the red-hot Bears, thanks to a pair of unlikely players — or at least unlikely a month ago.
The insertion of Jake Lindsey into the Bears' starting lineup has turned into one of the best under-the-radar adjustments in the Big 12 this season. Now, his numbers don't bowl you over — he's hit double figures in scoring just one time, and he didn't even score against Texas Tech. But, after the loss to Florida, Baylor head coach Scott Drew realized he needed more energy in the backcourt and that his point guard, Manu Lecomte, needed help. So, in came Lindsey. He's there to help handle the ball, play good defense and take the heat off Lecomte. It's worked out brilliantly. The Bears are 5-1 since Lindsey joined the starting lineup, including Saturday's win. Lecomte's numbers have been consistent and his 3-point shooting — which had been up-and-down at the start of Big 12 play — has smoothed out. The move has made Baylor a better team.
The other unlikely player is one I didn't think would get back on track due to injury, Terry Maston Jr. Up until a couple of weeks ago Maston looked like he would be nothing more than a fill-in guy this season. But he's picked up his play massively the last five games, scoring 20 or more points in three of the last five games and giving the Bears some solid work under the glass, too. He's quickly turned into one of the best bench scorers in the Big 12. And his scoring came up big Saturday night, as Maston's beautiful turnaround jumper with 1:29 left gave Baylor the lead for good and capped off his team-leading 24 points. His output was huge because Lecomte (10 points) was the only Bears starter in double figures.
Tech had plenty of chances to win this game. But in the first half the Red Raiders absorbed a huge loss in guard Keenan Evans as left the game with an injury.
Texas Tech coach Chris Beard said it's a toe injury for Keenan Evans.

— Carlos Silva Jr. (@cmsilvajr) February 18, 2018

This could be a huge turn in the Big 12 race, one that has not seen a wealth of major injuries to the league's stars (thankfully). Evans looked like he injured the toe on a drive with about 1:45 left in the first half. It didn't appear as if Evans was in a lot of pain, but he was favoring the foot and he left the game at the next dead ball. He never returned. There have been no further updates from Texas Tech and they don't play until Wednesday.
Life without Allen could be really tough for the Red Raiders. If Allen can't play next week, then the scoring load falls to a pair of true freshmen – Zhaire Smith (15 points Saturday) and Jarrett Culver (9 points). Both have benefited greatly from the attention Evans gets night in and night out. The Red Raiders will need more from senior guard Justin Gray (who had 13 points Saturday night) and will need one of their inside players to step up as well.
Still, without Allen, Tech led in this game, 57-53, with 3:01 left. But the Red Raiders didn't score a single point from there and the Bears rallied to take the win, a win that, according to ESPN's Bracketology expert Joe Lunardi, puts the Bears in the NCAA Tournament. As I said after last Monday's win over Texas, Baylor is coming for someone's NCAA Tournament berth.
TCU 90, Oklahoma State 70: I was at this game, so we won't go too deep into it. I spent a good portion of my time working on this story about one of the true under-publicized players in the Big 12, TCU guard Kenrich Williams. I think he's one of the league's most complete players and I hope the NBA doesn't miss the boat on this guy.
After seeing him play multiple times in person, @postinspostcard believes Kenrich Williams is a legit NBA prospect https://t.co/Xw2RnPXBI4

— Heartland College Sports (@Heartland_CS) February 18, 2018

As for the game, well, TCU got rolling in the second half and didn't look back. The Horned Frogs shot 62.1 percent from the floor and an incredible 87.5 percent from the 3-point line (7-of-8), showing us why they're one of the best offensive teams not just in the Big 12, but in the country. Six Horned Frogs were in double figures, led by Kouat Noi's 19 points, and he's a player I firmly believe is TCU's future. Just a freshman, he could end up being a huge star in this league the next couple of years.
Williams had 16, Vladimir Brodziansky had 14, Ahmed Hamdy had 12 off the bench, Alex Robinson had 11 and Desmond Bane had 10.
Oklahoma State, offensively speaking, may be the least dynamic team in the Big 12 (that doesn't mean a whole lot in this conference, though). So, they have to make up for what they don't have in other areas, and they didn't against TCU. The Cowboys shot just 36.7 percent from the floor and 35.0 percent from the 3-point line, the latter of which isn't too bad. But Kendall Smith had to shoulder the load and scored 21 points, especially when center Mitchell Solomon got into foul trouble. He had 13 points and 5 rebounds, but only played 18 minutes. After the game coach Mike Boynton Jr. said that losing Solomon really hurt because the senior is one of the most integral parts of their team.
Without Solomon the Cowboys had a real deficit on points in the paint (40-24) and also lost the points off turnovers game (11-8). But with TCU shooting the way it shot, there was no way Oklahoma State would keep up.
TCU needed that win big-time to continue to impress the NCAA committee on its body of work. Oklahoma State, meanwhile, is looking to remain over .500 so it can claim what would likely be an NIT berth.
Looking ahead to next week: The Monday and Tuesday games have big-time feel. Dick Vitale will call the Oklahoma-Kansas game on Monday (he confirmed that during the Texas-OU broadcast on Saturday). Then, on Tuesday, West Virginia stays on the road and its Baylor, the league's hottest team. Wednesday is a hold-your-ground day for Texas Tech (at Oklahoma State), TCU (at Iowa State) and Texas (at Kansas State). Note — the TCU-Iowa State game is only on Cyclones.tv.