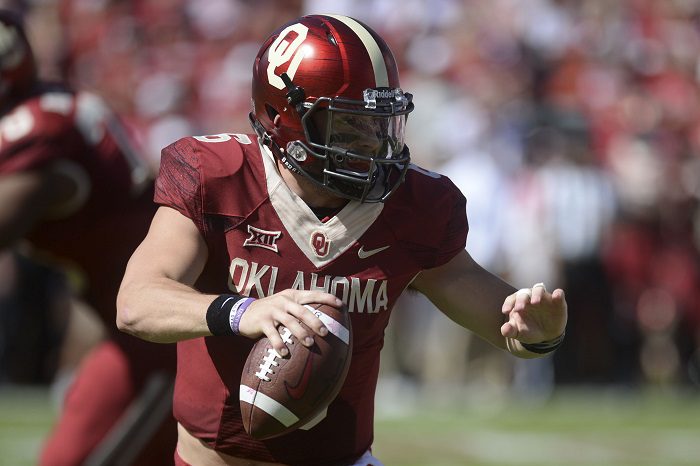 Every non-OU fan is going to hate what I'm about to write. That's OK, I know it's coming. But if you get further than this first sentence, I hope you can at least understand the larger point of view regarding the current state of sports.
Former Oklahoma QB Baker Mayfield returned to the spotlight on Saturday by flashing his Heisman Trophy in front of the Sooner Nation during Oklahoma's game against Texas at the Lloyd Noble Center. As he was on the court, Mayfield made sure to give the "Horns Down" sign, which fired up the Oklahoma fan base.
Following the game, Mayfield had some incredibly strong words about the moment, saying, "You come to Oklahoma to beat Texas. I was born and raised in Austin, they didn't recruit me, I grew up 15 miles from campus, I can't stand 'em and anything they do. I don't care. I talk to the NFL guys and they say I have to calm it down a little bit, but when it comes to Texas, absolutely not. I can't stand 'em. No. End of story." 
I get the feeling @baker_mayfield6 has been waiting for the last 3 years to say this publicly. pic.twitter.com/ubGOZeZOlS

— Brian Mueller (@BMuellerNews9) February 17, 2018
Sure, Texas fans hate to hear that, especially since Mayfield never lost to the Longhorns. But man, if you're a fan of any team, college or pro, in America, how do you not love this moment?

What Baker Mayfield said is what we all want our favorite athletes on our favorite teams to say about our most hated rival. Unfortunately, it rarely happens any more. Money and free agency has changed so much of the dynamic in pro sports. You have NBA players yucking it up with each other during games, and Kevin Durant joining the team he blew a 3 games to 1 lead against in the Western Conference Finals, in a way that would make Larry Bird, Magic Johnson, Isaiah Thomas and Michael Jordan puke.
In the NFL, you get moment like Earl Thomas chasing down Cowboys head coach Jason Garrett after a game to "come get me" in free agency. And then there's Major League Baseball, which has set the bar for player mobility with no salary caps and unlimited dollars, removing a lot of the passion that once made it America's Pastime. The days of Lou Piniella and Carlton Fisk brawling, or Pedro Martinez throwing Don Zimmer to the ground are long gone. Baseball still has its fights, but mostly they are to settle personal scores, rather than team vs. team hatred that builds up over multiple seasons. Guys are here one day and gone the next.
Overall, it's all well and good. I'm never going to rail on players for making as much money as they can during a professional sports career that is likely ending well before the age of 40. But it's sapped much of the spirit from professional sports in general. If they haven't already, fans need to come to the conclusion that the days of players hating their biggest rivals as much as you do are long gone. In many cases, they might have even played for both teams.

In college basketball, the one-and-done system has also made the sport very generic, lacking solid rivalries on the court. Student-athletes play for a team for 30 games and they're gone the next year. It's hard to have much build up. But in college football, there's still an element to of this desire and passion, and no one in the past decade has embodied that like Baker Mayfield. Players stay for a minimum of three years, and in the Big 12 conference, which is the only conference with a true round robin, teams play each other every single fall. This is not like the SEC, where teams in opposite divisions with no traditional rivalry play each other twice every 12 regular seasons.
And Baker Mayfield, once again, proved why he is every fan's dream player. Yes, he grabbed his crotch (GASP) in the middle of a game. Folks who want to compare Texas Tech fans chanting "F*** you, Trae Young," to Mayfield's actions are as delusional as the day in long in West Texas in the middle of June. But he cared. Hell, he still cares. He's preparing for the NFL Draft, where he could be a top 10 pick, and still admits his absolute hatred for the Texas Longhorns. He also admitted that NFL scouts want him to tone it down, but when it comes to the Longhorns, "Absolutely not."
Sports needs more of this. Fans crave more of this. Most non-OU fans hate him, I get it. But it's partly out of jealously. Unfortunately, you'll never get them to admit that.