Baylor Bears
Big 12 Basketball Power Rankings: February 19th, 2018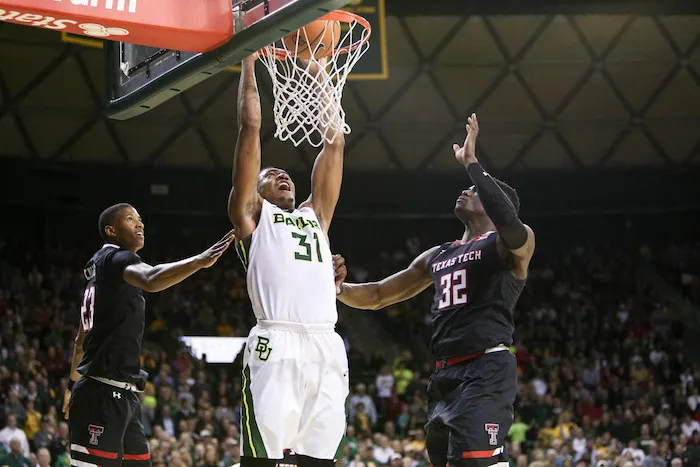 By popular demand, it's time to bring back the Power Rankings. We did them throughout the entire football season as our staff voted and then we averaged each contributor's rankings out to come up with our official rankings one through ten. This week was the most chaotic of the basketball season thus far, as this past Saturday can be dubbed "Upset Saturday" in the Big 12. So here we go.
1. Kansas Jayhawks (Last week: 2)
After another wild Saturday in the Big 12 conference, Kansas is once again back in the driver's seat. Sort of. KU is tied atop the Big 12 standings, thanks in part to its win over West Virginia on Saturday. The game had its controversies, as the +33 edge in free throw attempts for Kansas against West Virginia was its largest-ever against a Big 12 opponent, but the result is what it is. Kansas has Oklahoma at home and Texas Tech in Lubbock this week. A couple of wins and the Jayhawks are staring a 14th-straight Big 12 title square in the face. Considering this is far from KU's most talented team in recent years, along with the great depth of the Big 12, it's been one of Bill Self's more impressive coaching jobs.
2. Texas Tech Red Raiders (Last week: 1)
Texas Tech's first loss in nearly a month (Jan. 18 vs. Iowa State) came on Saturday in Waco against a streaking Baylor Bears team. The scarier part of this for Tech is that it also lost budding star Keenan Evans, who left the game with a foot injury (which in fairness, likely altered the outcome of the game). There is no status yet on Evans for this week's games against Oklahoma State and Kansas. Saturday's game in Lubbock will feature College GameDay and will be the biggest basketball game played in Lubbock … ever?? No Evans, and those chances shrink drastically.
3. Kansas State Wildcats (Last week: 5)
While there is a race at the top of the Big 12 and chaos at the bottom of the standings, K-State just keeps rolling along. The Wildcats basically beat who they are supposed to beat, and lose who they are supposed to lose to. The Wildcats are 8-6 in conference play and tied for third with the Mountaineers (WVU holds tiebreaker). KSU is 0-6 against the teams above them in the standings: Kansas, Texas Tech and West Virginia. But they've beaten every team below them. Hey, they're consistent. They have four games left, all against teams they've already beaten this season. And a 4-0 finish could provide for a solid No. 3 seed in the Big 12 tournament.
4. Baylor Bears (Last week: 4)
Right now the hottest team in the Big 12 conference resides in Waco, Texas. Baylor holds the longest winning streak in the conference at five games after shocking Texas Tech on Saturday. Yes, the injury to Keenan Evans likely helped the Bears, but give this team a ton of credit. At the end of January, the Bears were 2-7 in Big 12 play and at the bottom of the standings. They're now 7-7 and in sole possession of 5th place in the Big 12. Plus, this stretch has not been easy, with wins over both Kansas and Texas Tech. Scott Drew should be very proud of the job this team has done. His guys are rebounding well, playing strong defense and doing "enough" on offense to get the job done. What a turnaround.
5. West Virginia Mountaineers (Last week: 3)
Bob Huggins is pissed. I get it. The head coach got tossed from Saturday's loss to Kansas after being disgusted by the -33 free throw margin his team dealt with. Once again, understandable. But what can't be overlooked is the fact that since this team was No. 2 in the rankings back in mid-January, the Mountaineers are 4-7. That's an incredibly subpar stretch that has lasted the better part of five weeks. The defense has been a problem. Over this 13-game stretch, there's been just one game where the Mountaineers have allowed less than 70 points in a game: an 86-51 win over Texas on January 20th. For a team that wants to slow it down and grind you out, this isn't going to work.
6. Texas Longhorns (Last week: 9)
The Longhorns are there. Right there. But the results put them in the middle of the pack. Saturday's win against Oklahoma meant Texas swept the series over the Sooners for the first time since the 2011-12 season. UT held OU to its lowest scoring total of the season (66 points) and held Trae Young in check (7/22 FG, 2/14 3P). And when you look at Texas, they have been in practically every game they've played. In fact, eight of their 11 losses have been by seven points or less. Want to get more technical? Four of their eight Big 12 losses have been by three points or less. I'm no bracketologist, but the eye test tells me this is an NCAA Tournament team.
7. TCU Horned Frogs (Last week: 7)
The Horned Frogs keep plugging along and picked up a dominant win over Oklahoma State on Saturday, in large part thanks to Kenrich Williams (16 points, 6 rebounds, 3 assists).  While this game was likely one of the more overlooked games of the Big 12 schedule on Saturday, a loss could've done some damage as Oklahoma State is still a team fighting to get back onto the bubble. TCU's defense is starting to improve as well. The Horned Frogs have allowed 73 points per game in their last six, compared to 80 points per game in the six regulation finals TCU plays prior to that (I did not count three overtime games against Baylor, Texas and OU, as to not skew the results). We know TCU can score, but now if they can play solid D, they might have a little run in 'em come March.
8. Oklahoma Sooners (Last week: 8)
What a mess this team is. The highlight of Saturday's game for the Sooners was Baker Mayfield giving the "Horns Down" sign at mid-court and then having a goofy chat with Dicky V during the game. This team has become so darn reliant on Trae Young it's continuing to hurt the team every night. Teams are locking down on the star freshman and OU has no answer. I put a lot of this blame on Lon Kruger, who should've seen this coming weeks ago, and has not made the proper adjustments. The Sooners have lost five straight games and eight of ten overall.
9. Oklahoma State Cowboys (Last week: 6)
It was a tough week for the Cowboys, who were trying to work their way back onto the bubble, but lost to two teams that they needed to beat in Kansas State and TCU. Instead, they dropped those games by a combined 30 points. Even more frustrating was that Oklahoma State had an early 12-point lead on the road in Fort Worth and then fell apart. This included giving up 51 points in the second half. Maybe the Pokes get a break if Keenan Evans can't play on Wednesday due to his foot injury, but the odds aren't in the Cowboys' favor at the moment. Head coach Mike Boynton put it best after the loss Saturday,  saying, "It would be hard for me to talk about the NCAA Tournament after the way we played tonight." Yep. It is.
10. Iowa State Cyclones (Last week: 10)
The Cyclones hang tough, but it's all about 2018-19 in Ames. These battles will pay off for Iowa State next season, but it's still frustrating for Cyclone Nation to absorb this season. The loss to Kansas State on Saturday guaranteed a losing season in Big 12 play for the first time in three seasons under Steve Prohm. A lot of the issues this season have been similar, especially on the road, where the second half defense has greatly deteriorated. After being tied at 33 at halftime, Kansas State outscored the Cyclones 45-33 in the second half. Two weeks ago at Baylor, ISU had a 32-30 lead and got outscored 51-35 in the second half. But it's all part of the learning curve for this young team.