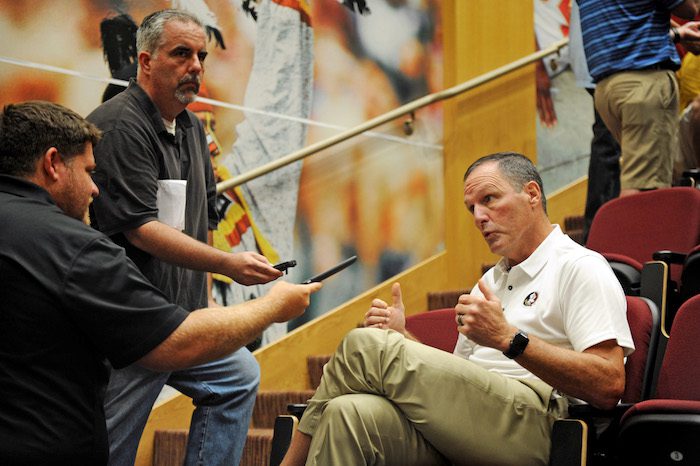 The college football recruiting landscape can be a slimy game at times. Everyone knows that. But with the recruiting battles for 2018 officially in the rearview mirror and the 2019 cycle starting to get going, the new staff in Aggieland is feeling the heat.
Jimbo Fisher was handed a 10-year contract for $75 million to leave Florida State this offseason and try and turn around a perennial mediocre football program: The Texas A&M Aggies. No team has done less with more resources over the past 25 years than the folks in College Station. In 16 seasons in the Big 12 conference, the Aggies went 68-61 in conference play. Since joining the SEC, A&M is 21-19. Average. That's what the program has been for the majority of its lifetime. The Aggies have spent their existence living in the shadows of the Texas Longhorns and Oklahoma Sooners, and now the majority of the SEC West (except for that season they had the Heisman winner).
So understandably, Fisher's gang is feeling the pressure early on. While the 2018 class was a short turnaround, Texas A&M ended with the 17th-ranked class in the country. Meantime, Texas is coming off a top-3 class under Tom Herman, which includes seven of the top 10 players in the state of Texas going to Austin.
A&M is trying to make a dent in this. Enter: the ultimate huckster Tim Brewster.
Incase you're unfamiliar with what a "huckster" is. I've found a couple of definitions to help you out. 1) someone who promotes or sells (something, typically a product of questionable value). 2) Hawker, Peddler; especially : one who sells or advertises something in an aggressive, dishonest, or annoying way.
Let's start with this tweet from Brewster, who, remember, used to coach with Jimbo Fisher at Florida State.
🤔🤔🤔… pic.twitter.com/9AMGqU8tkm

— Cale Gundy (@OU_CoachGundy) February 20, 2018
Funny how that works, huh? Boy is that shameless. Talk about being caught with your pants down.
Then, there was this earlier in the week.
To say that the Big 12 is even on the same planet w the #SEC is straight crazy. The elite players in Texas totally understand. #SEC‼

— Tim Brewster (@TimBrewster) February 20, 2018
Hilarious how everyone in the SEC continues to try and ride Alabama's coattails. They just can't help themselves. Our own HCS contributor Derek Duke put it best in a response to Brewster.
What he is trying to say: If you come to Alabama you could win a National Championship. If you come to A&M, you can watch Alabama win the National Championship. https://t.co/LoPwqIV6fo

— Derek Duke (@DerekDuke25) February 20, 2018
Bang. Nailed it. So basically his pitch is, "come to the SEC, so you can get railroaded by Alabama every fall! But damn, #SEC!" 
And apparently recruits just don't agree with Brewster's SEC > Big 12 theory anyway. In the 2018 recruiting cycle, 17 of the top 25 players in the state of Texas signed with Big 12 schools, compared to only eight heading to the SEC. Players are starting to realize several things about the SEC: 1) unless you end up in Tuscaloosa, you're likely playing for second place and will end your career calling Alabama your "daddy". 2) If you're an offensive player (especially QB/WR), you're unlikely to reach your full potential at the collegiate level. 3) You are unlikely to end your career playing for the same coaching staff you began with, mostly thanks to incredibly irrational and unreasonable fan bases who all think they should be Alabama.
In many ways, Alabama has been the worst thing to happen to the SEC. Every other SEC program's fans (and some administrators, coaches and players) believe that Alabama succeeding somehow means something for them, but then also think they should have the Crimson Tide's success. Five SEC football programs will play their first game of the 2018 season under a different head coach than the man guiding the team at the start of the 2017 season.
Meantime, every Big 12 team returns the same head coach from last season.
We all know the recruiting cycle can be an ugly game, and that social media has only added another layer to it. But guys like Tim Brewster should be seen for what he's become since his move to Texas A&M: the used car salesman, whose actual sales skills are so limited, he has to settle for cheap gimmicks to try and get you to take his 2002 Nissan Altima with 180,000 miles and no air conditioning off the lot.
Oh, and last but not least, there was this gem from Brewster.
There are four current Head Coaches that have won a National Championship….Jimbo Fisher being one of four‼#TexasAggies

— Tim Brewster (@TimBrewster) February 20, 2018
Guess what else? There were four teams in the ACC that went 3-5 in conference play last season. Jimbo Fisher "being one of the four" !! And the only one of the four to do it with a slew of four and five-star recruits.
Ouch.