Uncategorized
Colin Cowherd Calls Big 12 a 'Pillow Fight Conference'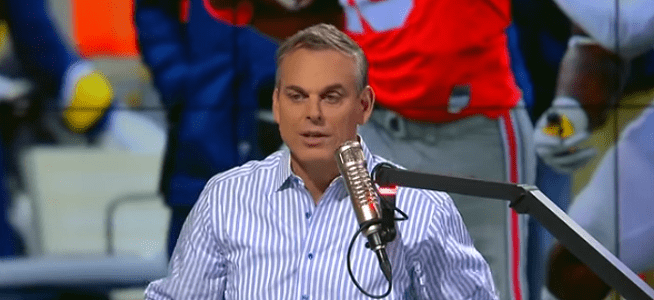 Another day, and another Big 12 hater in the national media. On Wednesday, it was Fox Sports' Colin Cowherd (who I'm actually a big fan of and is probably my most famous Twitter follower). But Colin's potshot at the Big 12 came during his discussion on the NFL Draft and explaining why the Jets should not draft Baker Mayfield.
Cowherd said, "They cannot roll the dice on a 5'11" kid from Oklahoma, who played football in a pillow fight conference." The comment begins around the 3:00 mark in this video.
For the record, Mayfield checked in at the Senior Bowl at 6′ 3/4". Not bad, but bigger than Russell Wilson, who Cowherd loves.
Every run-of-the-mill college football fan has looked at the Big 12 and seen teams allowing 30-40 points per game and assumed the defenses are not good. Now I'm not going to say the Big 12 is loaded with Alabama-esque defenses. It isn't. But the conference plays much better defense than it's given credit for.
A good example, and a stat that isn't used as often, is team points per play margin.
It's a simple stat of basically points earned per play minus points allowed per play. So it reduces the game to a per play basis, rather than trying to compare a Big 12 game, where teams might run 70-80 plays each, to a Michigan vs. Michigan State game that might include half as many plays per team
So in points per play margin, here are where the top Big 12 teams ranked, nationwide, in 2017.
9. Oklahoma: .238
17. Oklahoma State: .187
22. TCU: .148
25. Kansas State: .128
30. Iowa State: .104
38. Texas: .078
That's 60% of the conference in the top 40 in points per play margin.
Let's compare conferences, shall we?
Number of teams ranked in the top 40 in points per play margin:
ACC: 5
Big Ten: 4
Pac-12: 4
SEC: 5
So let's get this straight: The Big 12, which has 10 teams, still has the most teams (6), and by far, the largest percentage of teams (60%) of any Power 5 conference for teams ranked in the top 40 in the country in points per play margin.
But it's a "pillow fight conference"?
Once again, the numbers tell a different story than the Big 12 haters want to hear. Just don't tell them that. They don't like those silly things called facts.