Oklahoma Sooners
Baker Mayfield Believes OU Was a Better Match Up for Alabama than Georgia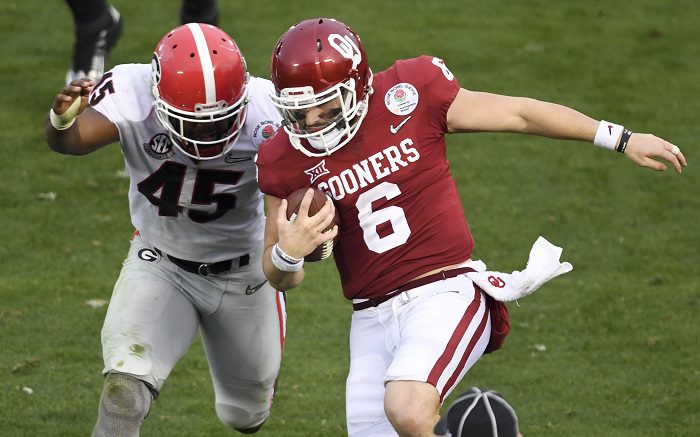 Just like Oklahoma fans, quarterback Baker Mayfield isn't going to forget the Rose Bowl loss any time soon. The Sooners let a late lead slip away and lost to the Bulldogs in double overtime 54-48, which sent Georgia to the National Championship game, where it eventually lost to the Alabama Crimson Tide.
Well, in a recent discussion with SoonerSports.com, Mayfield still believes his team should've won and would've had a good shot against the Crimson Tide, saying his biggest regret was:
"That we should have won. And honestly, that we matched up better against Alabama in the championship game than they did. I've talked to I don't know how many people about that. I wish we would have finished it the way we should have; the way we were capable of. I can't go back and change it, but would obviously love to. Every time it gets brought up, whatever conversation I'm in and whoever I'm around, everybody says, 'Wow, we were rooting for you guys.' And I don't know why that is, but everybody says the same thing. They all expected us to win and wanted us to win."

Mayfield added that he does not believe he played his best in that game. In fairness, Mayfield wasn't given the freedom from his head coach, Lincoln Riley, in the second half like the first half. OU led 31-17 at halftime, and Riley clamped down in the second half, becoming much more conservative with his playcalling. For the game, Mayfield finished 23 of 35 for 287 yards, with two touchdowns to one interception.
Baker Mayfield cited the Rose Bowl loss in his final game as a Sooner, along with his final game as a high school quarterback at Lake Travis, TX (an opening round loss to Pflugerville in the Texas 5A Division 2 Playoffs), as the two most painful losses of his career.