Baylor Bears
Big 12 Basketball Power Rankings: February 26th, 2018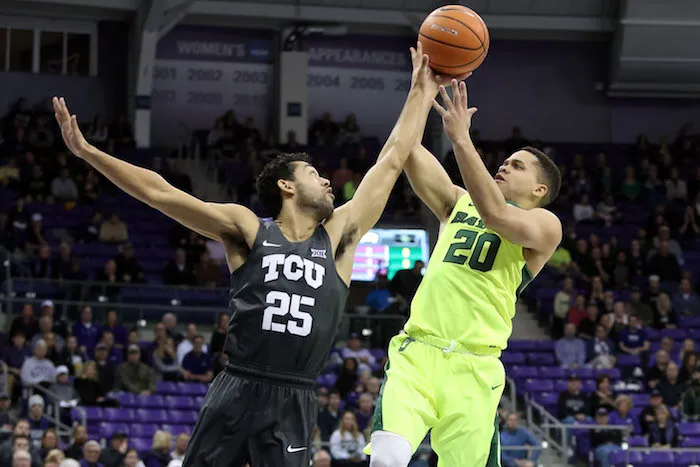 By popular demand, it's time to bring back the Power Rankings. We did them throughout the entire football season as our staff voted and then we averaged each contributor's rankings out to come up with our official rankings one through ten. This week was the most chaotic of the basketball season thus far, as this past Saturday can be dubbed "Upset Saturday" in the Big 12. So here we go.
1. Kansas Jayhawks (Last week: 1)
By KU standards, this has been a rocky, unpredictable season. But regardless, the Jayhawks have a 14th-straight Big 12 championship. Kansas blew out the Oklahoma Sooners on Big Monday and then went into a hostile environment in Lubbock and held off the Red Raiders, thanks to a clutch performance from Devonte' Graham. Death, taxes and Kansas winning the Big 12 conference. Kansas has won four-straight games overall and appear to be hitting its stride at the perfect time. There isn't that one-and-done star on this team, but ask certain programs around the country (Villanova) and sometimes that's actually a good thing.
2. Texas Tech Red Raiders (Last week: 2)
The Red Raiders are officially going through their most trying time of this season. Texas Tech has lost three-straight games, but they're right in every one. The three losses to Baylor, Oklahoma State and Kansas have been by a combined 12 points. The lingering injury for Keenan Evans isn't helping, but with Zach Smith working his way back into the rotation from a foot injury, he has a couple weeks to try and get back into game shape before the NCAA Tournament. That's the positive for TTU. But Tech closes the season at WVU and against a TCU team that's played some good hoops lately.
3. West Virginia Mountaineers (Last week: 5)
Despite Bob Huggins' beef with Big 12 officials that dominated the headlines for much of last week, the Mountaineers didn't let it get to them on the court. The veteran team went out and took care of business with wins at Baylor and home against Iowa State. Since a three-game losing streak in late January, the Mountaineers have gotten their act together going 5-2. The defense has gotten back to where it should be over the past couple of weeks, allowing less than 70 points per game. That's where the Mountaineers want to, and need to, play to win games in March.
4. TCU Horned Frogs (Last week: 7)
Has anyone noticed TCU playing much better hoops the last couple of weeks? The Horned Frogs have won three in a row and four of five. Granted the three wins are against Oklahoma State, Iowa State and Baylor, but there are no nights off in the Big 12, so it's still impressive. This is the first winning streak of any kind for TCU in conference play. Kudos to Alex Robinson, who continues to grow into his role at the point guard position. Robinson scored 15 of his 22 points in the second half to help TCU hold on to beat Baylor in Fort Worth. TCU plays home vs. K-State and at Texas Tech. The game against the Wildcats could be for the No. 4 spot in the Big 12.
5. Kansas State Wildcats (Last week: 3)
The Wildcats are still in sole possession of fourth place in the Big 12, but they had their three-game winning streak snapped on Saturday in Norman against an OU team that has been a mess of late. Rebounding remains a concern for this team, which ranks outside the top 300 in rebounds per game in the country. But a duo of Dean Wade and Barry Brown will be a tough mid-seed draw for any team in the NCAA Tournament. And yes, if you watch the games, this team deserves to be dancing. No doubt about it.
6. Oklahoma Sooners (Last week: 8)
The Sooners were desperate and they picked up their much-needed win on Saturday against Kansas State, thanks to 27 points from Trae Young. Young has declared himself "back", but let's pump the brakes as OU just snapped a six-game losing streak. The Sooners still play much better at home. Oklahoma's last win on the road came on December 23rd, 2017 against Northwestern. I just checked the NCAA Tournament schedule, there are no games played at the Lloyd Noble Center (yes, I know this isn't possible anyway, so don't tweet at me about it). Therefore, this team still has a slew of problems as it heads down the stretch of the season.
7. Texas Longhorns (Last week: 6)
Overall, not a great week for Shaka Smart and Texas. There was the pesky FBI investigation that listed the Longhorns, including current player Eric Davis. Smart denied any knowledge and says the program will fully cooperate into the investigation. Now on the floor, Texas has that funny way of looking either really good or really bad. They had moments this week against Kansas State and Oklahoma State. But the Kerwin Roach II buzzer beater keeps Texas in the hunt for an NCAA Tournament bid. That would be huge for Shaka Smart, who still has yet to duplicate his VCU success on the 40 Acres. One of two wins this week, against either Kansas or West Virginia, might be enough.
8. Baylor Bears (Last week: 4)
The Bears came tumbling back down to earth this past week. Baylor's five-game winning streak launched them up to the No. 4 spot in last week's power rankings. But two losses against West Virginia and TCU stalls some of that momentum. Here's the deal in the Big 12, half the conference is between 7-9 and 9-7. Baylor has worked its way back onto the bubble and that's ultimately what this comes down to. Baylor plays home against Oklahoma (a different team than in Norman) and on the road against K-State. Is it possible that Saturday's game in Manhattan is a play-in game for the NCAA Tournament? We'll see!
9. Oklahoma State Cowboys (Last week: 6)
The Cowboys followed up their emotional home win over Texas Tech with a clunker on the road against Texas. With the loss, Oklahoma State falls to 6-10 in Big 12 play and their longshot hopes of an NCAA Tournament feel like a distant memory, barring a run through the Big 12 tournament. The Cowboys have now lost three of four games and wrap up the final week of the regular season at Iowa State and home against Kansas.
10. Iowa State Cyclones (Last week: 10)
The Cyclones have now lost four-straight games and six of their past seven. This young Iowa State team continues to play much better at home compared to on the road. After losing by 15 points in Morgantown on Saturday, the Cyclones still haven't won a road game this season. And not only that, they aren't even all that competitive away from Hilton Coliseum. The last time Iowa State lost a road game by single digits was in Lawrence back on January 10th. Every other game has been by at least 10 points. Once again, this team is building towards 2018-19, but that doesn't mean Iowa State fans can't be frustrated by how this season has gone.