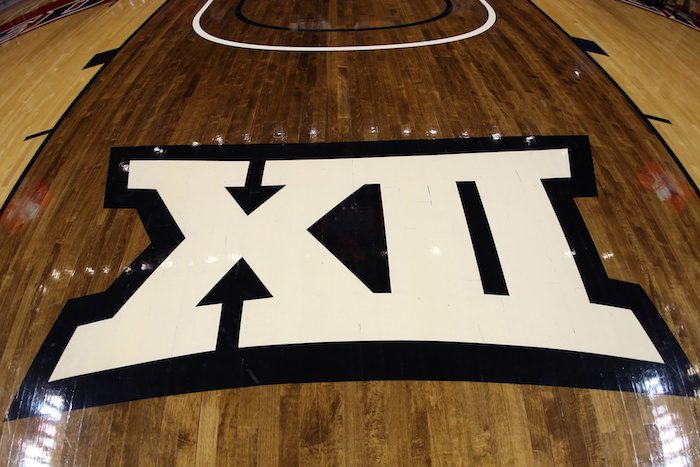 We're officially down the home stretch of the college basketball season. It's the final week of the regular season (unless you're the Big Ten, who foolishly jammed their regular season schedule to get the Big Ten Tournament in New York City. Huh?!), conference tournaments begin next week, and then it's Selection Sunday and March Madness!
The Big 12 conference has had an incredibly successful season, with by far the most depth and parity of any conference in America. The Big 12-SEC Challenge saw some of the shine wear off the conference, as the SEC won six of ten games. But any unbiased fan (is that an oxymoron?) that looks around the country should be able to identify the Big 12 as having the best top-to-bottom conference in America.
However as you look around the Big 12: which of these teams has a deep March run in them? That's what's concerning.

Despite looking like this might be the year they don't win the Big 12, the Kansas Jayhawks proved otherwise and are actually playing some of their best basketball of the season right now. Devonte' Graham is playing with the confidence and veteran leadership that any teams needs for success in March. Meantime, supporting cast members like Malik Newman and Udoka Azubuike are getting better every game. After a 3-3 stretch from late January to early February, the Jayhawks have now ripped off five-straight wins en route to their 14th-straight Big 12 title. Despite some early season issues and uncertainly surrounding guys like Billy Preston, Bill Self has this team peaking and playing its best hoops at the right time.
But after Kansas, who do you have confidence in to make a serious run through the bracket?
No one.
Texas Tech finds itself in the middle of its longest losing streak of the year at four games, and looked all out of sorts on Monday night in Morgantown. The Red Raiders found themselves down 25-7 after 10 minutes against the Mountaineers. Yes, it's true that the Red Raiders are missing Keenan Evans, Zach Smith and Justin Gray. All key players. But is it too late to get that mojo back? March is all about momentum and the Red Raiders have none right now. And if you think it's easy to turn it back on, think again.
Speaking of the Mountaineers, Bob Huggins hasn't gotten his team past the Sweet 16 in eight years. He has a veteran backcourt in Jevon Carter and Daxter Miles, often keys to success in March, but too often it feels like Huggins' team has disappointed come the Big Dance. As someone who predicted a deep run two seasons ago, when WVU was knocked out by No. 14 seed Stephen F. Austin in the opening round, I have since decided against putting all my marbles on Huggins. The Mountaineers have won three in a row and are playing much better defensively, but whether or not this team has a long NCAA Tournament run in 'em (Elite 8 and beyond) will depend on things like which group of officials they draw and how much leeway they get on their Press Virginia style.

Go down the Big 12 standings and you get to teams like Kansas State, TCU and Oklahoma. The Sooners are a mess and have lost six of seven games. Trae Young is still putting up big numbers, but teams have started to figure him out a bit. Plus, Oklahoma is awful away from Norman. Their last road win came in late December. Sure, Young could get red hot over a weekend and push OU into the Sweet 16. But beyond that? You're rolling the dice on this team. No thanks.
TCU is growing and improving. The loss of Jaylen Fisher hurt them on the court and from a leadership standpoint, but they've seemed to have turned the corner. And in March, I love the idea of having Jamie Dixon's experience in big games. Pittsburgh Panthers fans will say he never reached the expectations come the NCAA Tournament, but ask Pitt fan right now if they'd take Jamie Dixon back over the disaster that is Kevin Stallings in southwest Pennsylvania. Most would probably drive to Fort Worth themselves, pick up Dixon and drive him back. All expenses paid.
The Kansas State Wildcats are a wildcard. I like having the veteran 1-2 punch of Barry Brown and Dean Wade in a one-and-done type situation. They're hard to prepare for on short notice, which is half the battle in the Big Dance. They've also quietly played some solid basketball in recent weeks, going 4-2 over that stretch. But considering Bruce Weber has yet to get past the Round of 64 during his time in Manhattan, and hasn't even reached a Sweet 16 since he led Illinois to the 2005 National Championship game, what evidence is there to suggest this year will be different?
I'm hoping we get a handful of Big 12 teams in the Sweet 16, and maybe one or two in the Elite 8. It'd be a great way to cap off an exciting year for the Big 12. But despite all its depth this season, my fear is we will end up in the second weekend of the NCAA Tournament with the Kansas Jayhawks and maybe ___________, fill in the team of your choice, and that's it.
But of course, I hope I'm wrong. Really wrong.