Uncategorized
Texas A&M Coach Tim Brewster Blocks Heartland College Sports Twitter Account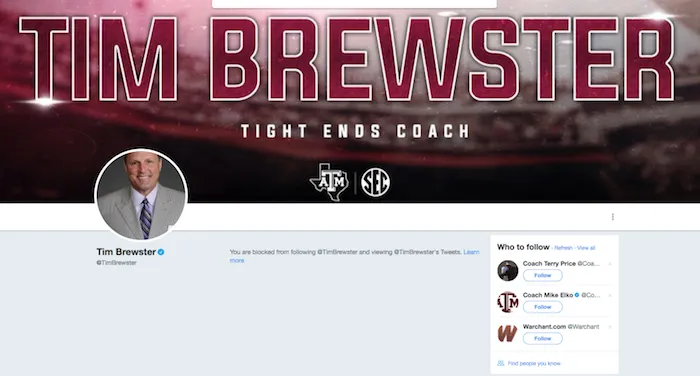 For many of you that follow the site, last week we wrote a scathing review of Tim Brewster's cheap recruiting tactics to try and get Texas kids to join him in the SEC and Texas A&M. The article was picked up across the board by several Big 12 sites, along with even many folks at Florida State. In fact, I think more Florida residents were on HCS last week than at any other point in our existence. Welcome aboard, Sunshine State!
Fast forward to Monday night, when Tim Brewster tweets out a graphic citing all the great defensive backs that Jimbo Fisher coached during his time at Florida State. Brewster got roasted by one of those players on the graphic, Pro Bowl CB Jalen Ramsey, on Twitter.
He didn't teach me not one DB technique… #ComeGetSomeRealTruth #GoNoles https://t.co/xb78Pery78

— Jalen Ramsey (@jalenramsey) February 27, 2018

I then cited Ramsey's tweet and congratulated him on calling out the biggest huckster in college football.
Loser Tim Brewster put on blast and now deletes his tweet. Good times in College Station! https://t.co/WEKMlGnrnh

— Heartland College Sports (@Heartland_CS) February 27, 2018
Let's now move to Tuesday morning, when I arrive at work at Sports Illustrated's digital department, one of my many day jobs in media in NYC, and I see the Ramsey tweet blowing up. I'm logged into Twitter and find out that I can no longer see Brewster's tweet regarding Jimbo Fisher and Florida State's top defensive backs. My first inclination is that Brewster wisely deleted the tweet, since he, along with all of A&M, got put on blast by Ramsey and his tweet received thousands of retweets.
That would have been the smart thing to do. But nope, it was just that Tim Brewster BLOCKED our Heartland College Sports twitter account from following him and seeing any of his tweets.

It really is a shame to see how thin-skinned Brewster is, considering he wants to throw as much heat as he can by hypocritically hyping up the SEC now that he coaches in the conference (when he touted the ACC as the best conference in America last summer), while also trying to tear down the Big 12, saying the best players in Texas know the SEC is better (meantime, most of the top players in the Class of 2018 ended up at Big 12 schools).
Those pesky things called "facts" got in the way of his narrative, and for that, we are blocked.
"Sad!"