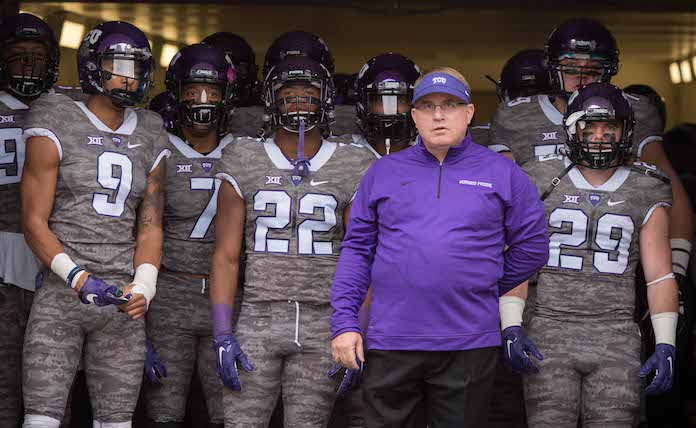 College basketball is heading down the home stretch, college baseball has started, but let's not forget (I know many of you aren't) that spring practice is already getting underway across the country. We will handle spring previews for every Big 12 football team and roll them out based on when their respective spring practices begin. We turn our attention to the TCU Horned Frogs, as they open spring practice on Friday, March 2nd.
Most exciting returnee: QB Shawn Robinson
With Kenny Hill gone due to graduation, it's Shawn Robinson's offense … for now. We don't yet know the status of incoming stud freshman Justin Rogers, but it's likely he's still going to be dealing with recovery from knee ligament surgery from last fall. So the pressure is on Robinson, who played sparingly last season. His most reps came in the game he started against Baylor in November. Robinson was much more comfortable running than passing, finishing with 10 carries and 84 rushing yards, compared to going 6/17 for 85 yards and one touchdown through the air. How has he improved as a passer? Is he more comfortable? These are all things to keep an eye on.
Most exciting newcomer: TE Pro Wells
Obviously, Rogers is the obvious answer, but with his injury, let's look elsewhere. You don't think of Sonny Cumbie's offense and immediately think of the tight end position. That's what makes Wells' decision to attend TCU all the more interesting. He's the No. 4 JUCO tight end in the country and a top-70 player nationally. He committed relatively late in the process, so something leads me to believe maybe Cumbie is looking to more of a power spread offenses utilized by folks like Chad Morris, Lincoln Riley and others, that incorporates more running game and a tight end. If so, it will be exciting to see how a player like Wells fits in and what signs, if any, we see of that this spring.
Offensive storylines to watch
Quarterback
As mentioned, watching Shawn Robinson's growth and improvement in the system and program is topic No. 1 for me heading into spring ball. Growth, development, footwork, deep ball, intermediate routes, screen passes, all of it. Kenny Hill wasn't an All-World college QB, but he was more than serviceable enough, based on the talent around him in 2017, to lead this team to a very successful season. Robinson came in highly regarded out of DeSoto, TX, and it's now his time to shine and become a leader on a team that is losing a ton of seniors from last season. Can he handle it?
Offensive line
Three very solid senior starters are gone from last year's team with Joseph Noteboom, Matt Pryor and Austin Schlottmann. Who is stepping up or stepping in? A couple of redshirt sophomores should have first dibs in Kelton Hollins and Austin Myers, along with junior David Bolisomi. I'm also excited to see one of the early enrollees, offensive tackle Anthony McKinney out of Iowa Western C.C., who is a massive 6'8", 330 pounds. He was the No. 3 JUCO offensive tackle in the Class of 2018 and the No. 12 player nationally. Let's see what the big boy has.
Defensive storylines to watch
Defensive line
Even though Mat Boesen and Chris Bradley are gone to graduation, I can't wait to see the duo of Ben Banogu and Ross Blacklock. These are two absolute studs who had great seasons last year. Banogu turned down the NFL to hone is craft, and Blacklock is going to be a redshirt sophomore. Getting a chance to see these guys after more time in the weight room and having another spring to improve their skills should be a scary proposition for the rest of the Big 12. And don't forget about sophomore Corey Bethley, who was one of TCU's top recruits in the Class of 2017. He was the 30th ranked DT and came in at 6'2", 300. He should have his chance to impress as well, along with fellow sophomore defensive end Dennis Collins.
Secondary
Nick Orr and Ranthony Texada are gone from a secondary that had the second-best pass defense efficiency in the Big 12 conference. There are no early enrollees in the secondary to watch, but some younger players who have paid their dues and worked their way through the program who will have a chance to flourish. Another offseason for Vernon Scott, La'Kendrick Van Zandt (who we interviewed before he signed with TCU), Jeff Gladney and others will be intriguing. But there's also the time for new leaders to develop such as rising seniors Ridwan Issahaku and Niko Small.
Special teams
Any time you can see KaVonte Turpin in open space, then there's reason to be excited. Granted we aren't going to see any of this in spring practice, but knowing it's there is reason enough. As for the kicking game, who's it going to be: Jonathan Song or Cole Bunce? Song started the season, but went down with a groin injury in November and never returned. Bunce came in and was serviceable, hitting six of seven field goals and 16 of 18 extra points. Kicking competitions aren't exactly the most interesting or fun to watch, but it's certainly worth keeping a close eye on.