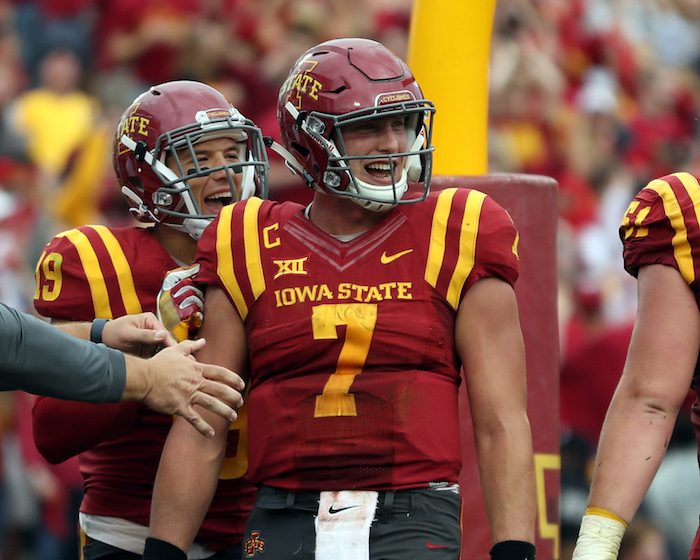 The NFL Combine workouts begin Friday and the Big 12 is well represented, with 28 players invited to the week-long festivities (the list of invited players is below). But it got me wondering — which Big 12 players were left out of the opportunity to go to the Combine? These are the six Big 12 players that, in my opinion, most deserved a combine invitation that didn't get one.
Joel Lanning, LB, Iowa State
I get that Lanning only played linebacker for one year, but what a year it was. And his transition from quarterback to middle linebacker was almost seamless. An AP and ESPN All-Big 12 selection, and an FWAA and Phil Steele First Team All-American, Lanning put up impressive numbers for an experienced middle linebacker, much less an inexperienced one — 114 tackles, 6 sacks and 11 tackles for loss. I saw him play in person against Texas and his play diagnosis impressed me considering it was his fourth collegiate game at the position (he had 20 tackles that night). Combine that with the mental makeup and his desire to help the team by moving to a different position, it surprises me the NFL didn't invite him. NFL teams have input into the invite list, and Lanning did play in the East-West Shrine game. It left me wondering if either Lanning wasn't that impressive in the East-West game or if teams are trying to squirrel him away by opting to keep him out of the Combine, the latter of which is almost impossible to do nowadays.
Kenny Hill, QB, TCU
Hill was a two-year starter at TCU and he put up impressive numbers — he threw for 3,152 yards, 23 touchdowns and 8 interceptions last year, nearly what he did in 2016. What was more impressive to me was that he made serious progress as a quarterback from 2016 to 2017 in decision-making, pocket presence and leadership. Those are some of those "intangible traits" you hear about. Quarterback is a position that gets a lot of emphasis at the Combine and sometimes it can be a numbers game — you only need so many passers. But I felt Hill was deserving. Again, he had a chance to show off his skills and talk to scouts at the NFLPA Bowl, but the Combine is a higher level of exposure.
Will Geary, DL, Kansas State
Geary probably doesn't look like much on paper to those who don't follow the Big 12. He projects as a one-technique tackle or a nose tackle in the NFL (he comes in at 6-foot and 306 pounds), and those are hard positions to grade and gauge. Plus, teams don't want to invest a ton of money in players that are basically there to hold up offensive linemen and create lanes for linebackers. But there's an art to it and Geary's play shows he understands that. Between the Big 12 coaches and the Associated Press he's been a three-time All-Big 12 First Team selection. He was also a 2017 Pro Football Focus First-Team All-American. In this case PFF applies analytics to grade players and their stamp of approval means there is something to his ability that scouts could be overlooking. I find it hard to believe that the NFL passed on a player from a Power 5 conference with three First-Team All-Conference selections. But here we are.
Austin Schlottman, OL, TCU
I've been on the Schlottman train the past few months, I admit. To me he is one of the most versatile interior linemen in this draft, as he's played center and guard and done it at a high level. Did you know that at one point, according to TCU, that Schlottman played more than 1,000 collegiate snaps without allowing a sack? That's a fairly preposterous statistic. Even if that is a bit of hyperbole, if you're looking for a reliable interior offensive lineman who can grow into a starter, so why would you not want this guy in Indianapolis for a week? In fact, with his size — 6-foot-6 and 300 pounds — I could see some NFL teams wanting to invest the time to convert him into a tackle.
Zach Crabtree, OL, Oklahoma State
Here is another offensive linemen that strikes me as someone the Combine is missing out on. At 6-foot-7 and 310 pounds, he's started at tackle all four years at OSU, primarily on the right side. You know that, having played at OSU, he has a lot of experience with pass protection. But people don't realize that OSU was one of the better run teams in the Big 12 the past two years and Crabtree helped lead that charge. He went from being a Second-Team All-Big 12 pick in 2016 to a First-Team pick in 2017 by the coaches, so he showed progress in his senior year. He needs coaching at the NFL level to grow into being a starter, but how does he get that if he doesn't get a shot at exposure this week in Indy?
Al-Rasheed Benton, LB, West Virginia
Another player I'm partial to after having seen him play three times this past season. Maybe he's a late bloomer from the NFL's perspective, but I was impressed with what I saw. He ended up with 110 tackles last season and he was certainly one of West Virginia's most impressive leaders. He only received honorable mention honors from the Big 12 coaches, and perhaps that played a role. But when scouts see this guy at his pro day they're going to see a player with quality skills and great leadership traits that translate to the NFL. It's a shame he won't get to show that to a wider audience this weekend.
Does missing the Combine mean these six players won't be drafted? No. But I think NFL teams are missing out on a good opportunity to get to know them.
2018 Big 12 NFL Combine Invitees
Here are the Big 12 players invited to the 2018 NFL Scouting Combine. A total of 336 participants are set to attend the event, which will take place in Indianapolis from Feb. 27 through March 5 (*underclassman):
*ANDREWS, MARK, OKLAHOMA, TE
*ARMSTRONG, DORANCE, KANSAS, DL
ATEMAN, MARCELL, OKLAHOMA ST., WR
*BROWN, ORLANDO, OKLAHOMA, OL
CANTRELL, DYLAN, TEXAS TECH, WR
*COUTEE, KEKE, TEXAS TECH, WR
CRAWFORD, JUSTIN, WEST VIRGINIA, RB
*ELLIOTT, DESHON, TEXAS, DB
FLOWERS, DIMITRI, OKLAHOMA, RB
FLOWERS, TRE, OKLAHOMA ST., DB
HICKS, KYLE, TEXAS CHRISTIAN, RB
*HILL, HOLTON, TEXAS, DB
*JEFFERSON, MALIK, TEXAS, LB
LACY, CHRIS, OKLAHOMA ST., WR
LAZARD, ALLEN, IOWA ST., WR
MAYFIELD, BAKER, OKLAHOMA, QB
NOTEBOOM, JOE, TEXAS CHRISTIAN, OL
OKORONKWO, OGBONNIA, OKLAHOMA, LB
PRINGLE, BYRON, KANSAS ST., WR
*REED, DJ, KANSAS ST., DB
RUDOLPH, MASON, OKLAHOMA ST., QB
SHIMONEK, NIC, TEXAS TECH, QB
THOMAS, JT, OKLAHOMA, DB
*WARREN, CHRIS, TEXAS, RB
WASHINGTON, JAMES, OKLAHOMA ST., WR
WHITE, KA'RAUN, WEST VIRGINIA, WR
WHITE, KYZIR, WEST VIRGINIA, DB
*WILLIAMS, CONNOR, TEXAS, OL