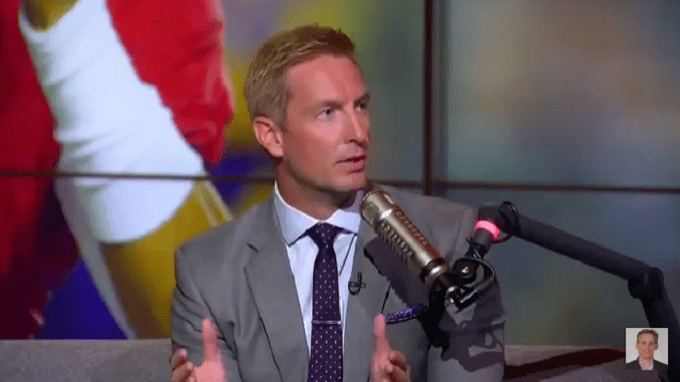 Baker Mayfield has become one of Fox Sports' Colin Cowherd's favorite punching bags in recent weeks. He's ripped the former Oklahoma QB, calling him "undraftable" and making plenty of Johnny Manziel comparisons.
I love Colin. Big fan. As I've mentioned he's my most famous, personal (@PeteMundo), Twitter follower. We've even exchanged notes on Twitter DM. But he's way off base here. Problem is, it's not my place to tell him that.
However, someone who can, and did, tell Cowherd that is his Fox Sports co-worker, and the company's top college football analyst, Joel Klatt.
Your Baker Mayfield-Johnny Manziel comparisons are ridiculous, says @joelklatt on @TheHerd. pic.twitter.com/DbwOjt6BnW

— FOX College Football (@CFBONFOX) March 1, 2018

Some of the best exchanges came when Klatt said to Cowherd, "Your comparison relies a lot on your belief that he is more Johnny Manziel than he is Deshaun Watson. Would you agree with that?"
"Yes, absolutely," Cowherd said.
"I think that's totally false," Klatt responded.
Klatt went on to point out that as more NFL teams use some RPO and utilize the center of the field more, Mayfield's style fits perfectly. He also noted that Mayfield genuinely loves football and is loved by his teammates. Oklahoma and Big 12 fans know that, but the general NFL fan who keeps seeing these Manziel comparisons probably does not.
Regardless, it's not like the NFL scouts are listening to Cowherd's opinions and taking them seriously, but fans are getting totally misleading information and opinions with takes like these.
Cowherd did admit to the possibility that he just might be wrong on this one. But he seemed to be appeasing Klatt more than anything else, since he clearly has respect for Klatt's opinion.
For the record, I think Colin is way off base as well.