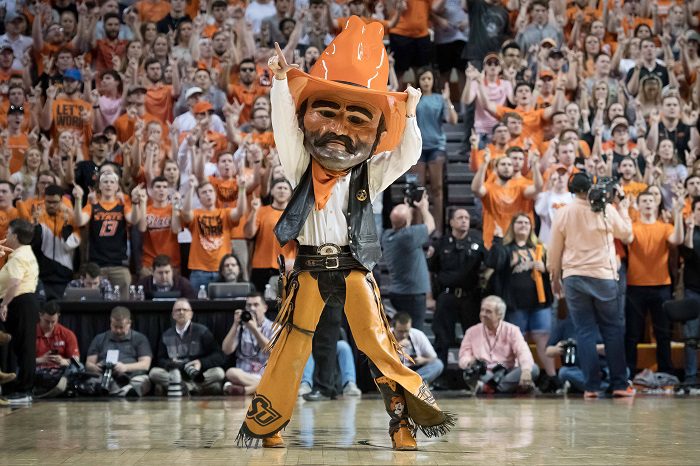 Oklahoma State basketball fans were ecstatic on Saturday night after blasting the No. 6 Kansas Jayhawks 82-64 in Stillwater to sweep the season series and potentially put themselves in a position to make the NCAA Tournament. The Pokes have six wins over top 25 teams and four over top 10 squads. Impressive. But is it good enough?
They are still two wins away from the magical number of 20, but another win, or two, in Kansas City this week could ultimately get the Cowboys into the Big Dance.
However, when we look at wins vs. top 10 or top 25 teams, how should they be judged?

I've been very critical of the College Football Playoff for how the criteria that they base things off of seem to change every year to fit whatever narrative it is they are looking to use. But the one thing I believe in the College Football Playoff system for is that all wins and all losses are not created equally. Example: it was often pointed out that Clemson's lone regular season loss to Syracuse came without Kelly Bryant, who got injured during the game. Granted it became too much of a crutch for the Tigers, as they were losing when Bryant went down, but I believe in using some of these facts when comparing teams' resumes.
On the other hand, the college basketball system has been flooded by analytical bracketologists, who have no recollection or care for differentiating certain wins and certain losses. We all have seen this over the past month: You're watching a game and the broadcasters cut to three resumes, each with a black box and a "?" in the box. You look at different criteria and then the color guy guesses which of the three teams should be in the Big Dance, and then the three teams are revealed. Wee!
That feels very antiquated to me.
Now that brings us to Oklahoma State. No doubt Saturday was a great win for the Cowboys, but when you dig deep into the game, Kansas had already locked up an outright Big 12 title. The Jayhawks were clearly not overly motivated to play this game. It's not meant to be an excuse for KU, but I would ask every Oklahoma State fan to honestly answer this question: had this game been played last Saturday, do you think the Pokes win by 18 points?
Please be honest with yourself.

This doesn't mean I think that the win should be discounted for Oklahoma State, or not viewed as a quality win. But it was at home against a team that had nothing to play for. There has to be an element, albeit a small one, of looking at these facts when factoring in where Oklahoma State stands in the grand scheme of the NCAA Tournament.
For the record, if I'm on the selection committee, I'd look around the country for other examples like this to help determine seeding. Should Texas Tech be greatly punished in their seeding for struggling without Keenan Evans? I don't believe so.
If the Cowboys don't make the Tournament, they can look back to razor thin losses to Texas and Arkansas, with other tight losses against Texas Tech and West Virginia as the reasons why. When I look around the country, I think Mike Boynton's team is certainly worthy of playing in mid-March. It'd be a great chance for a solid group of seniors in Jeffrey Carroll, Mitchell Solomon and Kendall Smith to end their careers, and would pay dividends for the young players on the team.
Frankly, a win over Oklahoma on Wednesday should have 'em in. Will it? I don't know. I'm not going to pretend to be a Bracketologist. But I do look to the Kansas win on Saturday and say there is an element that the College Football Playoff committee has right: not all wins, and not all losses, are created equal.