Baylor Bears
The Wrap Up: Big 12 Basketball Game 18 Recap and Analysis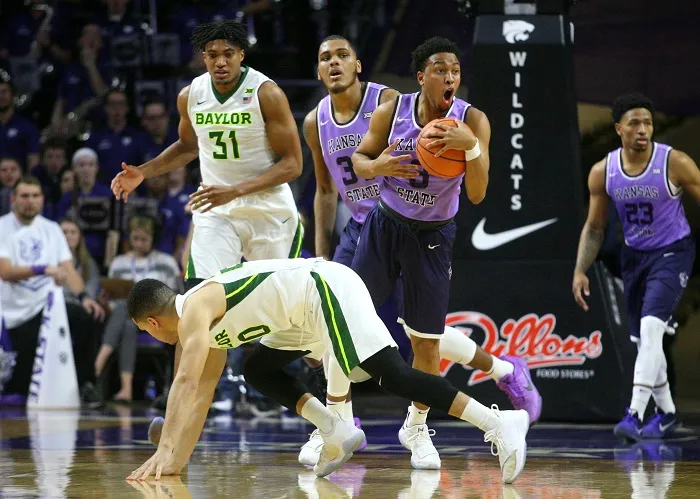 With eighteen games on the Big 12 men's basketball slate we'll break down each set of games upon completion. Today it's a review of the 17th set of games in the Big 12 Conference, played on March 2-3 (rankings in parenthesis in standings are AP).
| | | |
| --- | --- | --- |
| BIG 12 STANDINGS | Conf. | All |
| Kansas (6) | 13-5 | 24-7 |
| Texas Tech (12) | 11-7 | 23-8 |
| West Virginia (20) | 11-7 | 22-9 |
| Kansas State | 10-8 | 21-10 |
| TCU | 9-9 | 21-10 |
| Baylor | 8-10 | 18-13 |
| Oklahoma | 8-10 | 18-12 |
| Texas | 8-10 | 18-13 |
| Oklahoma State | 8-10 | 18-13 |
| Iowa State | 4-14 | 13-17 |
Results
Friday, March 2
Oklahoma 81, Iowa State 60
Saturday, March 3
Texas 87, West Virginia 79 (OT)
Kansas State 77, Baylor 67
Oklahoma State 82, Kansas 64
Texas Tech 79, TCU 75
Superlatives
20-point games: 30 — Nuni Omot (Baylor); 25 — Dean Wade (Kansas State), Kendall Smith (Oklahoma State); 23 — Keenan Evans (Texas Tech); 22 — Matt Coleman (Texas), Kerwin Roach II (Texas); 21 — Desmond Bane (TCU); 20 — Lindell Wigginton (Iowa State).
10-rebound games: 15 — Jeff Beverly (ISU); 10 — Kristian Doolittle (Oklahoma), Kenrich Williams (TCU), Vladimir Brodziansky (TCU).
5-assist games: 9 — Barry Brown Jr. (KSU); 8 — Devonte' Graham (Kansas), Kerwin Roach II (Texas); 7 — Alex Robinson (TCU); 6 — Xavier Sneed (KSU), Trae Young (Oklahoma), Jevon Carter (West Virginia); 5 — Manu Lecomte (BU).
4-block games: None
4-steal games: 4 — Kendall Smith (OSU), Alex Robinson (TCU).
Double-doubles: Vladimir Brodziansky (TCU), 16 points, 10 rebounds; Kenrich Williams (TCU), 11 points, 10 rebounds.
The Starting Five
Kameron McGusty, Oklahoma: McGusty is a player that needs to build on his recent success for next season. Against ISU he scored 18 points to lead the Sooners.
Kendall Smith, Oklahoma State: He scored 25 points in his final game at Gallagher-Iba and led the Cowboys to a court-storming win over Kansas.
Jericho Sims, Texas: The 6-foot-10 forward stepped into Mo Bamba's spot in the lineup and delivered 17 points and 8 rebounds in a Longhorns OT win.
Keenan Allen, Texas Tech: He looked like himself again, scoring 23 points in his Senior Day game in Lubbock.
Dean Wade, Kansas State: Wade made a final push to help the Wildcats to the No. 4 seed in the Big 12 Tournament with 25 points.
The Sixth Man
Nuni Omot, Baylor: Yes, the Bears lost, but, c'mon, Omot had 30 points off the bench, including six 3-pointers. And it still wasn't nearly enough.
The Big 12 Tournament
Everything you need to get ready for one of the best Big 12 Men's Tournaments in years.
The Big 12 basketball tournament bracket is set! Here's everything you need on dates, times, match ups and more! https://t.co/Oa6Y7wyNcA

— Heartland College Sports (@Heartland_CS) March 4, 2018
The Games
Oklahoma State 82, Kansas 64: The unthinkable has happened. Kansas head coach Bill Self has been swept by an opponent in Big 12 action.
It had never happened before Saturday's trip to Stillwater, Oklahoma, where the Jayhawks faced Oklahoma State. Going into the game, Kansas had played home-and-home series 102 times in Big 12 action led by Self and won at least one of those games. But not on Saturday.
You recall that about a month ago the Cowboys went to Lawrence and beat the Jayhawks. That loss was part of a stretch for the Jayhawks in which they lost two out of three games (the other was a road game at Baylor). Well, after that stretch the Jayhawks won five straight to take the Big 12 title, so there wasn't a whole lot on the line for Kansas on Saturday. But Kansas was facing a desperate Cowboys team trying to get on the NCAA Tournament bubble.
It would appear that the Cowboys are on the NCAA bubble now. Did you know the Cowboys have beaten six AP Top 25 teams this year, and that four of them were ranked in the Top 10? This is a Cowboys team that seems to find a way to win against ranked opponents, and two wins over Kansas is going to be hard for the NCAA committee to ignore. It may not be enough to get them in. But OSU's resume is going to get more than just a cursory once-over.
The seniors led the way for the Cowboys on Senior Day. Guard Kendall Smith had 25 points, forward Mitchell Solomon had 16 points and 7 rebounds and Jeffrey Carroll had 10 points, 3 assists and 2 rebounds.
Kansas' only player in double figures was Devonte' Graham with 15 points. Self said after the game that his Jayhawks don't "scare anyone." That's a little hyperbole from Self. Of course, they do. The Jayhawks just don't have much margin for error these days.
Oh, and court storming. After all the Cowboys beat the nation's No. 6 team.
Congrats to @OSUMBB and @thacoachmike on their win over #6 Texas Tech tonight! This school, this atmosphere, this team — is one of a kind. Thank you to everyone that braved the cold to make it out. #2 court storming of 2018, one more to go. KU MARCH 3RD ‼️‼️‼️‼️ pic.twitter.com/gaiFqFky7y

— OSU Sports Mgmt Club (@OSU_Sports_Mgmt) February 22, 2018

Oklahoma 81, Iowa State 60: This game went the way it should have gone down, with Oklahoma claiming an all-important win as it tries to keep its NCAA Tournament case from sliding further downhill. ESPN.com Bracketologist Joe Lunardi had OU as a No. 10 seed facing Arkansas after the victory. The Sooners have now won two of their last three games heading into the Big 12 Tournament.
In one of OU's more balanced games of the season, guard Kameron McGusty had 18 points, while guard Christian James and guard Trae Young each had 15 points. Young pitched in six assists and three steals. But as a team OU still shot just 40 percent, and that's a trend the Sooners are having a hard time turning around lately and must once they start play in the Big 12 Tournament. Our Pete Mundo believes there is a chance the Sooners could go on a run in Kansas City.
With the Sooners out of the national spotlight, there's still reason to believe a March run is possible https://t.co/iTGS54o95U

— Heartland College Sports (@Heartland_CS) March 3, 2018

Plus, Khadeem Lattin now has an OU record all to himself.
The Sultan of Swats.

Congratulations to OU's new shot blocking 👑 – @khadeemlattin! pic.twitter.com/159R7IyMwx

— Oklahoma Basketball (@OU_MBBall) March 3, 2018

The regular season is over for Iowa State and, barring an unbelievable run in the Big 12 Tournament, the Cyclones appear to be the only league team that won't enjoy some kind of postseason action (I'm assuming the under-.500 record will turn off both the NIT and the CBI Tournament). That Iowa State hung in there the way they did, despite a short bench and an acknowledged rebuilding year, and didn't dip under .500 until a couple of weeks ago is remarkable. To me, with the young talent it has coming back, plus the transfers and the solid recruiting class, it won't take long for head coach Steve Prohm to get ISU back to the postseason. Lindell Wigginton, the Cyclones' talented freshman guard, had 20, while senior guard Donovan Jackson had 10 points (Jackson is the only regular starter the Cyclones are losing). Senior forward Jeff Beverly added 11 points and 15 rebounds in his last regular-season game as a Cyclone.
Texas 87, West Virginia 79 (OT): Texas hasn't been the best team in the country in overtime, and you can't say they haven't received ample opportunities. Going into Saturday's game with West Virginia the Longhorns had played six overtime games this season and gone 2-4 (2-2 in the Big 12). If you're looking at Texas' NCAA bubble status, there are some opportunities lost there. But, going into this one ESPN's Joe Lunardi said that Texas could practically lock up an NCAA berth with a win. So, desperate times, you know?
Texas was without Andrew Young, its best player, who has been out since January with leukemia. Texas was without Mo Bamba, its best center, who had a toe injury (they're hoping he can play in the Big 12 Tournament). Texas was without its best bench player, Eric Davis Jr., who is sitting out after being named in the FBI-NCAA probe. Even with a desperate Texas team facing a full-stocked West Virginia team at home, I didn't see this coming. But that's the joy of this conference.
Texas, one of the worst-shooting teams in college basketball, went off. The Longhorns shot 56.9 percent from the floor, shot 57.9 percent from the 3-point line (making 11 3-pointers, well above their season average of 7) and shot 64.3 percent from the free throw line. Both guards played great ball (Kerwin Roach II and Matt Coleman each had 22 points), but Jericho Sims had a dominant performance inside, scoring 17 points and grabbing 8 rebounds. His performance was crucial in this one. He was the one filling in for Bamba and the former track athlete showed off his athleticism and wasn't intimidated facing one of the Big 12's top interior defenders in Sagaba Konate. Sims has the chance to be a huge piece of Texas' future next year and his performance was quite encouraging.
But, it still wasn't enough to put the Mountaineers away in regulation.
#HailWV G Jevon Carter with the layup for the tie vs. #HookEm as we head to OT #WVUvsTEX @Heartland_CS pic.twitter.com/tHVv7wWf2v

— Matthew Postins (@PostinsPostcard) March 3, 2018

Yep, Carter came through with the layup to send it to overtime. But in overtime the Longhorns caught fire, Carter took the Mountaineers only timeout with 3:01 left and Texas went on a huge run from there. The Longhorns needed the win, and they played like it all day.
Konate led the Mountaineers with 14 points and 8 rebounds, but only 1 block, while Carter had 12 and Esa Ahmad had 10. Lamont West had 15 off the bench and James Bolden had 10 points. The Mountaineers had the ammunition to win this one but only shot 41.9 percent from the floor and 26.9 percent from the 3-point line. This game cost the Mountaineers a bye in the Big 12 Tournament, as the loss, coupled with Texas Tech's win over TCU, moved the Red Raiders back into the No. 2 seed. The Mountaineers must face Baylor in its first tournament game.

Kansas State 77, Baylor 67: Kansas State goes into the Big 12 Tournament as the No. 4 seed. I'm not sure why bracketologists like ESPN's Joe Lunardi see Kansas State as a potential bubble team. Going into the game Lunardi projected a win would make K-State all but an NCAA Tournament team, but a loss would make it far less likely. Yes, the Wildcats don't have a great record against the three teams above them in the Big 12 standings. But as the only other team with a winning record in league action, I personally think they're a lock.
Well, if Lunardi is accurate, then the Wildcats took care of business against Baylor, beating the Bears by 10 in a game that wasn't actually that close. Dean Wade poured in 25 points and 7 rebounds, the Wildcats shot 52 percent from the floor and forced Baylor into 14 turnovers. It was exactly the kind of game you would expect from the Wildcats at home. Barry Brown Jr. added 18 points and 9 assists while Makol Mawien had a great game inside, scoring 14 points with 3 rebounds and a block in just 17 minutes.
The Bears didn't have a single starter in double figures, which is highly unusual for them. Nuni Omot came off the bench to score 30 points (including six 3-pointers), but with players like Jo Lual-Acuil Jr. and Manu Lecomte not producing, the Bears didn't have much of a chance. After that surge in February, which saw Baylor beat Kansas and Texas Tech, the Bears have now lost three of their last four. While Lunardi likes Baylor's chances with a loss, I have to wonder what a loss to West Virginia in the Big 12 Tournament might do to their overall NCAA chances? By the way this is Baylor's first losing season in Big 12 play in seven years.
Texas Tech 79, TCU 75: Texas Tech was on a four-game losing streak heading into this game and the Red Raiders needed to find a way to stop the bleeding going into the Big 12 Tournament. Perhaps that's why head coach Chris Beard played Keenan Allen, Justin Gray and Zach Smith on Saturday, though Senior Day may have also had something to do with it. The Red Raiders started an all-senior starting lineup.
Allen, who has had a toe injury since the Baylor game and has either been ineffective or on the bench, scored 23 points in 26 minutes, including all 10 of his free throws. That's a huge development, considering the two games Allen played post-injury he wasn't able to do much offensively. Smith, who missed considerable time this season with a foot injury and returned for the Kansas game, played 15 minutes and scored 6 points. He is still not where the Red Raiders want him to be, but thanks to the win, and West Virginia's loss, the Red Raiders get an extra day of rest for both players in the Big 12 Tournament. Tech is now the No. 2 seed. Gray, who has been in the concussion protocol for about a week or so, returned to score 7 points in 26 minutes. Niem Stevenson (11 points) and Tommy Hamilton IV (3 points) rounded out the all-senior starting lineup.
With Allen back the offense looked more like itself. The Red Raiders shot 50 percent from the floor. Their super freshmen, Zhaire Smith (15 points) and Jarrett Culver (6 points), came off the bench and settled in to their more normal roles on the floor. Tech went back to its rotation of playing nine or ten guys and forced TCU into 11 turnovers and 40.6 percent shooting. And, yet, it was close.
TCU is a team that can do real damage in the Big 12 Tournament because of the way the Horned Frogs have played on offense the past few weeks. When the TCU offense is humming it will be hard for any team in this league to keep up. While the Horned Frogs didn't shoot well they still scored, led by Desmond Bane's 21 points (someone really needs to defend this guy. He's the hottest shooter on the team). Vladimir Brodziansky pitched in 16 points and Kenrich Williams and Alex Robinson each had 11 (Brodziansky and Williams both had double-doubles, too).
After a rough start to the Big 12 the Horned Frogs squeezed into the No. 5 seed in the Big 12 Tournament and fifth-place by itself in the Big 12 standings. That's definite progress for Jamie Dixon's crew.
Now, if you'll excuse me, I have to go tear my hair out trying to pick my All-Big 12 Team. There is way too much talent in this league.