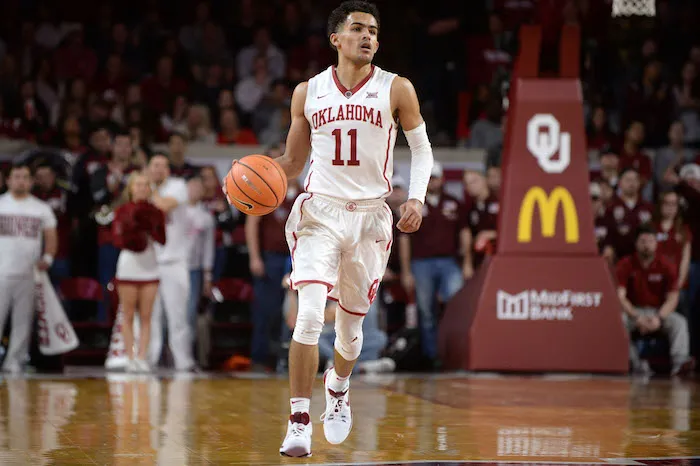 The first of what could be many national postseason awards rolled in for Oklahoma freshman guard Trae Young, as he was named the Wayman Tisdale Freshman of the Year on Wednesday.
Young saw his Big 12 Tournament run end on Tuesday night as the Sooners lost to Oklahoma State, 71-60. Young scored 22 points in the contest.
Young was a likely choice for the Tisdale Award, named for the former Oklahoma player who was the first freshman to earn First-Team All-America honors from the U.S. Basketball Writers Association. Young finished the with a NCAA-leading 27.5 points and 8.9 assists per game entering the Big 12 Tournament, making him the first player to lead the nation in both categories in a single season. Along with that, Young had 12 double-doubles, along with four 40-point games and nine 30-point games.
Young has racked up notoriety and accolades throughout the season. He was unanimously named the Big 12 Freshman of the Year and an All-Big 12 First-Team selection, to go along with several conference awards for player of the week and newcomer of the week. Additionally, Young earned USBWA Oscar Robertson National Player of the Week honors twice and Tisdale National Freshman Player of the Week honors four times.
Young ended up with 826 points before the Big 12 Tournament, breaking the record for most points by a Big 12 player in a season. That also made him the second player in the last 20 years to score at least 800 points in a season (the other being Duke's J.J. Redick, who scored 833 points in 2005-06).
Young is likely to be a contender for other awards, including the Bob Cousy Award, given to the nation's best point guard, and the Wooden Award, given to the nation's best overall player.
ALL-TIME USBWA NATIONAL FRESHMEN OF THE YEAR
1989 Chris Jackson, LSU
1990 Kenny Anderson, Georgia Tech
1991 Rodney Rogers, Wake Forest
1992 Chris Webber, Michigan
1993 Jason Kidd, California
1994 Joe Smith, Maryland
1995 None selected
1996 None selected
1997 None selected
1998 Larry Hughes, Saint Louis
1999 Quentin Richardson, DePaul
2000 Jason Gardner, Arizona
2001 Eddie Griffin, Seton Hall
2002 T.J. Ford, Texas
2003 Carmelo Anthony, Syracuse
2004 Luol Deng, Duke
2005 Marvin Williams, North Carolina
2006 Tyler Hansbrough, North Carolina
2007 Kevin Durant, Texas
2008 Michael Beasley, Kansas State
2009 Tyreke Evans, Memphis
2010 John Wall, Kentucky
2011 Jared Sullinger, Ohio State
2012 Anthony Davis, Kentucky
2013 Marcus Smart, Oklahoma State
2014 Jabari Parker, Duke
2015 Jahlil Okafor, Duke
2016 Ben Simmons, LSU
2017 Lonzo Ball, UCLA
2018 Trae Young, Oklahoma