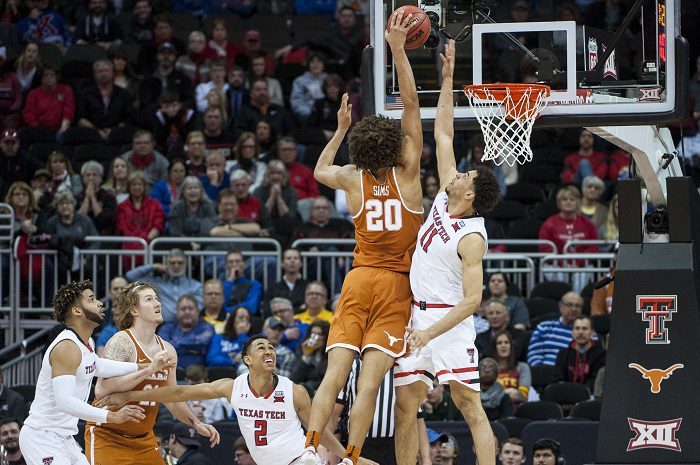 BIG 12 TOURNAMENT RESULTS, SCHEDULE
Wednesday, March 7
Game 1: No. 8 Oklahoma State 71, No. 9 Oklahoma 60
Game 2: No. 7 Texas 68, No. 10 Iowa State 64
Thursday, March 8
Game 3: Kansas State 66, TCU 64 (OT)
Game 4: Kansas 82, Oklahoma State 68
Game 5: Texas Tech 73, Texas 69
Game 6: West Virginia 78, Baylor 65
Friday, March 9
Game 7: No. 4 Kansas State vs. No. 1 Kansas, 6 p.m. CST, ESPN2
Game 8: No. 2 Texas Tech vs. No. 3 West Virginia, 8 p.m. CST, ESPN2
Saturday, March 10
Game 9: Game 7 winner vs. Game 8 winner, 5 p.m. CST, ESPN2
Thursday's Results
Kansas 82, Oklahoma State 68: Did Malik Newman take my selection of Texas forward Dylan Osetkowski as the league's newcomer of the year personally? I doubt he was even aware. But Newman picked the perfect time to go off.
With Udoka Azubuike out for the Big 12 Tournament with a sprained MCL in his knee, the Jayhawks (25-7) had to get some additional production from somewhere. I didn't expect it to come from Newman, who scored 30 points in 36 minutes, including an 11-of-15 clip from the field and 4-for-6 from the 3-point line. Newman's 30 points was a career-high.
But, in reality, everyone for Kansas played well on Wednesday. The team shot 57 percent from the floor and 40 percent from the 3-point line. Three other players hit double figures — Svi Mykhailiuk with 13, Lagerald Vick with 11 and Devonte' Graham with 10 (along with 9 assists). Mitch Lightfoot started for Azubuike and Silvio De Sousa came off the bench and they combined for 14 points and 14 rebounds. I think Kansas head coach Bill Self would be happy with that production throughout the Big 12 Tournament. The pair must manage fouls a little better. Lightfoot fouled out and De Sousa had four fouls.
Oklahoma State (19-14) was in this game in the first half, but their shooting dropped off dramatically in the final 20 minutes (just 31.3 percent from the floor) and the Cowboys couldn't keep up as Kansas pulled away. As the adage goes, it is hard to beat a team three times in a season.
What surprised me was how Oklahoma State couldn't dominate in the paint. After absolutely pounding Oklahoma inside, I figured that would be a full advantage for the Cowboys with Azubuike out. But OSU only had a three-rebound edge (36-33) and Kansas had a 10-point advantage in the paint (40-to-30). So, OSU failed to take advantage of the one area where it had a clear edge.
Jeffrey Carroll had 17 points and 7 rebounds, while Kendall Smith added 14 points, Yankuba Sima had 11 and Mitchell Solomon added 10. For the seniors it's not their last game. The Cowboys will be in either the NCAA or NIT. Kansas head coach Bill Self had his own opinion of OSU's chances after the game.
"I think without question they're a tournament team. … Surely how you've played down the stretch should matter. … I don't think there's any doubt that Mike (Boynton) and his team deserve to be in. I'd be very disappointed if they're not." (h/t to ESPN.com's Jake Trotter).
For now, the Cowboys appear to be a First Four Out team, according to ESPN's Joe Lunardi. And they no longer control their own destiny.
Kansas State 66, TCU 64 (OT): Kansas State (22-10) has, at times, done great jobs defensively on great offensive players. The Wildcats were the first Big 12 team to really figure out Oklahoma's Trae Young. The Wildcats did a similar job on TCU's Desmond Bane on Thursday.
Bane had been on a hot streak entering the Big 12 Tournament, scoring in double figures in 12 straight games, including a 27-point outing against Iowa State on Feb. 21 and a 21-point game in the regular-season finale against Texas Tech. Well, K-State apparently broke down some film because on Thursday the Wildcats made him a non-factor (well, except for one play, but we'll get to that). Bane was 1-for-4 from the floor (a 3-pointer), along with 7 rebounds and 3 assists. The fact that he received so few shot attempts was startling, but K-State was focused on him. Except at the end of the game.
With K-State up three in the final seconds, TCU (21-11) got a fast break to the other end and had a shot to tie. Bane took a cross-court pass and tossed up a three, beating the game clock by the slimmest of margins to tie the game and send it to overtime. But in the final five minutes he returned to being a non-factor once again.
Alex Robinson (16 points, 6 assists) and Kenrich Williams (20 points, 10 rebounds) picked up the slack with Bane not scoring, especially in the second half when the Wildcats made a point to try and shut down Vladimir Brodziansky (he scored 10 of his 13 points in the first half).
It was the usual suspects for Kansas State. Dean Wade had 12 points, but only 3 rebounds. Barry Brown Jr. had 11 points and 5 rebounds, including the late overtime layup that gave the Wildcats the lead for good with 11 seconds left. Xavier Sneed came up with a nice game, scoring 12 points.
But the big news was how Makol Mawien, their center, stepped up into the spotlight at the perfect time. Mawien has not had a consistent season inside, but the sophomore, at times, has provided solid production. Against TCU he finished with 16 points and 9 rebounds. The 16 points was his second-straight game in double figures and two points short of his highest output of the season (18 points vs. TCU). The nine rebounds was a much bigger deal. That tied a season high for him and marked the third time in six games that he grabbed at least seven boards.
When you consider that Azubuike will be on the bench for Kansas in the Jayhawks' semifinal matchup with Kansas State, if Mawien can come up big again that could provide the Wildcats a huge opportunity to upend the top seed.
There should be no questions about TCU or Kansas State and their tournament status at this point. Both should be moving on to the NCAA Tournament next week.
Texas Tech 73, Texas 69: This time, Texas' 0-for-9 start from the floor caught up to the Longhorns.
Sure, it ended close, with Texas (19-14) within four points. But in reality, the Longhorns were on the defensive from the start. Texas Tech (24-8) got off to a 22-8 start in this game and never trailed. Guard Keenan Evans brought the scoring for the Red Raiders for the second straight game. You know, of course, that Evans suffered a toe injury against Baylor and for two weeks he was a shell of his former self. Well, in the regular-season finale against TCU Evans put up 23 points. Against Texas on Thursday he came up with 25 points, including some serious clutch free throws down the stretch to protect the lead. Evans told ESPN's Kris Budden after the game that a lot of treatment, led by the Red Raiders' training staff, has put him in a position to finally give the Red Raiders some quality, consistent minutes post-injury.
A productive Evans means that head coach Chris Beard doesn't have to monkey with his usual rotation and that paid off as 11 different Red Raiders played, but only Evans played more than 30 minutes. Jarrett Culver was the only other Red Raider in double figures with 13 points, but he also chipped in 11 rebounds for a double-double. Tommy Hamilton IV and Zhaire Smith each had 8 points, and Smith ended up with the game's most memorable play, a block that lit up the Spirit Center and seemed to sap some of Texas' offensive momentum late in the second half.
That block by Zhaire Smith in case you missed it. 44-inch vertical leap, people, per ESPN's Kris Budden. #Wreckem #Big12Hoops #big12tournament #TEXvsTTU @Heartland_CS pic.twitter.com/8AgngkgtHk

— Matthew Postins (@PostinsPostcard) March 9, 2018

The win was Texas Tech's first in the Big 12 Tournament since 2013.
Texas managed to get back within striking distance in the second half, led by Jacob Young with a career-high 29 points off the bench (including a 6-fot-7 clip from behind the 3-point arc). There was about a 7-minute stretch there in the second half in which Young was Texas' offense, whether he was scoring or passing. Since Eric Davis Jr. was permanently put on the bench as a precaution due to the FBI investigation of college basketball, Young has been great. But his performance on Thursday was revelatory and could be a huge boost to him heading into next season.
Matt Coleman had another fine game, scoring 20 points and going perfect from the free-throw line (10-for-10), and Mo Bamba played, despite the toe injury. He only played 14 minutes, but in that short amount of time he had an impact, scoring 10 points and grabbing 4 rebounds off the bench. But that poor start to the game doomed Texas.
Still, ESPN's Joe Lunardi believes Texas is an NCAA Tournament team. At this point, however, the Longhorns can do no more to help their case.
Before the game, a Texas Tech student wanted to send out some good vibes to Red Raiders fans in the hopes that the Red Raiders would win the Big 12 Tournament.
If @TexasTechMBB wins #Big12MBB tourney, I'll buy everyone who RT's this @Whataburger. GO!!

— Rhett Bain (@Hack8ack) March 6, 2018

Then it got a little out of hand.
Ok, can all y'all plz stop retweeting this? My wallet would greatly appreciate it. 🤙🏽

— Rhett Bain (@Hack8ack) March 7, 2018

Then he hit up Whataburger for a burger bailout.
@Whataburger You guys gonna pull through and help a brotha out? This bout to get more expensive than my tuition. Send help PLZ!!!

— Rhett Bain (@Hack8ack) March 7, 2018

No note from Whataburger if he's covered. But his night ended up all right, all things considered.
@PatrickMahomes5 Thanks for being a class act and taking a pic with your fans. I'm gonna be watching you this Fall man. #ChiefsKingdom pic.twitter.com/o4fpUhxyZl

— Rhett Bain (@Hack8ack) March 9, 2018

West Virginia 78, Baylor 65: West Virginia won this game by doing what it does best — turning teams over and cashing in on the other end.
Statistically, this game was fairly evenly matched, except in two key areas — turnovers and points off turnovers. The Mountaineers forced 22 Baylor turnovers and turned those into 22 points (by contrast, Baylor forced 16 West Virginia turnovers and only scored 8 points). Eventually, Baylor suffered under the weight of that contrast.
And Baylor started bearing that weight at the end of the first half, courtesy of West Virginia senior Jevon Carter.
Halftime money from Jevon Carter as #HailWV has a six-point lead at halftime #Mountaineers #Big12Hoops #big12tournament #BAYvsWVU @WBESBrandonLowe @Heartland_CS pic.twitter.com/dOxZMAR1l1

— Matthew Postins (@PostinsPostcard) March 9, 2018

Carter ended up with a double-double (18 points, 11 assists), and his running buddy, Daxter Miles Jr. had 19 points, 6 rebounds and 4 assists before he fouled out. But the play of Esa Ahmad is worth pointing out. He's the additional option the Mountaineers need to be consistent in the NCAA Tournament and he took a nice step toward that with 21 points and 8 rebounds. On a night where Sagaba Konate didn't play much due to foul trouble, Ahmad and Miles picked up the rebounding slack. But, let's give Konate a hat tip for 6 rebounds in just 18 minutes on the floor. West Virginia also shot 50 percent from the floor in the second half, which helped keep Baylor at bay.
The Bears lost both regular-season meetings to West Virginia and that continued on Thursday. Manu Lecomte scored 27 points and Terry Maston Jr. scored 11 points, but none of the rest of the Bears cracked double figures. And they picked a bad time to have that many turnovers.
As for the NCAA Tournament …
Per #ESPN Joe Lunardi #RockChalk #WreckEm #HailWV & #GoFrogs are #NCAATournament locks. #EMAW (#KState), #SicEm, #HookEm, #BoomerSooner and #OKState are bubble teams. This was going into the #BAYvsWVU. I expect 7 to get in @Heartland_CS

— Matthew Postins (@PostinsPostcard) March 9, 2018

So, Baylor has to do some waiting and hoping now.
Previewing Friday. It's a third Sunflower State showdown as Kansas and Kansas State duke it out for a spot in Saturday's final. Kansas has won both games, but only won the first meeting by a point in Lawrence. West Virginia faces Texas Tech in the late game. Remember — West Virginia has reached the Big 12 title game each of the last two seasons.