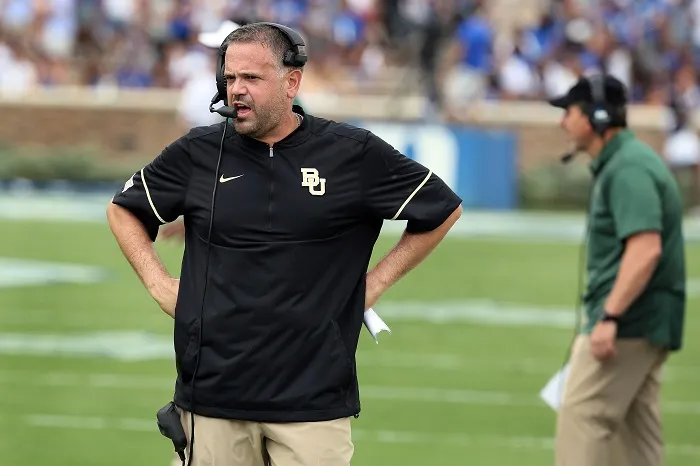 College basketball is heading down the home stretch, college baseball has started, but let's not forget (I know many of you aren't) that spring practice is already getting underway across the country. We will handle spring previews for every Big 12 football team and roll them out based on when their respective spring practices begin. Next up is the Baylor Bears who will start up spring practice on Thursday March 15th.
Most Exciting Returnee: QB Charlie Brewer
After being third on the depth chart to start the 2017 season, Charlie Brewer came out of nowhere and ended up starting the final four games of last season. He played in 8 total games throwing for over 1500 yards with 11 touchdowns and 4 interceptions. What's even more impressive is that Charlie also completed 68.1% of his passes and earned Big 12 Co-Offensive freshman of the year honors. I have no idea what it is about Charlie, but his ability to extend plays totally changed this offense when he took over. I know it is still early but think about it, Charlie Brewer has the potential to be a top 2 or 3 quarterback in the Big 12 this season if his progression continues. Baylor fans should be eager to see how Charlie does in the spring.
Most Exciting Newcomer: WR Jalen Hurd
After sitting out the entire 2017 season due to transfer rules, Jalen Hurd is now eligible for the 2018 season. Jalen spent his first 3 years at Tennessee as a running back (2014-2016) before deciding that he wanted to play in an offense that better fits his skillset. Don't forget that at Tennessee Jalen rushed for 2,638 yards and 20 touchdowns. He also caught 67 passes for 492 yards along with 6 touchdown receptions. If you haven't seen Jalen play before, the guy is very dangerous in space and can take it the distance on any play when he touches the football. I am very curious to see how the move to WR suits him for the upcoming season.
Offensive Storylines
Quarterback
As I mentioned earlier, Charlie Brewer provided the spark that this offense desperately needed last season. His ability to extend plays and hit his targets helped him earn Big 12 Co-Offensive freshman of the year honors. Charlie's progression this spring will most certainly be something to keep an eye on and the most important thing is that he stays healthy. Behind Brewer will be true freshman and early enrollee Gerry Bohanon. While Gerry comes in highly rated, I think he will need some time to develop and get used to the level of competition. So, both guys will be the focus for Baylor this spring.
Offensive Line
The good news? Baylor returns pretty much their entire offensive line from the 2017 season. The bad news? They gave up 38 sacks last season which was ranked 9th in the Big 12 and 121st in the country. For as much as this unit struggled in pass protection, they were much better run blocking paving some lanes for their stable of backs. The 2018 line will most likely be LT Jake Fruhmorgen (Clemson Transfer with 8 career starts), LG Patrick Lawrence (25 career starts), C Sam Tecklenburg (Converted TE with 12 starts at Center), RG Blake Blackmar (25 career starts) and RT Josh Malin (converted TE with 2 career starts at tackle). So, while this line will have plenty of starts under their belt, C Sam Tecklenburg and RT Josh Malin are still very new to their positions switching from tight end to offensive line last season. If you're a Baylor fan, this may be the most crucial group to watch over spring ball.
Defensive Storylines
Defensive Line
Baylor will once again lose their best defensive lineman in 2018 with K.J. Smith graduating. Sadly, for this unit, K.J. was sidelined after the first game for the rest of the 2017 season due to injury. Much like the offensive line, the defensive line comes back with some good experience with DE Greg Roberts, NT Ira Lewis, DT Bravvion Roy and Rush End Xavier Jones. Where this line needs to step up is stopping the run. Baylor gave up 4.9 yards per carry to opposing teams and were ranked 9th in run defense in the Big 12. This by far is above and beyond the most important group on the defense. In fact, I won't mention any other positions because the first thing any defense needs to do is stop the run.