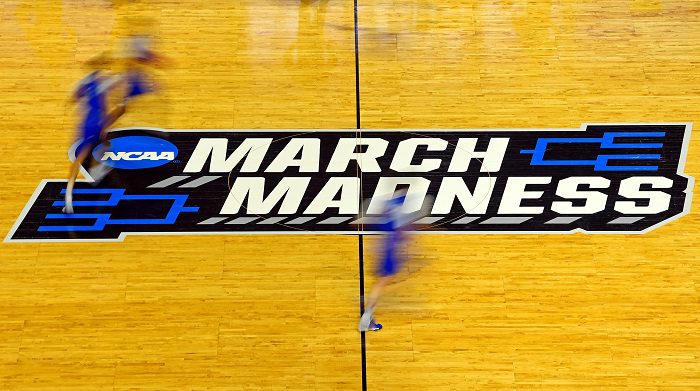 Seven members of the Big 12 Conference earned a place in the "Big Dance," otherwise known as the NCAA Tournament, on Sunday. Here I break down why each team made the field and their chances of reaching San Antonio in a few weeks.
Kansas Jayhawks
The Jayhawks open the tournament as a No. 1 seed against No. 16 Penn in Wichita, Kansas, on Thursday.
Why are they in? Well, the Jayhawks earned the league's automatic bid by winning the Big 12 Conference Tournament. But Kansas would have been an at-large bid regardless, and probably clinched that by February. Kansas ended up with 27 wins, including victories over Kentucky, Syracuse and Stanford in non-conference. Ranked No. 8 in ESPN's BPI and No. 9 in strength of schedule (per ESPN.com), there really was no way the Jayhawks were missing the tournament. The only question was seeding, and the Jayhawks played their way into a No. 1 seed with a 9-2 stretch to end the season. This will be Kansas' 29th straight trip to the NCAA Tournament.
Final Four chances? As a No. 1 seed, the Jayhawks are the most likely Final Four team from the Big 12. As long as Udoka Azubuike returns from his knee injury and the Jayhawks remain confident in playing forward Silvio De Sousa as a reserve, Kansas can play eight and that will help a Jayhawks team that has been thin all season. Malik Newman had a huge Big 12 Tournament and that should have some carryover, too. As long as Kansas continues to play the way it's played the past four weeks, they look like a near-certain Sweet 16 team. That said, the committee couldn't have made the road to the Final Four any harder. The Midwest Region is jam-packed with Duke, Michigan State and Auburn as the top four seeds. If Kansas can survive that to reach San Antonio, they'll be a deserving Final Four team.
Texas Tech Red Raiders
The Red Raiders open the tournament as a No. 3 seed against No. 14 SFA in Dallas on Thursday.
Why are they in? The Red Raiders nearly stole the Big 12 regular-season title from the Jayhawks, and had Keenan Evans not gotten hurt before their late-February rematch they might have finished the job. With 24 wins the Red Raiders are a high-quality at-large berth. Ranked No. 13 in ESPN's BPI and No. 23 in NCAA RPI it's hard to argue against the Red Raiders being among the Top 16 seeds. The Red Raiders beat Boston College (which beat Duke) and then No. 20 Northwestern, both of which were on the road. Plus, the Red Raiders beat then-No. 22 Nevada at home (and Nevada made the field). The Red Raiders amassed a quality resume that led them back to the NCAA Tournament after a two-year absence.
Final Four chances? Texas Tech's chances all hinge on the toe of Evans, and the way he played in his final Big 12 games is a really good sign. SFA has been a bit of a giant killer of late (wins over VCU and West Virginia in previous NCAA Tournament appearances), but this Tech team is deeper than SFA and should be able to take care of the Lumberjacks on Thursday. From there I can see the Red Raiders getting into the second weekend and reaching the Elite Eight. Again, that all assumes Evans remains healthy. I don't see Texas Tech getting to the Final Four, especially if they end up tangling with Villanova.
West Virginia Mountaineers
The Mountaineers open the tournament as a No. 5 seed against No. 12 Murray State in San Diego on Friday.
Why are they in? Like Texas Tech, the Mountaineers have a quality resume. At one point, West Virginia was the nation's No. 2 team, and while they were shaky at times in January and February, their ESPN BPI (No. 10) and NCAA RPI (No. 26) reveals a quality basketball team. The Mountaineers beat a ranked Texas Tech team in February, a ranked Oklahoma team twice and exacted a win over the country's current No. 1 team, Virginia, in December. West Virginia's losses don't hurt its case either, which include a loss to Texas A&M (also in the NCAA field) in Germany, a loss to TCU and three losses to Kansas. Iowa State is the Mountaineers' only loss to a team with a losing record.
Final Four chances? I'm not digging the fact that the Mountaineers must go all the way to San Diego to play their first two games. That's a bad recipe for a first-weekend exit. Still, the Mountaineers are going into the NCAA Tournament on a nice streak and should beat Murray State in the first round. From there, I think they can beat either Wichita State or Marshall and get to the Sweet 16, but that's where it ends, especially if they end up facing Villanova.
Kansas State Wildcats
The Wildcats open the tournament as a No. 9 seed against No. 8 Creighton on Friday in Charlotte, NC.
Why are they in? It's hard to turn away a Power 5 team with 20 or more wins in the regular season, and I think that helped the Wildcats get into the field. Some will ding the Wildcats for losing all of their games to the three teams that finished ahead of them in the Big 12 — Kansas, Texas Tech and West Virginia — but I don't think you can hold that against the Wildcats that much. ESPN's BPI has the Wildcats at No. 44 and NCAA RPI has the Wildcats at No. 52, so they're well within the 68-team field, despite those seven losses. K-State's only bad loss this season was to Tulsa.
Final Four chances? Slim to none. I could see the Wildcats losing this first-round matchup with Creighton, and it all hinges on the health of Dean Wade and Barry Brown Jr. If both are able to play, the Wildcats have a chance. If only one can play, I don't see them defeating the Blue Jays. Even if K-State manages that first-round win, it likely gets Virginia in the second round and I don't see the Wildcats upsetting the Cavaliers.
TCU Horned Frogs
The Horned Frogs open the tournament as a No. 6 seed against either Arizona State or Syracuse on Friday in Detroit.
Why are they in? The Horned Frogs will make their first NCAA Tournament appearance since 1998 on the strength of a 21-win season that saw them go undefeated in non-conference, including quality wins over St. Bonaventure and Nevada (both of which made the field as at-large bids). The Horned Frogs had some issues in league action, but they eventually reached .500 in league play and can count a win over West Virginia among their quality victories. With a No. 21 ranking in ESPN BPI and a No. 25 ranking in NCAA RPI, the Horned Frogs really only needed to reach 20 victories to get into the tournament. And they did.
Final Four chances? I don't see the Horned Frogs reaching the Sweet 16. But they catch a nice break facing the winner of a First Four game in the opening round. That means the Horned Frogs get the maximum time to rest, since their game is on Friday, while their opponent will have, at best, two day's rest. I can see the Horned Frogs beating either ASU or Syracuse, but Michigan State will likely be TCU's second-round opponent. The Spartans are a great team and Detroit will practically be a home game for the Spartans. One NCAA Tournament win for this team would be a great showing for TCU.
Texas Longhorns
The Longhorns open the tournament as a No. 10 seed against No. 7 Nevada on Friday in Nashville.
Why are they in? You have to give the Longhorns some credit for their non-conference schedule. Texas played Butler, Duke and Gonzaga at the PK80 (and all three made the NCAA field, with Texas beating Butler). Texas also hosted Michigan (also a loss). Plus, they have non-Big 12 wins over two more NCAA Tournament-bound teams, Alabama and Lipscomb. In other words, Texas played one of the hardest non-league slates around, and that's reflected in its BPI (No. 40) and RPI (No. 50). Plus, Texas can count five wins over Big 12 teams that made the field. I'm guessing the committee also took into account the loss of Andrew Jones at mid-season. Texas didn't reach 20 wins, but the committee took into account their difficult schedule.
Final Four chances? I don't see them getting out of the first weekend. However, the Longhorns are facing a Nevada team that has not fared well against Big 12 teams this season (0-2). I give the Longhorns a solid chance of unseating the Wolf Pack, assuming Mo Bamba isn't on a minutes restriction, before they fall in the second round to an opponent that would most likely be Cincinnati.
Oklahoma Sooners
The Sooners open the tournament as a No. 10 seed against No. 7 Rhode Island on Thursday in Pittsburgh.
Why are they in? I personally don't think the Sooners should have made the field, especially with their 2-8 finish to the season. But the Sooners probably got in on the "body of work" argument. The Sooners played a pretty tough non-league slate, with games against Arkansas (loss), Oregon (win), USC (win), Wichita State (win), Northwestern (win) and Alabama (loss). That record in non-league games, I think, helped the Sooners carry the day for an NCAA bid because the Sooners were 5-7 against Big 12 Tournament teams (though the Sooners managed wins over Kansas and Texas Tech before they tailed off). Even with the Sooners' stumbles, they were No. 42 in ESPN BPI and No. 48 in RPI, so they were comfortably within the 68-team field in that regard. But I think it was a by-the-skin-of-your-teeth selection.
Final Four chances? Oklahoma's time in the NCAA Tournament will be short. Rhode Island was a ranked team going into this past weekend's conference tournaments. Should the Sooners win that first-round game — and I don't think that OU fans should count on that — Duke is waiting. The Sooners will have to play at a high level, a level they played at in January, to get out of the first weekend and into the Sweet 16.