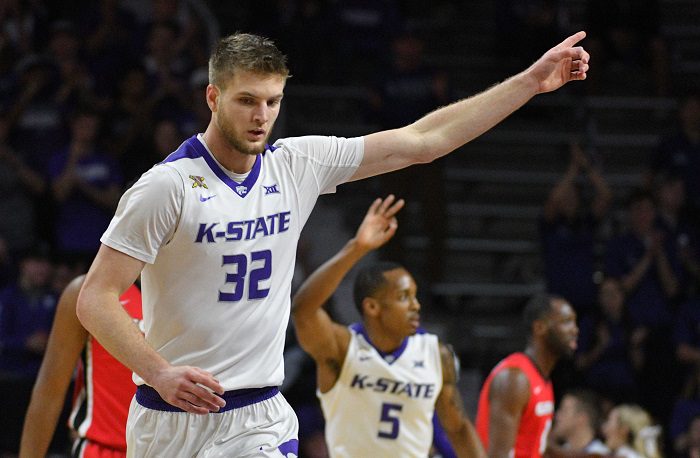 (9) Kansas State (23-11) vs. (16) UMBC (25-10), 6:45 p.m., Charlotte, N.C. truTV
How they got here: Kansas State dispatched Creighton 69-59 with what seemed like ease. Barry Brown Jr. scored 18 points and shot 70 percent from the charity stripe. The Wildcats took five times as many free throws as the Bluejays. UMBC (University of Maryland Baltimore County), meanwhile, scored the most historic upset ever. The Retrievers are the first No.16 seed in 136 attempts to knock off a No.1 seed. UMBC defeated the top overall seed, Virginia, 74-54. Four players scored in double figures with Jairus Lyles leading the way at 28 points.
Expected starters and head coach
UMBC — G Jairus Lyles (20.4 ppg, 5.5 rpg, 3.5 apg), G K.J. Maura (11.3 ppg, 2.2 rpg, 5.2 apg), G Joe Sherburne (11.0 ppg, 3.9 rpg, 1.9 apg), F Daniel Akin (3.5 ppg, 3.3 rpg, 0.3 apg), F Arkel Lamar (10.5 ppg, 5.9 rpg, 1.2 apg). Head coach — Ryan Odom (46-23 overall).
Kansas State — G Cartier Diarra (7.2 ppg, 2.2 rpg 2.1 apg), G Barry Brown Jr. (16.7 ppg, 3.2 rpg., 3.4 apg.), G Xavier Sneed (10.7 ppg, 4.9 rpg, 1.8 apg), F Dean Wade (16.7 ppg, 6.4 rpg, 2.8 apg), F Makol Mawien (6.0 ppg, 3.3 rpg, 0.3 apg). Head coach — Bruce Weber (123-79 at Kansas State, 436-234 overall).
About UMBC: It all starts with Jairus Lyles, a graduate senior who notched 28 points against top overall seed Virginia. The Retrievers forced Virginia to take shots outside the perimeter throughout the second half, and the Cavaliers could not hit. Virginia finished 4-for-22 from downtown. Despite the 20-point margin of victory in the most historic upset ever, UMBC committed 12 turnovers compared to Virginia's seven. Only eight points were scored off the bench. This team is not deep, so foul trouble will be a concern.
About Kansas State: Old school basketball is the way Kansas State will win this game. The Wildcats are a defensive team. There are three keys to this game: drive to the hoop, draw fouls, and force turnovers. Oh, and something Virginia failed to do: make shots. If Kansas State forces UMBC to use their bench, this game will not be close.
Prediction: Suddenly, Bruce Weber is on the verge of his first trip to the Sweet 16 since he was the National Runner-Up at Illinois in 2005 and K-State can reach a Sweet 16 for the first time in eight years. Kansas State doesn't want to "pull a Virginia". UMBC cannot hide, and the Wildcats will take this game seriously. With more talent and depth, the Wildcats should easily dispatch UMBC. The Retrievers element of surprise is long gone and the absolutely circus of attention they've received in the past 24 hours will prove too much too handle for a short turnaround against a veteran Power 5 team. Bruce Weber's squad takes care of business and wins by double-digits.
Next up: The winner faces either No.5 Kentucky or No.13 Buffalo in the Sweet 16.